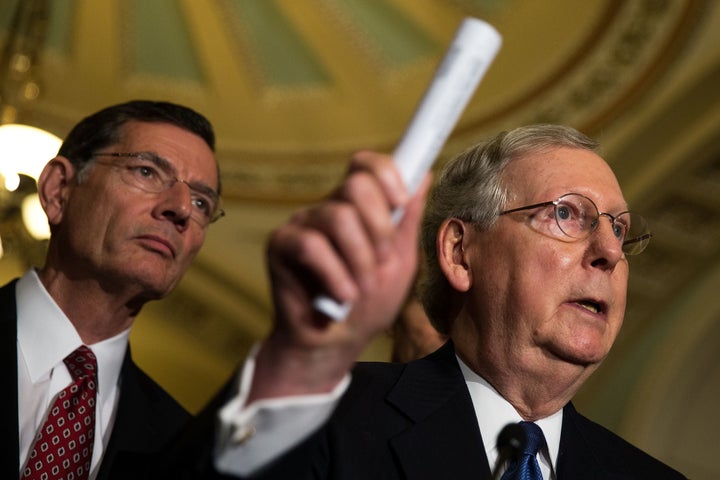 WASHINGTON -- Sen. Elizabeth Warren (D-Mass.) came out with a report on Monday detailing what she calls the "extreme" obstruction of President Barack Obama's nominees -- and a new HuffPost/YouGov poll suggests Americans agree with her, at least on the president's Supreme Court pick.
Almost immediately after Justice Antonin Scalia's death in February, Senate Majority Leader Mitch McConnell (R-Ky.) declared that the Senate would hold no hearings on a replacement, signaling his intention to leave a spot on the nation's highest court vacant for at least a year.
In her new report, "Going to Extremes," Warren argues that the Supreme Court blockade is only the most obvious example of GOP obstruction of Obama's nominees. It's been bad throughout Obama's presidency, and worse whenever Republicans in the Senate had more power.
"The idea that Senate Republicans are willing to leave our highest court short-handed for nearly a year seems shocking. But the fact is that, for more than seven years, they have waged an unrelenting campaign to keep key positions throughout government empty," Warren said in a statement.
"This report documents the long history of Republican obstruction of Obama administration nominees—a story that started at the very beginning of Obama's presidency," she added. "Instead of preventing government from functioning properly, Republicans should do the job the American people sent us here to do by giving the president's nominees fair consideration."
"Senate Republicans 'have waged an unrelenting campaign to keep key positions throughout government empty.'"
Warren notes that when President Ronald Reagan was working with a Democratic-led Senate, about 80 percent of his noncontroversial judicial appointees were confirmed within 100 days of being nominated, including Supreme Court Justice Anthony Kennedy, who won confirmation in the election year of 1988.
In contrast, almost none of Obama's court nominees were confirmed in less than 100 days, with most -- about 60 percent of confirmations -- taking more than 200 days.
Republicans were in the minority during Obama's first term in office, but they used the filibuster to slow the process to the point that the Senate confirmed just 173 judges, compared to the 205 who were approved in President George W. Bush's first term.
In the first two years of Obama's second term, Warren notes that the GOP even tried to eliminate three seats on the U.S. Court of Appeals for the District of Columbia Circuit, rather than let Obama fill the vacancies.
Democrats ultimately exercised the so-called nuclear option to end filibusters of lower court appointments, allowing the Senate to advance 89 judges.
When the GOP took control of the Senate in 2014, the pace of appointments slowed dramatically again. Court vacancies have jumped from 43 to 89, but McConnell and Republicans have acted to advance just 18 nominations. By comparison, the Senate confirmed 68 judges in George W. Bush's final two years as president.
But it's the blockade of the nation's highest court that has captured Americans' attention, and they think the Senate ought to be holding hearings on federal Judge Merrick Garland, the nominee to replace Scalia.
In a recent HuffPost/YouGov poll, respondents said by a 2-1 margin -- 50 percent to 25 percent -- that the Senate should hold hearings on Garland. That includes 39 percent of Republican voters polled.
On top of that, the question of which party's presidential candidate should pick the next Supreme Court justice now ranks as the fourth most important election-year issue for voters polled, with 17 percent saying it's a top issue. In February, just 6 percent of respondents named Supreme Court nominations a top concern. Twenty-three percent of Republican respondents now do so.
Voters also largely favor Obama's pick for Scalia's vacant seat, with 41 percent approving of the decision to nominate Garland and 28 percent disapproving. Thirty-one percent of respondents say they're unsure, which likely stems from the fact that the Senate has refused to hold hearings on him.
The HuffPost/YouGov poll consisted of 1,000 completed interviews conducted June 2-3 among U.S. adults, using a sample selected from YouGov's opt-in online panel to match the demographics and other characteristics of the adult U.S. population.
The Huffington Post has teamed up with YouGov to conduct daily opinion polls.You can learn more about this project and take part in YouGov's nationally representative opinion polling. Data from all HuffPost/YouGov polls can be found here. More details on the polls' methodology are available here.
Most surveys report a margin of error that represents some, but not all, potential survey errors. YouGov's reports include a model-based margin of error, which rests on a specific set of statistical assumptions about the selected sample, rather than the standard methodology for random probability sampling. If these assumptions are wrong, the model-based margin of error may also be inaccurate. Click here for a more detailed explanation of the model-based margin of error.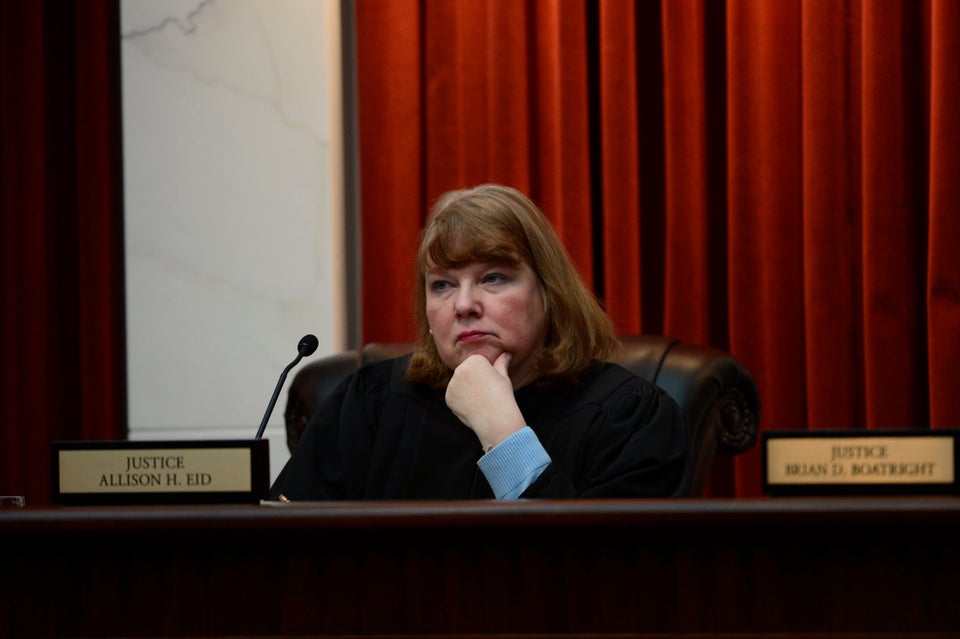 Donald Trump's Potential Supreme Court Justices
Popular in the Community