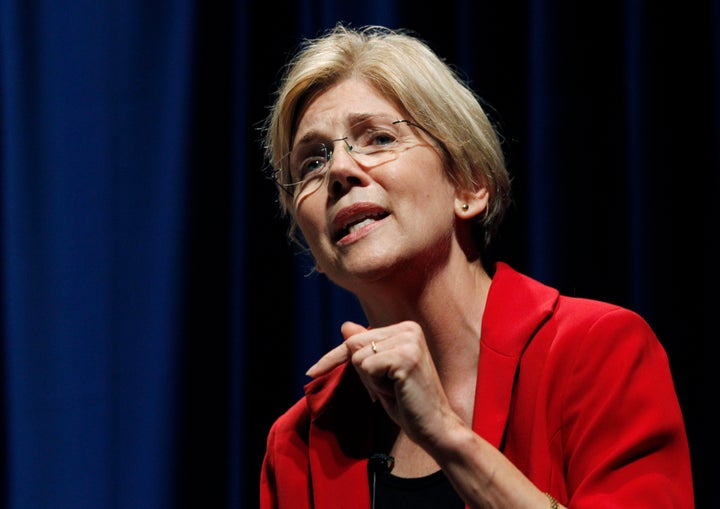 WASHINGTON -- Massachusetts Senate hopeful Elizabeth Warren (D) criticized Sen. Scott Brown (R-Mass.) on Tuesday for opposing the "Buffett Rule," saying the issue reveals a major difference in what they represent as candidates.
"Just last week, Scott Brown said in an interview that he thinks Mitt Romney and Warren Buffett should get special tax breaks that are not available to most Americans. I don't think that's fair," Warren said in a new post on Blue Mass Group, a New England independent political blog.
"This is one of the places where Scott Brown and I see things differently," she said.
The "Buffett Rule," named after billionaire William Buffett, would require people who make more than $1 million to pay at least 30 percent in taxes. President Barack Obama highlighted the proposal in his State of the Union address and is likely to hammer away at it in the coming months. The issue will also take center stage this week in the Senate as Democrats prepare to unveil a bill that would turn the "Buffett Rule" into law.
"This isn't the first time Senator Brown has been more concerned with protecting millionaires than helping working families," Warren said, ticking off handful of jobs bills that were put forward by Obama but didn't advance in Congress. "Each bill would have been paid for with a small tax on people making more than $1 million a year. Senator Brown and every other Republican voted against those jobs."
Warren also sought to link Brown to Romney's wealth.
"Lately, Senator Brown has been telling the people of Massachusetts that we don't understand Mitt Romney's tax bracket. No, we understand," Warren said. "Mitt Romney pays 14 percent of his income in taxes. Many people who work for a living pay 25, 28, 33 percent of their hard-earned dollars. Mitt Romney gets a better deal because he earns his income in a way that has been specially protected in the tax code to help people like him."
Asked for comment, a Brown campaign spokesperson deferred to the Massachusetts Republican Party. A spokesman for that group, Tim Buckley, criticized Warren for being a multimillionaire trying to be the face of the middle class.
"Professor Warren prides herself on being the intellectual founder of the Occupy protests and a leader of the so-called '99 percent,' but in fact she is worth nearly $15 million," Buckley said. "Incredibly, she doesn't consider herself wealthy. She can claim to represent middle-class Americans, but she is actually an elitist Harvard multimillionaire who has a different set of rules for herself than for everyone else."
The Warren-Brown race will be one of the most closely watched races this year. Warren, a former consumer finance watchdog and Harvard University law professor, pulled ahead of Brown by 4 points in a state poll last month. Last week, they both signed a pledge to curb political attack ads by outside groups throughout their Senate race. Under the terms of their deal, each campaign will donate half the cost of any third-party ad to charity if that ad either supports their candidacy or attacks their opponent by name.
REAL LIFE. REAL NEWS. REAL VOICES.
Help us tell more of the stories that matter from voices that too often remain unheard.
BEFORE YOU GO