 Sen. Scott Brown (R-Mass.) and Democratic challenger Elizabeth Warren met for their third debate Wednesday night with the first question about jobs -- not the Native American heritage controversy that led the first two debates.
Warren, a Harvard law professor, went to Brown's votes in Washington. "That's why I was so surprised when Senator Brown voted against three jobs bills in a row," she said during the debate in Springfield, Mass. "And why? because it would've meant an increase in taxes. Not for most people, but for those making a million dollars or more."
Brown talked about a local lunch spot. "I used to live here. I worked down on State Street. ... I've visited obviously Friendly's, Milano's, the Big E, Mass Mutual, and many other businesses and they're hurting right now. They have a lack of regulatory and tax certainty."
In essence, the answers marked the pitches of both candidates in the hotly contested race. Warren focused like a laser on Brown's Senate record and said his election would aid national Republicans in their quest to take control of the Senate. Brown made dozens of local references -- from the eateries to military bases, local politicians and Celtics legend Bob Cousy -- and said at one point, "I'm from here."
One of the sharpest exchanges came over women's rights. Brown said he supports women's rights, while Warren talked about his vote against equal pay for women.
"I live in a house full of women," said Brown, referring to his wife and two daughters. "I have been fighting since I was 6 years old to protect women's rights. We are both pro-choice. I believe very much in women getting the same pay and benefits. ... When you refer to paycheck fairness, you know, right idea, but the law is the wrong bill." He added, "You can cherry pick votes certainly and try to distort things, but I'm very happy with what I've done and I'm going to work."
Warren said she had "no doubt" that he was a good husband and father. "He's had exactly one choice to vote for equal pay to equal work, he had exactly one chance to vote for insurance coverage for birth control and other preventive services for women," she said. "He voted no. He had one chance to vote for a pro-choice woman from Massachusetts to the United States Supreme Court, and he voted no. Those are bad votes for women. This one really matters. There is a lot at stake."
"You have another 20 seconds if you wish," said moderator Jim Madigan, who meticulously kept time.
"No, you know, I think that says it all," Warren said. "I am a mother of a daughter and a grandmother of granddaughters. This is about their future. I want to be blunt. We should not be fighting about equal pay for equal work and access for birth control in 2012. These issues were resolved years ago, until the Republicans brought them back."
Brown replied that he and Warren are both "pro-choice" and "working very hard."
Warren continued to pound Brown. "This is how the senator votes. He comes up with a lot of excuses," she said, repeating her line about the votes, and said, "This is not right."
Brown, who's launched his share of zingers in the previous debates, got one in. Warren talked about the middle class getting "hammered," and Brown replied, "Professor Warren, I suggest you put down the hammer." The audience booed. Though the moderator told the audience not to cheer or boo at the outset, that was quickly ignored.
Brown has campaigned heavily on Warren listing Native American ethnicity in law school academic directories in the 1980s. Warren has said she derived no benefit from it, and her recruiters back that up. Neither the moderator nor Brown raised the issue in Wednesday's debate.
In the end, it was about Brown, the guy from Massachusetts, versus Warren, who said she would vote more in line with Democratic Massachusetts.
"To think like someone like me could actually represent Massachusetts with the challenges I've had and the many challenges you've had, and there are many challenges here in Western Massachusetts," Brown said, going on to talk about last year's tornadoes and how he had worked for aid.
Warren talked about visiting Jiminy Peak with her granddaughters and made a populist pitch. "Senator Brown and the Republicans" believe that they can "cut taxes for those at the very top and then let everybody else pick up the pieces. I believe we can do better than that and we must do better than that. I believe everybody pays a fair share. Even millionaires, billionaires' and even big oil companies. When everybody pays a fair share, we can all make the investments in the future."

Before You Go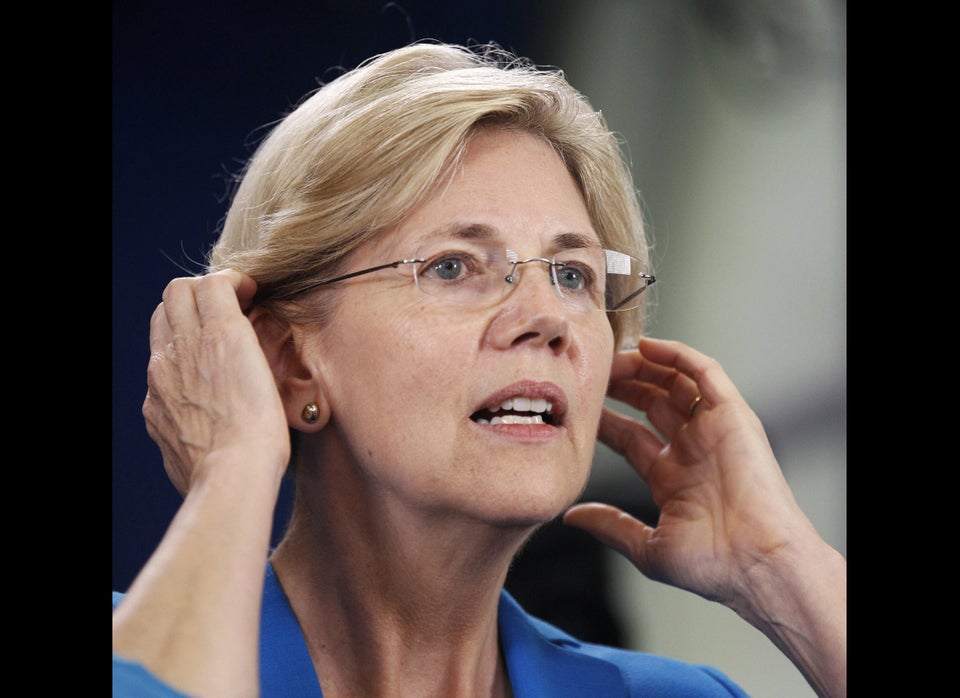 Elizabeth Warren
Popular in the Community