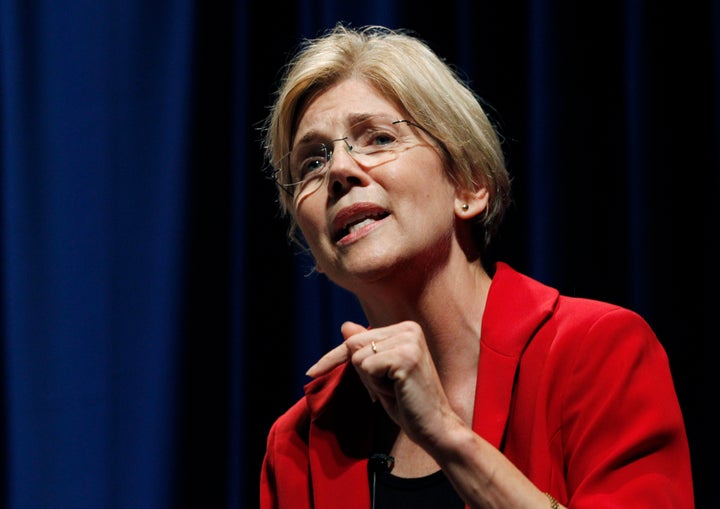 One day after the U.S. Chamber of Commerce pledged to be "significantly involved" in the Massachusetts Senate race, Democrat Elizabeth Warren is urging her opponent in that contest, Sen. Scott Brown (R-Mass.), to join her in keeping outside groups away.
The consumer advocate and Harvard professor called the man she's trying to unseat on Friday to ask him to enter into an "enforceable agreement" that would limit the meddling of third-party groups like the Chamber. A campaign aide said that Brown did not answer the phone, so Warren left a voicemail.
"The gist was, "I'm serious about this. I'm going to pick up the phone and get this done," the aide said.
Earlier in the afternoon, Warren wrote Brown a letter, laying out the objective of her plan.
"Dear Senator Brown," the letter reads. "We have the opportunity to set an example for the rest of the country. Let's do it. If you are serious about stopping the political games and getting to the hard work of keeping out third party ads and independent groups, I'm ready. My campaign manager is prepared to meet with your representative to begin immediately to craft an enforceable agreement.
"Too often, candidates call for an end to third party influence but their words are just that, and their calls are just more empty promises and politics as usual. I propose that our agreement include television, radio and online advertisements from outside groups and third parties and further, that this agreement include consequences for the campaign that fails to honor this agreement."
There is some precedent for Massachusetts Senate candidates coming to an agreement to limit the influence of money in politics. In the 1996 campaign, Sen. John Kerry (D-Mass.) and his opponent, Gov. Bill Weld (R), both agreed to cap personal expenditures at $500,000 and to enforce an overall spending limit of $6.95 million. Both men subsequently accused the other of violating the terms of the truce.
What Warren is proposing seems even harder to enforce. There are prohibitions on candidates coordinating with non-campaign organizations. Brown could denounce the content of the Chamber's ads or call on the group to stop advertising altogether, but he does not have the power to limit their activities.
And it wouldn't exactly be in his interest to do so. Both candidates have raised tremendous amounts of cash so far, though Warren raised more in the fourth quarter and did so from a wider swath of donors. Brown is dependent on the Chamber and other groups to help him. So far, for example, he's been given a big assist from the Karl Rove-backed Crossroads GPS.
UPDATE: 6:30 p.m. -- Brown spokesman Colin Reed told HuffPost that the senator's campaign manager will meet with a representative from the Warren campaign next week to discuss third-party spending. That campaign manager, Jim Barnett, released a statement that called Warren a late convert to the cause of eliminating third party ad spending (the League of Conservation has been running ads against Brown with minimal objection from the consumer protection advocate).
"We're pleased that Professor Warren appears to have finally had a change of heart about the negative influence of outside special interests," said Barnett, "and will be further encouraged when and if she actually joins Senator Brown's call for outside groups on both sides to cease their interference in Massachusetts."
In addition, Reed passed along following letter that Brown sent Warren late Friday afternoon:
Dear Professor Warren,

As you have witnessed, outside third party groups have already begun spending millions of dollars on attack ads designed to influence the 2012 Senate election here in Massachusetts. Attack ads from unaccountable outside groups that spend millions of dollars from anonymous donors portraying their opposition unfairly and misleading voters are wrong. That is why I believe candidates have a responsibility to speak out against these groups regardless of whether those groups are seeking to help them or harm them. It has been disappointing that you have repeatedly refused to join my call for an end to this spending.

Although you defended attempts by out-of-state special interests to influence the Massachusetts election, you did claim to oppose unfair attack ads. However, in November, when questioned about a nearly $2 million attack campaign against me by the League of Conservation Voters, you defended the attacks and told WCVB they were "merely calling him out on his voting record." The truth, as the non-partisan FactCheck.org pointed out, is that the ads ignore parts of my record that undermine their premise. You were silent when FactCheck.org called an earlier round of attacks against me "misleading."

It seems the only third-party ads you think are unfair are those that criticize you. In recent days, you have even complained to the media that I am somehow responsible for these ads, despite all evidence to the contrary. You seem to see no irony in attacking me even though you have turned down numerous opportunities to join me in denouncing these ads. Your refusal to do so gives you zero credibility on this issue.

The voters of Massachusetts deserve an honest campaign where candidates themselves are allowed to contest their ideas and are held accountable for the conduct of their campaign. Rather than adopt an elitist attitude with one set of rules for yourself and another for everyone else, I urge you once again to join me in calling for an end to all spending by third party groups.

Sincerely,

Scott Brown

Calling all HuffPost superfans!
Sign up for membership to become a founding member and help shape HuffPost's next chapter