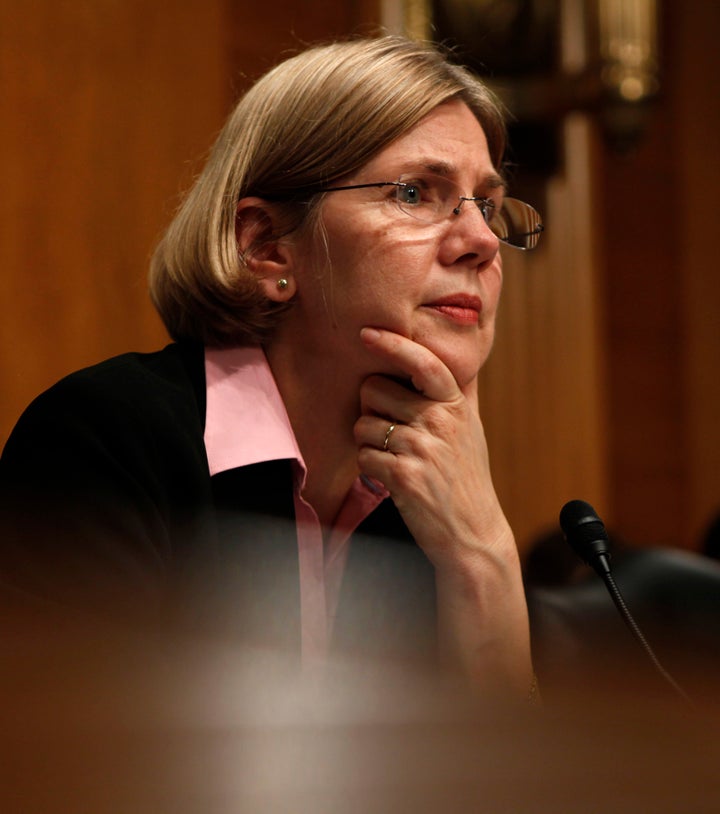 WASHINGTON -- In the most overt sign of political courtship to date, a spokesman for the Massachusetts Democratic Party said on Monday state voters would be "thrilled" to have the consumer protection advocate Elizabeth Warren take on Sen. Scott Brown (R-Mass.) in 2012.
"Many Democrats in Massachusetts are proud of the fight Elizabeth Warren has waged for consumers and would be thrilled if she decided to take on Scott Brown," Kevin Franck, a spokesman for the Massachusetts Democrats, told The Huffington Post. "No question she would make an exciting addition to an already rich field of Democratic candidates who know how to energize voters and build on our grassroots successes in 2010."
The statement, which comes on the same day that the White House formally announced it would not be nominating Warren to head the Consumer Financial Protection Bureau, is noticeable for a variety of reasons. Until now, the party has generally kept its encouragements for a Warren Senate run to private channels. Warren, a Harvard Law professor who has spent the past year staffing and building up the CFPB, has been frequently discussed as a potential challenger to Brown, but party officials have not wanted it to appear that they are drawing her into the race.
The statement also underscores the sensitivities that come with having a largely national figure run for a statewide election. Still smarting from Attorney General Martha Coakley's failed run for Ted Kennedy's seat, party officials are wary of giving off the impression that they are clearing the field for any individual candidate.
"Regardless of who emerges as the Democratic nominee," read the rest of Franck's statement, "Scott Brown's major opponent will be his own voting record in the Senate, where he has gone along to get along with D.C. Republicans nearly 90 percent of the time and consistently put the interests of Wall Street and big banks ahead of Massachusetts consumers."
Still, it doesn't take a degree in behavioral science to recognize that Democrats are excited about the prospects of a Warren Senate bid. A top national Democrat involved in 2012 strategy called her ability to raise money, create a strong contrast with Brown, and withstand GOP attacks invaluable attributes for what promises to be a bruising campaign.
"No one has gone and taken the worst Republican fire head-on like she has over the last couple years, and no one has taken on the most complex financial issues in the country and boiled it down to why it matters for every day Americans like she has," the official said.
Warren, for her part, seems increasingly tempted by the idea of serving in the Senate. As Roll Call reported several weeks ago, she has met in person or spoken with some of the most prominent campaign officials in the party, including: "Democratic Senatorial Campaign Committee Chairwoman Patty Murray, David Axelrod, Sen. Charles Schumer (D-N.Y.), Sen. John Kerry (D-Mass.) and Massachusetts Democratic Reps. Barney Frank, Stephen Lynch and John Tierney."
On Monday, much of Warren's time was spent heaping praise on the man who has been nominated to head the agency she helped create -- Richard Cordray, former Attorney General of Ohio -- as well as touting the importance of the CFPB itself. In between, however, she gave off the slightest of hints that Massachusetts politics were on her mind.
"Massachusetts does beckon in the sense that it's my home, and I need to go home. And when I go home, I'll do more thinking then. But I need to do that thinking--not from Washington--but I need to go home," she told MSNBC.
"I think it's important to stay up with all the teams all the time," she added, playing off Coakley's memorable failure to cater to her home state's devotion to its baseball squad. "My husband makes sure -- he's the one who's 15 generations of Massachusetts, he keeps up with the Red Sox and every other team."
And in a conference call later in the day, organized by the White House, Warren again hinted where her political future lies. "Let me put it this way," she said, "I'm saving all of the rocks in my pocket for the Republicans."

Calling all HuffPost superfans!
Sign up for membership to become a founding member and help shape HuffPost's next chapter