 On an overcast September Saturday at the Johnny Appleseed Festival in this medium-sized Central Massachusetts town, she got swarmed by well-wishers who stopped to shake her hand. Onlookers pulled out their phones for a picture, and high-schoolers, presumably too young to vote, were in on the excitement.
"Elizabeth Warren, oh my God, good to see you, we're working for you, we love you!" shouted one. Warren encouraged her and her friends to join in for a picture. She was thriving in all of this, stopping to say hello to everyone, even though it meant it took her a long time to get from one end of the town square to the other.
She's come a long way for someone who introduced herself to Massachusetts voters just over a year ago to run for Senate against Scott Brown, a phenomenon himself after vigorously campaigning across the state in 2010. She oversaw the bank bailout after a 2008 call from Senate Majority Leader Harry Reid and built the Consumer Financial Protection Bureau in 2011 at President Barack Obama's appointment, but she's never held elected office. She moved to the state in 1995 to teach at Harvard Law School, having a decidedly un-Ivy League background and growing up, as she often puts it, "on the ragged edge of the middle class" in Oklahoma.
But her grasp of local issues is clear. She told an apple grower Saturday that she heard the harvest hasn't been as good as in past years, and he nodded in agreement. Ninety miles away in coastal New Bedford, she adroitly handled a question from a local reporter about an environmental decision impacting fishing, speaking to the importance of fishing families. "For me, this is about the importance of maintaining a way of life," she said.
If Warren is taking Tip O'Neill's aphorism that "all politics is local" to heart, though, her case is national. It's about Senate control.
"For President Obama to get the things he wants to get done to move this country forward he needs a Democratic Senate," she told HuffPost on a pier in New Bedford.
"Scott Brown's first vote would be to put Mitch McConnell to be in charge of the Senate who said he'd make Obama a one-term president. We don't need more of the politics of obstruction," she said, adding that she would like to see filibuster reform.
Massachusetts is a state that voted -- and will in all likelihood vote -- overwhelmingly for Obama, and Warren's desire for a Democratic Senate makes sense. The president's big legislative accomplishments came primarily in his first two years, before Republicans won control of the House and picked up Senate seats. The Affordable Care Act was voted on before Brown got to the Senate; he won his 2010 special election partly on his opposition to it. Brown ultimately voted for financial reform, but only after he made sure it was watered down.
So why, then, isn't it a slam-dunk for Warren? Part of the answer lies in the fact that Massachusetts is never as liberal as its cartoonish national image suggests, especially in places like Leominster, which went for Brown over Attorney General Martha Coakley in 2010. The other part relates to Brown's popularity.
He goes a long way on the politics of his persona -- his local accent, his truck, his ads thanking Boston sports teams -- and his supporters' pitch echoes that.
"It's really a nonpolitical message about the man, rather than it is about politics or ideology," said former Boston Mayor Raymond Flynn, part of a cadre of pro-life, conservative South Boston Democrats.
"I didn't go through his congressional record or roll call. I don't have time for that. People don't have time for that. I am interested if the guy is honest, that he has personal integrity."
Warren acknowledges that. "This isn't personal, it's about how he votes," she told supporters outside Democratic headquarters in Leominster.
So do her backers, many of whom talk about how much of a "nice guy" Brown is. "I'm his congressman and I've known him for a long time," said Rep. Jim McGovern (D-Mass.). "He wants to talk about her heritage, he wants to talk about anything and everything but the economy, he wants to talk about anything and everything but his record."
McGovern is referring to the contretemps over Warren listing herself as having Native American heritage in the law school directories at the University of Pennsylvania and Harvard. She has said that she heard she was part-Native American from her family and that the listing did not contribute to her hiring at either school, a claim her recruiters back up.
Warren's slow response to the controversy seemed to threaten her candidacy in the spring and early summer -- or at least it was the question du jour on Boston political shows. But if it's an issue now, that wasn't apparent on the trail.
Amid a throng of volunteers canvassing for her in New Bedford Harbor, she squatted down to talk to a young girl, who understandably had no idea who she is. "My name is Elizabeth Warren, and I'm running for Senate, because that's what girls do," she said.
She extended her pinky, and they shook.
Before You Go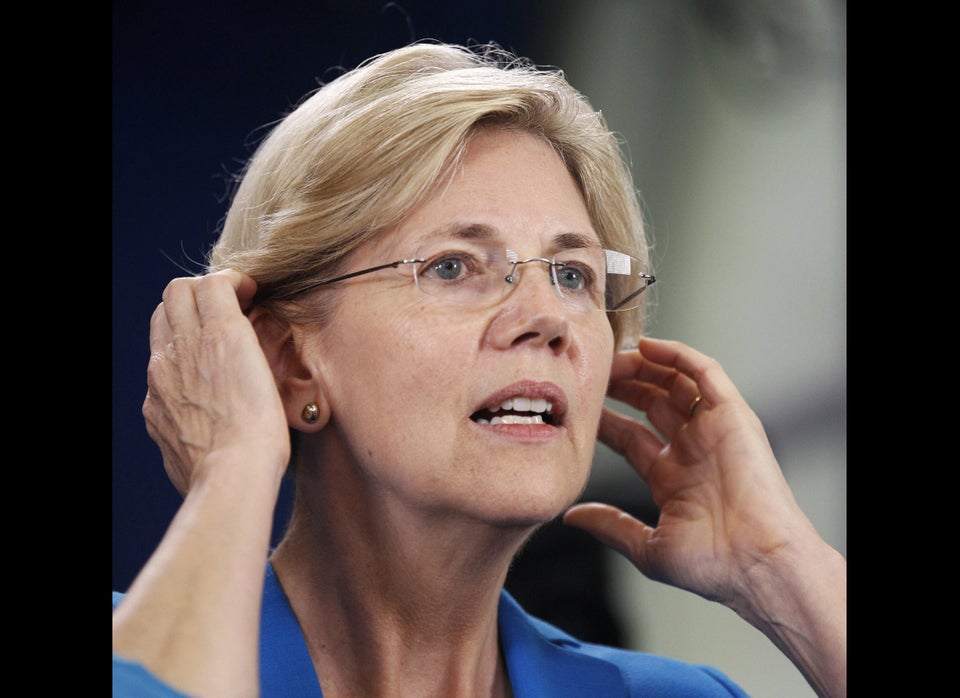 Elizabeth Warren
Popular in the Community