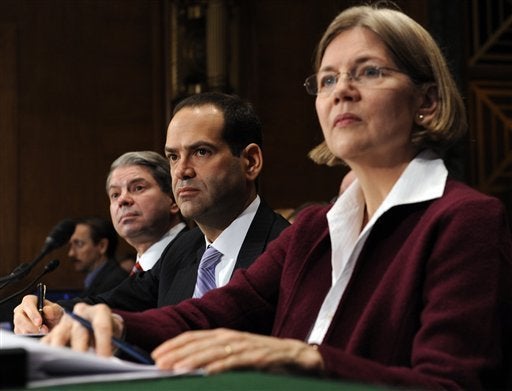 WASHINGTON -– If progressives can't have Elizabeth Warren as the head of the federal government's new consumer watchdog agency, they want her to be the next senator from Massachusetts.
The Progressive Change Campaign Committee had already run a massive petition drive aimed at convincing President Obama to name her to the Consumer Financial Protection Bureau, but with his announcement Monday that former Ohio Attorney General Richard Cordray would get the post instead, they are switching gears.
Some 350,000 people signed the petition to make Warren the nation's consumer finance cop, and all of them will be recruited to back Warren for Senate. They will be asked how much time and money they can donate to a Warren campaign, said Adam Green, a co-founder.
"We still need Elizabeth Warren's fierce advocacy for working families. And fortunately, it's reported that she's considering a run for Ted Kennedy's Senate seat in her home state of Massachusetts," the group's founders write in an email pitch being sent out Monday.
"If the idea of Senator Elizabeth Warren inspires you, let her know! Join our new 'Draft Elizabeth Warren
for Senate' campaign today," it continues. "Elizabeth Warren is a bold progressive icon. And it's fitting that she'd be the one to win back Ted Kennedy's seat from Republican Scott Brown in 2012."
Many national Democrats think Warren is the best shot they have at unseating Brown, who has been polling well in the Bay State in spite of its Democratic leanings. But in case Warren is leery of Brown's poll numbers, PCCC wants her to know that hundreds of thousands of people will have her back.
"After a tough loss, we have to fight even harder -- and help Elizabeth Warren get back in the ring," the email says. "Let's tell her that if she runs and keeps fighting for us against powerful interests, a grassroots army will be there to support her candidacy."
Even though the PCCC may be able to help Warren reach the Senate, the group has not forgiven the president for bypassing her for the CFPB post. It is continuing its push to get progressives to bail on Obama if he agrees to make cuts to Medicaid, Medicare or Social Security in any deal with the GOP to extend the debt ceiling.

Popular in the Community