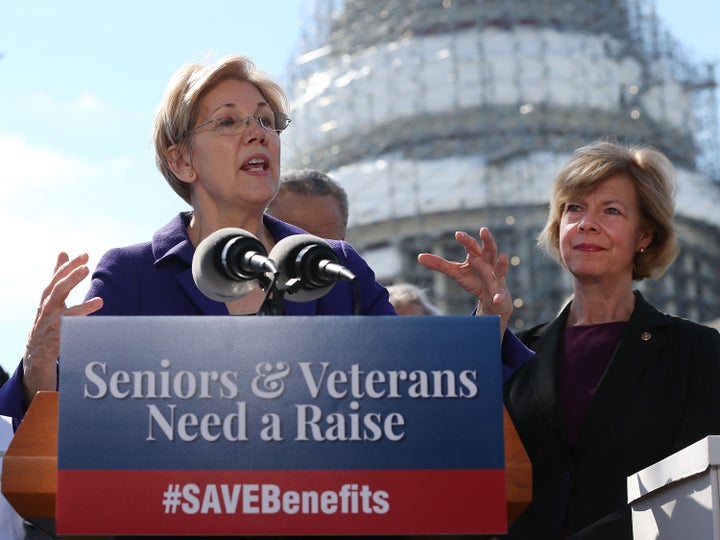 Sen. Elizabeth Warren (D-Mass.) is demanding a vote on a bill that would provide a one-time cash payment to Social Security beneficiaries and veterans who did not get a cost-of-living adjustment this year.
At least a dozen activists and heads of major advocacy groups joined Warren and several Democratic colleagues for a press conference outside the Senate on Wednesday, armed with boxes of 800,000 petition signatures in support of the bill that they subsequently delivered to Senate Majority Leader Mitch McConnell (R-Ky.).
Warren introduced the Seniors and Veterans Emergency (SAVE) Benefits Act in November shortly after the federal government announced that there would be no annual cost-of-living adjustment in 2016 for Social Security, veterans benefits, Supplemental Security Income and other federal programs.
Seniors advocates and some economists argue that the consumer price index used to calculate the COLA does not accurately reflect the living expenses of seniors, for whom health care and housing make up a larger share of living costs.
The SAVE Benefits Act, which has 21 Senate co-sponsors, would provide some 65 million Social Security beneficiaries and millions of people getting benefits from other programs with an estimated one-time payment of $581 per person, which is equal to 3.9 percent of the average Social Security benefit.
Warren chose 3.9 percent because it was the average pay increase of CEOs of the country's 350 largest companies from 2013 to 2014.
The bill pays for the increase by closing tax loopholes on executive compensation, including one that allows "performance-based" pay to be deducted from corporate taxes.
For CEOs with taxpayer subsidies, it is a sweet life. But for 70 million seniors, veterans and Americans with disabilities, there are no raises this year.

Sen. Elizabeth Warren (D-Mass.)
Once the one-time COLA replacement payment is paid for, additional revenue from closing the tax loopholes would go toward bolstering Social Security's finances. The popular social insurance program faces a long-term funding gap.
"For CEOs with taxpayer subsidies, it is a sweet life," Warren said at Wednesday's event. "But for 70 million seniors, veterans and Americans with disabilities, there are no raises this year."
Sens. Chuck Schumer (D-N.Y.) and Tammy Baldwin (D-Wis.) also spoke on behalf of the bill, flanked by activists, including veterans and retirees.
Leaders of Social Security Works, the Progressive Change Campaign Committee, the National Committee to Preserve Social Security and Medicare, and MoveOn.org, all of which helped collect petition signatures, were present as well.
Julian Blair, a veteran and Maryland-based grassroots activist, shared the struggles of his fellow elderly and disabled veterans living on a fixed income.
"Most of them live in a budget where every dollar is accounted for. No, let me take that back -- every penny is accounted for," he said. "When there's an increase, you might say, 'This is 50 cents more' -- that's 50 cents that's not accounted for."
Blair subsequently led the march to deliver McConnell the petitions after the press conference.
Don Stewart, a spokesman for McConnell, denied that the majority leader has explicitly decided to block the bill.
"The leader hasn't made any announcements on that proposal," Stewart said.
Since Republicans control both houses of Congress, it is extremely unlikely that the SAVE Benefits Act would pass, even if it were up for a vote.
President Barack Obama included a $250 payment to seniors as part of the stimulus package in 2009. But the president angered many progressives in 2013 when his budget proposal included a more modest COLA formula that would effectively cut benefits over time.
Wednesday's event attests to the degree that the debate over Social Security has shifted among Democrats in recent years. There is now a progressive consensus that the failure of 401(k) plans to provide adequate retirement income has increased the need not only to preserve Social Security benefits, but also to expand them. 
And they see expanding Social Security benefits as a political winner. Both candidates for the Democratic presidential nomination, Hillary Clinton and Sen. Bernie Sanders (I-Vt.), have pledged to expand benefits.  
Clarification: This story has been amended to note the entire name of the Seniors and Veterans Emergency (SAVE) Benefits Act.
Calling all HuffPost superfans!
Sign up for membership to become a founding member and help shape HuffPost's next chapter
BEFORE YOU GO
PHOTO GALLERY
Elizabeth Warren