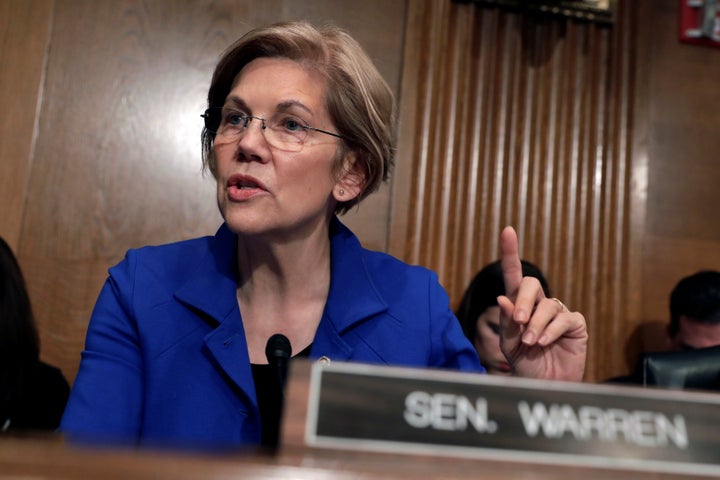 WASHINGTON ― Sen. Elizabeth Warren (D-Mass.) announced Tuesday that she would contribute $175,000 to efforts to Democratic groups trying to win back state legislatures and to fight partisan gerrymandering.
In the last speech of the day at the Center for American Progress' Ideas Conference, where she was joined by many other rumored presidential contenders, Warren pledged the money as part of a multipronged effort to fix a "crisis in our democracy" that she said has been building since long before President Donald Trump took office.
The senior Massachusetts senator identified control of state governments and the congressional redistricting process as key ways to fight Republican efforts to infringe on voting rights. She called on Democrats to root out key GOP-led threats such as "racist" voter-ID laws, early voting restrictions, disenfranchisement of felons and partisan gerrymandering.
"I'm doubling down on the importance of our voters — state by state — and I want to turn up the heat on gerrymandering," she said, according to the text of her prepared remarks. "I'm sending $175,000 to organizations on the front lines trying to win back our legislatures and fight for fair redistricting.
"Democrats believe in a fair fight, and making sure that districts aren't drawn to cut out one party or the other is a critical first step," she continued.
Warren is splitting the cash among several Democratic campaign committees and groups. She is sending $8,000 each to nine Democratic legislature campaigns in states where Democrats hope to pick up seats: Florida, Georgia, Maine, New Hampshire, Ohio, Pennsylvania, South Carolina, Texas and Wisconsin.
She is also contributing $30,000 each to the Democratic Legislative Campaign Committee (a national party arm that helps elect Democratic state lawmakers) and the National Democratic Redistricting Committee (a group led by former Attorney General Eric Holder that is devoted to fighting GOP-led partisan redistricting). The remainder of the $175,000 will be split among several nonprofit liberal resistance groups, including Forward Majority, a super PAC devoted to electing Democratic state lawmakers.
Warren went further in her recommendations for restoring public faith in the idea, in support of what she called the fundamental principle that "every vote matters."
She proposed amending the Constitution to establish "an unquestioned, unassailable, nationally recognized right to vote." And she would crack down on the influence of special interests through three major reforms: requiring Cabinet members, agency heads and members of Congress to divest themselves of assets that pose a conflict of interest with their policy work; prohibiting presidents and those officials from lobbying after they leave their posts; and barring corporations from providing multimillion-dollar leave packages to executives so they can serve in government. 
"Let's dismantle the broken system that lets rich donors and giant companies undermine democracy by buying their way in Washington," she declared.
Her $175,000 contribution is the latest in a series of moves by Warren designed to elect Democratic candidates and buttress the depleted party's presence across the country.
At a March fundraiser for the Democratic National Committee, she announced a contribution of $250,000 to the 50 state Democratic parties, as well as a $15,000 donation to the DNC.
The strategy is an implicit attempt to redress Barack Obama's relative inattention to Democratic Party infrastructure while he was president. He received criticism for creating Organizing for Action, a separate political arm that skeptics believe deprived the party of much-needed attention and resources.
During Obama's two terms, the party lost some 1,000 state legislative seats, forfeiting control of 27 state legislative chambers. The timing of those losses, which began with the 2010 midterm elections, was especially harmful to the party because it enabled Republicans to draw extraordinarily partisan congressional and legislative district boundaries that entrenched their advantages.
There is now a broad consensus among Democrats that ignoring the importance of state legislatures was a mistake of historic proportions.
However, a clear subtext of Warren's address is her growing national political profile, including rumored presidential ambitions.
Warren, who has made a name for herself as Wall Street's toughest foe in Congress, has emerged as a leading small-dollar fundraiser. A large majority of the more than $27 million Warren has raised since 2013 has been in increments of less than $200, according to an April analysis in The Intercept.
Although Warren is running for a second term in November, her use of her considerable campaign largesse to boost the fortunes of her fellow Democrats has fueled speculation that she has national aspirations. In all, she has raised or contributed nearly $15 million for Democratic candidates across the country, including the maximum allowed amount to the Democratic Senatorial Campaign Committee this year and last.
Warren has taken a special interest in promoting Democrats with whom she has worked on her signature issue of financial industry regulation. This election cycle, she is backing the Ohio gubernatorial candidacy of Richard Cordray, the first head of the Consumer Financial Protection Bureau, and Katie Porter, a former Warren student and consumer law professor now running in California's 45th Congressional District.
The conference hosted by the CAP, the liberal think tank most closely aligned with the Democratic Party establishment, has become an important speechmaking stop for aspiring Democratic stars. This year Warren was joined on the speakers list by Sens. Bernie Sanders (I-Vt.), Sherrod Brown (D-Ohio), Corey Booker (D-N.J.), Amy Klobuchar (D-Minn.) and Kirsten Gillibrand (D-N.Y.), as well as former Housing and Urban Development Secretary Julián Castro, New Jersey Gov. Phil Murphy (D), Washington Gov. Jay Inslee (D), New York City Mayor Bill de Blasio (D) and Rep. Joseph Kennedy III (D-Mass.), among others.
REAL LIFE. REAL NEWS. REAL VOICES.
Help us tell more of the stories that matter from voices that too often remain unheard.
BEFORE YOU GO
PHOTO GALLERY
2017 Scenes From Congress & Capitol Hill