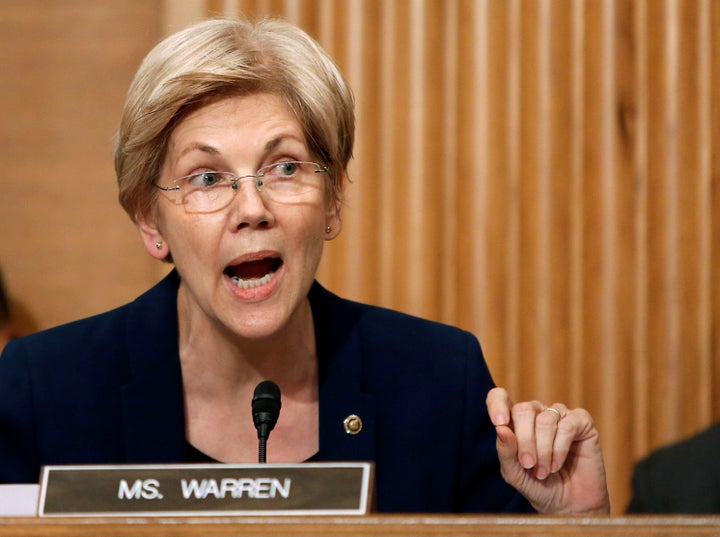 Senate Democrats want to make the confirmation hearing for Steve Mnuchin, President-elect Donald Trump's pick for Treasury secretary, all about people who won't be allowed to speak: a 90-year-old who lost her home because she was short 27 cents; an 84-year-old who was told she could keep her home if her husband died but found out days after his funeral that she faced foreclosure; a Nevada woman who was foreclosed on quickly after working for years to get a loan modification.
Each of these people had mortgages with OneWest, the bank led by Mnuchin, or one of its subsidiaries. After foreclosure victims found out that Sen. Orrin Hatch (R-Utah) wouldn't let them testify at Mnuchin's confirmation hearing, they spoke at a forum Sen. Elizabeth Warren (D-Mass.) and several of her colleagues held on Wednesday.
"Foreclosures happen in an economic crisis. But OneWest was different," Warren said. "OneWest was notorious for its belligerence and cruelty. And eight years after the crash, they are still doing it." 
The foreclosure victims detailed their travails dealing with the bank ― including salespeople telling them they were buying something different from what they were actually sold and payments being rejected because they sent a personal check rather than certified check ― and said its behavior made Mnuchin unfit to lead the Treasury Department.  
OneWest was notorious for its belligerence and cruelty. And eight years after the crash, they are still doing it.

Sen. Elizabeth Warren (D-Mass.)
"Steven is proud of his record at OneWest," Mnuchin spokesman Barney Keller told The Huffington Post. "Publicly available federal documents show that OneWest offered 101,000 loan modifications to delinquent borrowers, including more than 7,000 where the borrower's principal was actually reduced."
Keller did not immediately respond to a question asking how many of those 101,000 homeowners were eventually foreclosed on.
Mnuchin's ownership of OneWest, then called Indy Mac, began at the height of the financial crisis. He decided to buy it because he saw people pulling money out of Indy Mac ATMs and thought the bank would fail otherwise, Bloomberg reported.
Mnuchin led a group of investors, including fellow hedge fund managers John Paulson and George Soros, to buy the bank in 2008 after it failed under the weight of bad loans. The group scooped up the bank for $1.6 billion, renamed it OneWest, and went on to foreclose on thousands of homeowners. Mnuchin served as the bank's chairman and CEO. When OneWest was sold to CIT in 2015 for $3.4 billion, Mnuchin stayed on the board of CIT.
Mnuchin personally took home $380 million from his time leading OneWest, according to a Bloomberg estimate.