More than 1,000 college professors from 568 higher education institutions around the country have signed a letter calling on Congress to pass legislation authored by Sen. Elizabeth Warren (D-Mass.) that would dramatically lower interest rates on federal student loans.
Warren's proposal, presented in May, would offer the same interest rate on federal Stafford loans as the one that banks receive from the Federal Reserve. Under her plan, the rate on government-issued student loans would fall from 6.8 percent to 0.75 percent, saving students thousands over the life of their loans.
The Progressive Change Campaign Committee will run the names of the professors with the letter in an ad (pictured below) in the print edition of Wednesday's Chronicle of Higher Education, a national newspaper covering academia in the United States, ahead of a procedural vote in the Senate on legislation that would bring the interest rate on new, subsidized Stafford loans back down to 3.4 percent for one year.
(Story continues below)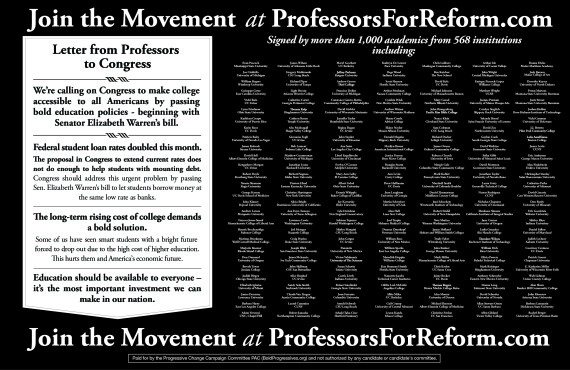 "The proposal in Congress to extend current rates does not do enough to help students with mounting debt," the professors' letter reads. "Congress should address this urgent problem by passing Sen. Elizabeth Warren's bill to let students borrow money at the same low rate as banks."
Several progressive groups -- including the PCCC, MoveOn.Org, Democracy For America and Credo Action -- have together gathered more than 618,000 signatures on a separate petition in support of Warren's bill.
"I see that students are much more concerned about the economics of their college experience than in the academics of late," said Vicki Cassman, anthropology professor at the University of Delaware, explaining why she supports Warren's bill. "This added stress often translates into skimping on classes, or taking more credits in a semester than they can handle, or not purchasing necessary textbooks or meals."
Still, the Senate shows no appetite for bringing the bill to a vote. Instead, both chambers of Congress held votes in recent weeks on legislation that would eventually increase the cost of federal student loans for borrowers, while bringing in more cash to the government. The House passed a GOP bill tying the rates to the market, despite a veto threat from the White House; the Senate failed to pass anything.
"Many of the university students I teach struggle to make ends meet," Preston Elrod, a criminal justice professor at Eastern Kentucky University, said in a statement. "Not only are they students, many are parents, many have to work, and many help care for their parents or others. Unfortunately, many are poor and struggle to get by. They deserve better. If we can help Wall Street, surely we can help college students!"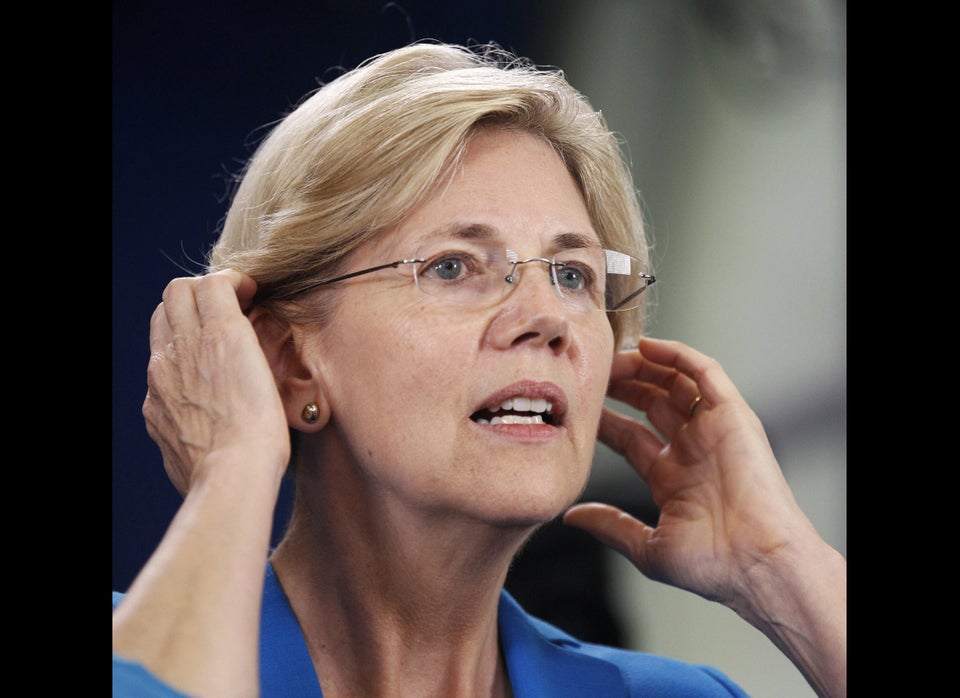 Elizabeth Warren
Popular in the Community