 The Obama administration and Congress are not helping students, Sen. Elizabeth Warren (D-Mass.) charged Wednesday, reaping record profits off the federal student loan program that a regulator said has finally surpassed $1 trillion in overall debt.
The federal government is due to book $51 billion in profit this year off new and existing federal student loans, according to estimates by the nonpartisan Congressional Budget Office. The record amount brings the government's profit haul to nearly $120 billion over the past five years, according to CBO forecasts and Department of Education budget documents. The CBO estimates that the government will generate $184 billion in profit for new loans made this fiscal year through 2023.
"Instead of helping our students, the government is making a profit on student loans," Warren said of the profit figures during a conference filled with young people. "That is wrong. It is morally wrong. That is obscene."
"The government should not be making profits off the backs of our students," she said. "Period."
Shortly after mentioning the $51 billion figure, Warren encouraged the audience of college students and young political activists to express their disapproval.
"We can hear some booing at this point," she said, eliciting a round of boos presumably meant for the federal government. "There we go," she added.
Warren's comments come as an increasing number of lawmakers and regulators are challenging the Obama administration and the Education Department over policies that have led to growing student debt loads and record relative interest rates for borrowers. Some lawmakers, such as Sens. Sherrod Brown (D-Ohio) and Kirsten Gillibrand (D-N.Y.), have proposed legislation that would ease debt burdens and high borrowing costs by facilitating refinancings into cheaper loans.
Last month, Bill Dudley, president of the Federal Reserve Bank of New York, crushed hopes that the Fed may step in to aid existing borrowers. "I think this is really out of the Fed's purview," Dudley said in response to a question about a potential refinancing program led by the Fed.
Policies to jumpstart refinancings or loan modifications for distressed borrowers are becoming more necessary as stagnant wages, high unemployment, rising tuition costs and ever-increasing debt loads risk holding back the economic recovery, regulators and policymakers at a variety of financial agencies including the Consumer Financial Protection Bureau and Federal Reserve have suggested.
The federal government now backs more than $1 trillion in outstanding student loans, Rohit Chopra, the CFPB student loan ombudsman, said Wednesday. The trillion-dollar threshold was passed sometime between March and April, the agency estimates.
Total outstanding student loan debt tops $1.2 trillion, Chopra said. Last year, when the total amount surpassed $1 trillion, Chopra suggested the market had become "too big to fail."
His remarks, delivered at the same conference as Warren's, highlighted some policymakers' concern with the total amount of student debt and the attendant effects on consumption and investment. The higher the debt load and monthly payments, the less money workers have to use as down payments for new homes, cars or to sock away for retirement.
"What's frustrating is that many people in Washington don't really look at it urgently," Chopra said. "Student debt is unquestionably strangling our people, and I think to say that it's not having a broader impact in some ways may be naive."
Student debt burdens are "not going to cause some immediate doomsday, but the long-term effect can be very, very real," Chopra added.
Compounding the problem of overall debt loads is the fact that the vast majority of students carrying high-rate debt are unable to refinance their loans, even though many have improved their credit after graduating with a college degree and securing a job.
Interest rates on financial products ranging from home mortgages and car loans to corporate bonds and bank loans to businesses have rarely been lower, thanks to Fed efforts to stimulate borrowing and investment in the wake of the financial crisis. While millions of borrowers with mortgages have been able to refinance, student debtors have not.
With some 40 percent of households led by young people holding student debt, Chopra warned: "If younger households are not being able to benefit from low interest rates, I think economic historians will look back and say, 'Why didn't we get this right?'"
Congress sets interest rates for federal student loans. A broad spectrum of Republican and Democratic lawmakers, and the White House, want to reform the program by tying rates to the government's cost to borrow, but officials haven't been able to agree on the details.
In recent weeks much of Congress has been consumed with a relatively small portion of the federal student loan program. Subsidized Stafford loans for undergraduate students, which are meant for borrowers from low- and moderate-income households, comprise roughly a quarter of all new federal student loan originations.
While interest rates on new federal student loans are set at 6.8 percent and 7.9 percent, the rate on Stafford loans was set at 3.4 percent until July 1, when they doubled to 6.8 percent. Lawmakers and the White House have been working for weeks to revert the rate back to 3.4 percent, but have been stymied by the desire to avoid adding to the federal debt.
During his remarks, Chopra appeared to be attempting to shift lawmakers' attention to the entire student loan program.
"While there has been considerable attention by policymakers on federal student loan interest rates taken out for the 2013-2014 academic year, outstanding student loan debt owed by existing borrowers continues to swell," Chopra said.
Sen. Jack Reed (D-R.I.) this week circulated a letter to fellow lawmakers to drum up support for his proposal that would immediately reduce interest rates for students and enable millions of former students to refinance high-rate debt.
Citing a slice of the federal student loan program that was tied to market-based interest rates between 1998 and 2006, Reed said borrowers who took out loans during that period have paid 2.41 percent interest on average over the past five years.
"Simply put, the federal government should not be profiting off the backs of students," Reed said in his letter. "We have offered them a better deal in the past and we should offer them a better deal now."
Like Reed, Brown and Gillibrand, Warren is among a small group of lawmakers agitating for aggressive government action.
"College graduates are getting squeezed from all sides," Warren said. "And here's the deal: All across America, everyone -- parents, teachers, even the federal government -- is telling young people to get a college education, telling them to take on the debt to do it, promising that it will pay off in the long run."
"Meanwhile, the tuition keeps skyrocketing, interest rates keep rising, and students keep borrowing more and more. In fact, this country is saying, 'You need an education, but good luck in paying for it.'"
"The government has to start doing its part to make good on the college investment," Warren added. "It's time to help former students deal with $1 trillion in existing student loan debt by helping them refinance their loans at fair and reasonable rates. We need to lower the costs for those who have already graduated."
Warren's attention to student loans has begun to have an impact on other parts of the industry. Earlier this week, she continued her weeks-long probe of Sallie Mae, the nation's biggest student loan company, for its use of a federal credit facility meant to encourage home mortgage lending.
In her letter to Sallie Mae Chief Executive Jack Remondi, Warren said she was concerned about the possible negative impact the company's expensive private student loans could be having on the overall economy, as servicing high-interest rate debt may inhibit young borrowers from saving enough to purchase their first homes.
Ashley Balcerzak contributed reporting.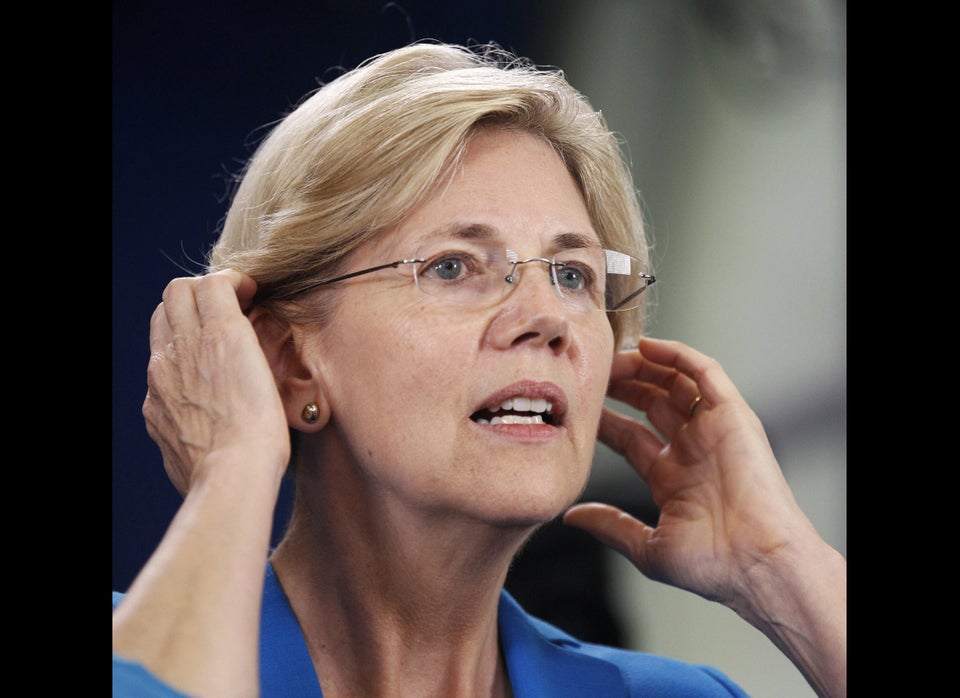 Elizabeth Warren
Popular in the Community