The U.S. can either lead by example or turn its back on human suffering, Sen. Elizabeth Warren (D-Mass.) said in an impassioned 12-minute address on the Senate floor Tuesday.
Speaking in response to the calls to turn Syrian refugees away from the U.S. following the bombings and attacks last week that left a combined 172 people dead in Beirut and Paris, Warren argued that the country now faces a stark moral choice.
"These events test us," Warren said. "It is easy to proclaim that we are tough and brave and good-hearted when threats feel far away -- but when those threats loom large and close by, our actions will strip away our tough talk and reveal who we really are."
"We face a choice," she went on. "A choice either to lead the world by example or to turn our backs to the threats and the suffering around us."
Last year, Warren traveled to Jordan, which shares a border with Syria -- the country from which hundreds of thousands of people have fled in recent years amid civil war and the entrenchment of the Islamic State militant group, also called ISIS, which has taken credit for last week's violence.
"Even a year ago, it was clear that the humanitarian crisis was straining these host countries," Warren said.
During a trip to Greece, she was told by local officials at the Moria refugee camp on Lesbos that the "island had run out of room to bury the dead."
Reports that one of the attackers in Paris appeared to have traveled through Greece en route to France have spurred calls, primarily among Republicans, for a halt in admitting Syrian refugees into the U.S. A Syrian refugee passport was found near the body of the attacker, and Greece officials confirmed that the document was used by someone to pass through the country in October.
"Whether this ultimately proves to be true," Warren said Tuesday, "there is no question that a screening system that can do no more than confirm after the fact that a terrorist entered Europe is obviously not a screening system that is working."
""People in America and throughout the world are fearful," Warren said. "Millions of Syrians are fearful as well -- terrified by the reality of their daily lives.""
Warren added that Europe and the U.S. must help with the screening process, noting that there are currently a large number of refugees at the Moria site -- which she described as "like a 21st-century Ellis Island" -- and others who are already processed and waiting to be resettled somewhere in Europe or the U.S.
Warren said that during her trip, she met a little girl who'd been sent out alone by her parents to find safety.
"What could make [parents] send a child on a journey, knowing that crime rings of sex slavery and organ harvesting prey on these children? Send a little girl out alone, with only the wildest, vaguest hope that she might make it through alive and find something -- anything -- better on the other side?" Warren asked. "Well, today, we all know why parents would send a child on a journey alone. The events of the last week in Paris and Beirut drive it home."
The senator stressed that the U.S. should not turn away refugees who have already been processed and vetted and who are able to travel here.
"People in America and throughout the world are fearful," Warren said. "Millions of Syrians are fearful as well -- terrified by the reality of their daily lives, terrified that their last avenue of escape from ISIS will be closed, terrified that the world will turn its back on them and their children."
"We are not a nation that delivers children back into the hands of ISIS murderers because some politician doesn't like their religion," she continued, "and we are not a nation that backs down out of fear."
Warren said the choice would ultimately come down to the U.S. deciding it "cannot" and "must not abandon" the people of Syria, Beirut and Paris.
President Barack Obama on Monday stood by his plan to admit 10,000 Syrian refugees this fiscal year into the U.S.
"This must be our choice -- the same choice that has been made over and over again by every generation of Americans. This is always our choice," Warren said. "It is the reason ISIS despises us, and it is the reason we will defeat them."
Watch Warren's full remarks above.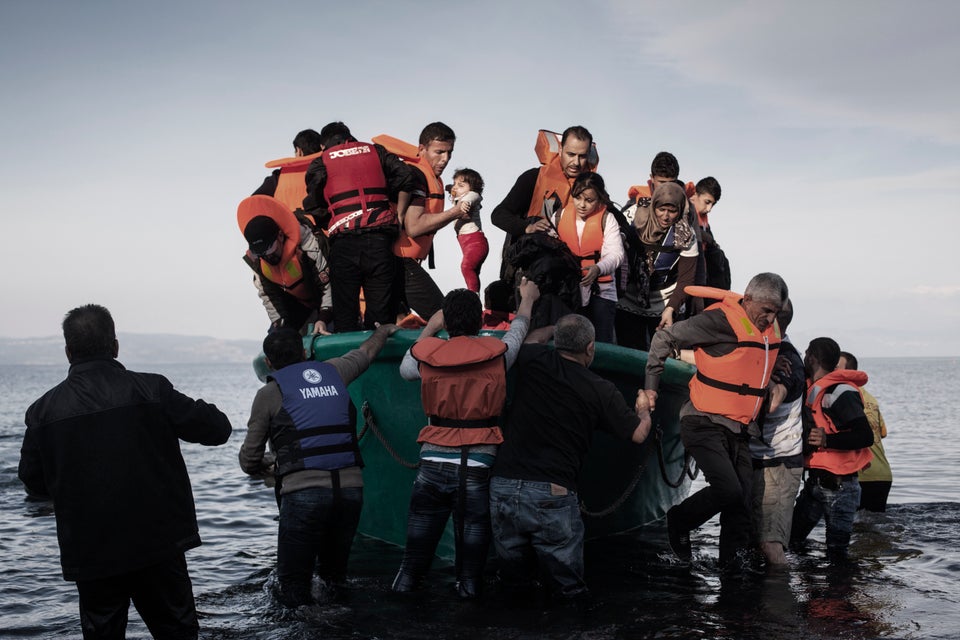 Images Show How Syrian Refugees Live And Why They Left
Popular in the Community