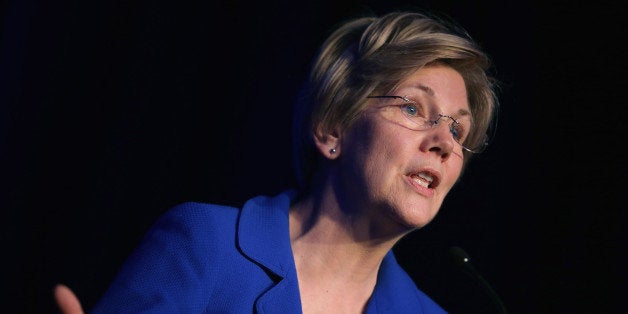 BOSTON -- Sen. Elizabeth Warren (D-Mass.) on Thursday decried efforts by the Obama administration to undermine an anti-slavery measure that the Senate approved last week as part of a major trade bill.
The provision, authored by Sen. Robert Menendez (D-N.J.), would bar the U.S. from expediting trade deals with governments that the State Department deems to be among the very worst offenders on human trafficking. The Senate passed the Menendez language late Friday night, despite strident objections from President Barack Obama's administration. Both Obama officials and House Ways and Means Committee Chairman Paul Ryan (R-Wis.) are now working to defang the anti-slavery effort.
The problem for Obama is Malaysia, one of 11 other nations included in the controversial trade talks for the Trans-Pacific Partnership. Malaysia occupies a strategically important position in global shipping routes, but its government has a long history of supporting some of the most abusive forms of human trafficking, earning it a spot on the State Department's official list of the worst abettors of modern slavery.
When asked by The Huffington Post Thursday whether the U.S. should ink trade deals with such countries, Warren responded emphatically in the negative.
"I'll give you a really short answer on that," Warren said. "No."
"This is an opportunity for the United States to use our leverage to get countries like Malaysia to clean up their acts," she added. "We're talking about really horrible violations of human rights. And Malaysia needs to make significant changes if it wants to be part of a trade agreement with other countries."
Earning a State Department designation as a Tier 3 human trafficking violator is no easy task. Malaysia's companions on the list include Iran and North Korea. Other notorious offenders, like Qatar, where hundreds of migrant workers have been killed in recent years, are considered better at fighting human trafficking than Malaysia.
The Guardian reported this week on the discovery of mass graves for trafficking victims in Malaysia. One-third of workers in the nation's burgeoning electronics industry are victims of forced labor, according to the nonprofit group Verite, which works with the State Department on human rights issues. The government is not merely looking the other way -- the State Department has said Malaysia needs to beef up efforts to investigate and prosecute government officials who profit from such exploitation.
Although Warren has long opposed Obama's trade agenda, tensions between the two Democratic leaders erupted into a public feud last month, when Obama attacked Warren's arguments as "dishonest," "bunk" and an effort to spread "misinformation."
Warren responded by calling on Obama to release a draft of the TPP legislation, so that the public could make up its own mind about the trade pact. When Obama opted to keep the deal classified, Warren's office issued a report detailing lax enforcement of labor and human rights standards in trade deals on Obama's watch.
Most of Warren's critique has focused on regulatory issues and a host of academic experts have supported her arguments. Leaked TPP documents have revealed that the pact will include an enforcement mechanism known as Investor State Dispute Settlement, which allows corporations to challenge a country's domestic laws and regulations before an international tribunal. Adverse rulings could require governments to change their laws or pay financial penalties.
But much of the debate over TPP has shifted to human rights issues, due to the unexpected Senate survival of the Menendez ban on slavery. Warren's comments Thursday marked the first time she publicly spoke out on the Malaysian human trafficking issue. Although Obama has touted the TPP as "the most progressive trade bill in history," complete with robust labor and environmental standards, the administration now finds itself seeking to neutralize a human trafficking crackdown to maintain its trade coalition.
The Office of the U.S. Trade Representative has said that excluding Malaysia from the TPP would take away diplomacy tools that could help fight slavery in the South Pacific nation. But substitute legislation sought by the Obama administration would not actually require the Malaysian government to improve its human trafficking record in order to enjoy trade benefits from the TPP.
Malaysia occupies a strategically important position in the Strait of Malacca, through which a tremendous amount of global commerce currently passes. China, in particular, relies heavily on the oil shipments that pass through the strait. Malaysia has been eager in recent years to contain China's influence in the strait and the neighboring South China Sea.
Zach Carter reported from Washington and Shahien Nasiripour reported from Boston.
Calling all HuffPost superfans!
Sign up for membership to become a founding member and help shape HuffPost's next chapter
BEFORE YOU GO
PHOTO GALLERY
Elizabeth Warren