WASHINGTON ― Sen. Elizabeth Warren (D-Mass.) on Tuesday rallied progressive activists against President Donald Trump's appointment for interim head of the Consumer Financial Protection Bureau.
Warren, Sen. Jeff Merkley (D-Ore.) and leaders of major liberal groups, including the Progressive Change Campaign Committee, MoveON and Demos, rallied outside the consumer agency's headquarters in downtown Washington, D.C., as CFPB employees congregated at their office windows to watch.
"For six years, this agency has fought to give consumers a chance. For six years, this agency has fought for working people," Warren declared as demonstrators cheered behind her. "And now it's time for us to fight for the agency." 
Trump on Friday appointed White House budget director Mick Mulvaney to serve as interim CFPB director, and Mulvaney showed up at the agency on Monday. But last week, outgoing CFPB director Richard Cordray named deputy director Leandra English as the interim agency head. English has sued to lead the watchdog.
Warren is credited with conceiving the CFPB. She and other boosters of the agency argue that the 2010 Dodd-Frank Wall Street reform law that created the CFPB insulates it from a presidential appointment of an interim head like Mulvaney. They maintain that English can hold the post until Trump nominates a permanent leader who is confirmed by the Senate. 
"This is about Wall Street banks versus families, and right now Donald Trump has put himself firmly on the side of Wall Street banks," Warren told reporters after delivering her prepared remarks. "It's like a double kiss to Wall Street this week ― trying to push forward tax reform that gives a trillion and a half dollars in tax cuts to giant corporations and at the same time, trying to hollow out the Consumer Financial Protection Bureau."
"I say we start by following the law," she added. "If Donald Trump wants to name a nominee, name him and bring him over to the Senate for the hearing."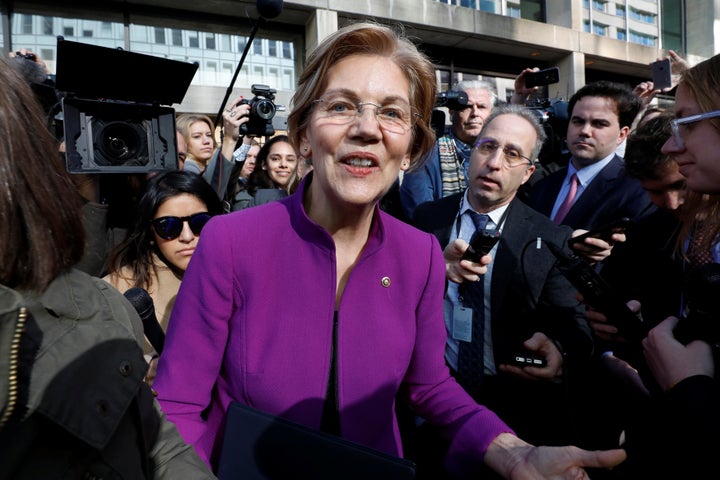 Conflict over the CFPB's leadership created scenes of chaos on Monday: English tried to assume her role at the helm, and Mulvaney, who brought employees doughnuts on his first day, instructed employees to disregard her.
It is unclear how English will fare in federal court. She sued the White House on her own with representation from Deepak Gupta, a progressive D.C.-based attorney.
Experts on the CFPB say that the legal dispute over the agency's leadership is a matter of legitimate disagreement. Former Rep. Barney Frank (D-Mass.), whose name is on the law creating the watchdog group, conceded Monday that there was some legal complexity to the issue.
"I think my side is right," Frank said during an appearance on CNBC. "But it is also clear that people's view of the law here on the whole is influenced by what they want to see."
As speakers were keen to note on Tuesday, Congress indeed created the CFPB with a leadership and funding structure specifically designed to safeguard its independence. Unlike many federal agencies run by panels of officials from both major political parties, the CFPB is run by one individual who serves a five-year term and can only be dismissed for very narrow reasons. Its funding also comes from the Federal Reserve, a feature that insulates it from yearly appropriations battles.
Financial institutions and conservative jurists have long argued that the structure of the agency is unconstitutional, because it is not subject to real oversight from either the president or Congress. In October 2016, a three-judge panel of the U.S. Court of Appeals for the District of Columbia Circuit ruled that the agency's structure is unconstitutional; the full bench of the federal appeals court has yet to issue its ruling.
For Warren, one of Wall Street's most loathed foes, and many of her progressive supporters, the fight over Mulvaney's appointment is just as much about the matter at hand as it is about a long-simmering battle over the future of financial regulation.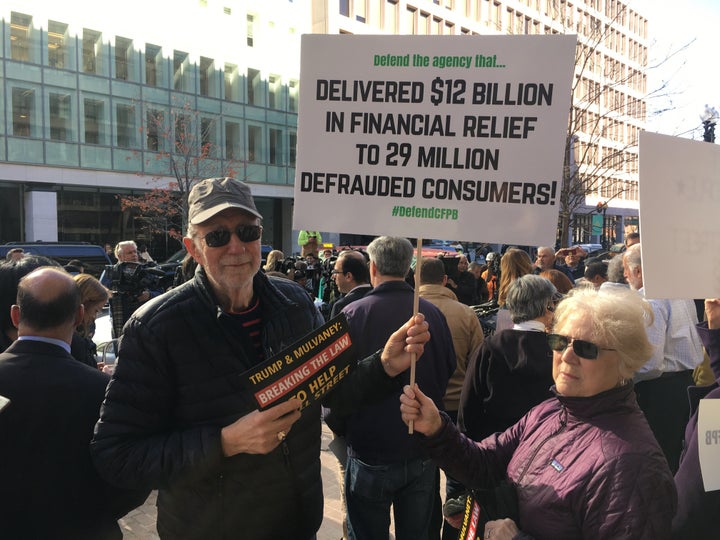 Prior to winning a Senate seat in 2012, Warren was a Harvard law professor and Congress' chief overseer of the Wall Street bailout programs. She envisioned the CFPB as a regulator of potentially dangerous financial products such as predatory loans, similar to how the Consumer Product Safety Commission regulates more conventional consumer products.
"Consumer financial protection had not been the primary focus of any Federal agency, and no agency had effective tools to set the rules for and oversee the whole market," Warren testified before Congress in May 2011, when she was helping the Treasury Department set up the agency.
"The result was a system without effective rules or consistent enforcement," she said. "We have seen the results, both in the 2008 financial crisis and in its aftermath."
Donald Trump's elevation, in part, came from people who thought the system is rigged. So this is a betrayal of Donald Trump's core supporters.

Ben Wikler, Washington director of MoveOn
The agency has earned a reputation as an effective check on the abusive practices of financial institutions such as banks, payday lenders, credit card companies and student loan agencies. The CFPB has distributed nearly $12 billion in compensation and other forms of financial relief to 29 million consumers since 2011, according to agency figures. 
One of its most notable achievements occurred in September 2016, when the agency discovered that Wells Fargo had been opening fee-generating accounts for consumers without their knowledge. The enforcement action resulted in the payment of $190 million in penalties and reimbursements. Following Warren's tough questioning at a Senate hearing, the incident even prompted the resignation of Wells Fargo CEO John Stump and the clawback of his bonus.
Many Democrats and consumer advocacy groups now fear that, one way or another, Trump will defang the agency and make it more amenable to the financial industry.
David and Allyne Pittle, septuagenarian retirees from Alexandria, Virginia, said they showed up at Tuesday's rally after reading about in The Washington Post.
"I'm here to bear witness to the importance of this agency. This agency protects consumers from the unfair practices of banks and the abuse of Wall Street," said David Pittle, 79. "It's taken us 200 years to get an agency like that and this administration is trying to do damage to it already."
Several speakers at the rally said Trump's attempts to reshape the CFPB run counter to his promise to fix a political and economic system stacked against ordinary people.
"Donald Trump's elevation, in part, came from people who thought the system is rigged," Ben Wikler, Washington director of MoveOn, told the crowd. "So this is a betrayal of Donald Trump's core supporters."
When a reporter asked Warren whether Trump's alleged attempts to diminish the CFPB would be a winning issue for Democrats in the 2018 midterm elections, she responded, "Boy, it sure ought to be."
"This isn't about politics," she said. "This is about, 'Whose side are you on?'"
This article has been updated with additional details about the creation and operation of the CFPB. 
Calling all HuffPost superfans!
Sign up for membership to become a founding member and help shape HuffPost's next chapter
BEFORE YOU GO
PHOTO GALLERY
2017 Scenes From Congress & Capitol Hill