So, that happened. After months of cautiously straddling the line between the Democratic presidential candidacies of Hillary Clinton and Bernie Sanders, Massachusetts Sen. Elizabeth Warren has suddenly injected herself into the 2016 race in a big way, emerging as an antagonist to presumptive Republican nominee and white-supremacist land-lamprey Donald Trump. Trump, in turn, has become obsessed with Warren. Might she have struck a nerve? If so, the Clinton campaign, which has mostly recycled old Trump attacks from the ranks of the GOP's fallen, could use more of Warren's unflappable zinging. On this week's podcast, we discuss a good way of obtaining that: naming Warren as Clinton's running mate.
As Clinton contemplates the near future in which she becomes the official Democratic nominee and sets herself to the task of preparing for what promises to be an ugly general election campaign, she has some clear needs that she'll have to address in timely fashion. As it happens, Warren may be capable of filling all of them.
Clinton's first major task will be uniting the Democratic Party base behind her candidacy. To do so, she'll have to undertake the brokering of a peace accord with Sanders, the independent senator from Vermont, with a pact that knits up everything that has come to be raveled during the primary. By naming Warren as her running mate, she'll cover a lot of ground with this cohort, by permanently enshrining Sanders' main briefs about income inequality and corporate corruption as a part of her campaign's identity. And she'll gain, in Warren, someone who is legitimately better at relating complex issues of economic inequality to ordinary people than Sanders is.
As the past week has demonstrated, Clinton will be getting a fairly reliable attack dog as well. Warren seems to understand innately that what rattles Trump the most is anything that points out what a ridiculous, mean-minded fraud he is. In turn, she is also -- apparently -- rather impervious to his retorts. She seems to enjoy the fact that he hits back, and is eager to escalate.
There is also the fact that to Democrats, the Massachusetts senator is Eliza-bae. She's a genuine superstar with the party's liberal base in ways that other presumed short-listers, like Labor Secretary Thomas Perez, are not. The fandom that has come to surround Warren has become its own social media perpetual-motion machine, ensuring that her utterances obtain a cross-platform virality.
Obviously, we're not suggesting that Warren wouldn't face challenges as Clinton's running mate. She would, for example, have to greatly expand her knowledge base to cover the multitude of issues for which a presidential administration would have to account. She'd also be leaving a Massachusetts Senate seat behind, eventually forcing Democrats into a special election matchup that's not currently in the offing.
But this could work. Right now, in many ways, Clinton stands in Warren's shadow. She's the representative from a bygone era of politics, while Warren is at the nexus of all the ways the Democratic Party is shifting. A partnership would allow Clinton to borrow some of that shine. It would bring a hopeful energy to an election that seems likely to be grueling and gutteral. More than anything else, Warren's involvement on the ticket might actually get people thinking about Hillary Clinton in a new way.
Really, the only question is, "Does Hillary Clinton want to win this thing, or not?"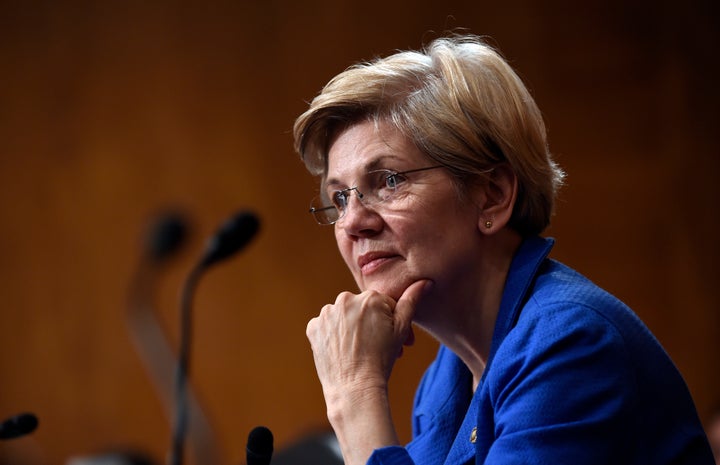 Elsewhere on this week's podcast: In the commonwealth of Virginia, Gov. Terry McAuliffe (D) has given hundreds of thousands of ex-felons who have paid their debts to society the opportunity to vote. But Republicans in Virginia are suing to reverse McAuliffe's executive order. It's all touched off a mad dash to get people registered. We'll take a look at that effort and the partisan lines that have been drawn.
In addition, every year, scores of people come to the United States from abroad, seeking asylum, in the hopes that they can live a life free of danger. But in Atlanta, these people face courts that deny asylum at a staggeringly disproportionate rate, compared with other parts of the country. Our own Elise Foley traveled to Atlanta to find out why. She joins us to share what she discovered.
Finally, are you prepared to live in a world where billionaires use their deep pockets to litigate the journalists they don't like out of existence? That's a trick question, actually, because this future is now, thanks to Silicon Valley plutocrat Peter Thiel, who admitted this week to funding litigation against Gawker Media as a part of a personal vendetta. It raises the question of whether he's provided a blueprint for other aggrieved billionaires to follow.
"So, That Happened" is hosted by Jason Linkins, Zach Carter and Arthur Delaney. Joining them this week: Huffington Post reporters Nick Baumann, Elise Foley, and Samantha Lachman..
This podcast was produced, edited and engineered by Christine Conetta.
To listen to this podcast later, download our show on iTunes. While you're there, please subscribe to, rate and review our show. You can check out other HuffPost podcasts here.

Popular in the Community