SHEPHERDSTOWN, W.Va. -- Sen. Elizabeth Warren (D-Mass.) went to bat for a fellow Democrat's underdog Senate campaign here Monday, railing against Rep. Shelley Moore Capito's (R-W.Va.) financial industry connections. The historic Shepherdstown, chartered in 1762, played host to Warren's upbeat rally in support of West Virginia Secretary of State Natalie Tennant.
Tennant and Capito are vying to succeed the retiring Sen. Jay Rockefeller (D-W.Va.) in a race that will produce the Mountain State's first-ever female senator. Warren, who has campaigned this cycle for Senate candidates across the Democratic political spectrum, gave a scathing criticism of Capito's record on financial issues.
"When [Wall Street] needs her, [Capito's] been there," Warren said in a packed hotel ballroom. "She's out there for Wall Street, she's leading the charge. ... We need some more people who are willing to work on the side of America's families."
Since the once strongly Democratic state has rapidly taken on a red hue, Tennant must strike a balance between economic populism and more traditionally conservative stances on issues like guns and coal. Yet Warren wasn't entirely out of place in a town populated by vintage stores, vegan bakeries and organic smoothie joints. Those in attendance enthusiastically shouted "2020" and "2016" as Warren took her seat next to Tennant.
Shepherd University's presence in the town also provided a convenient tie-in for Warren to discuss the 40 million Americans who collectively owe $1.2 trillion in student loan debt.
Tennant declared her support Monday for Warren's bill -- which was defeated in the Senate last month -- to refinance student loans by taxing the wealthiest Americans at higher rates.
"I strongly support Natalie's campaign because I have no doubt she will work in the Senate to make sure working families have a fighting chance to succeed in this country again," Warren said in a statement ahead of her visit. "Wall Street already has enough Senators looking to advance its interests, and West Virginia deserves a Senator like Natalie who will wake up every morning and go to bed every night focused on how to fight for working families."
Echoing that message, Tennant painted Capito as a politician who puts Wall Street interests ahead of those of local West Virginians.
"Do you want ... a senator who has fought time and time again to protect the handouts to Wall Street?" Tennant asked the crowd in a voice that made evident her background as a local television anchor.
Monday's campaign events painted a clear contrast between the camps: Capito, who serves as the chairwoman of the House Financial Services Committee's Subcommittee on Financial Institutions and Consumer Credit, held a business roundtable the same day with Rep. Paul Ryan (R-Wis.) in Charleston, West Virginia.
Tennant's campaign spokeswoman Jennifer Donohue called Ryan "the architect of plans to end Medicare as we know it" ahead of his visit, while Capito said Warren "is about 180 degrees from what anybody -- most people, a large majority of our state -- believes."
Capito has frequently aimed criticism at the Consumer Financial Protection Bureau, which Warren conceived of and helped found. The Republican, who has raised large amounts of cash from the financial services industry, is married to a Wells Fargo executive.
Despite the sense of camaraderie pervading the event, Tennant made sure to emphasize her differences with Warren on the issue of coal. Warren, who supports President Barack Obama's recently announced carbon emissions limits on coal-fired plants, acknowledged in a statement that Tennant "has made clear to me that she will fight against EPA regulations that I support if she believes it means protecting coal jobs for West Virginia."
Even so, about a dozen protesters outside the event brandished signs with pictures of Obama and Warren's faces, and seemed convinced Warren and Tennant were the same on energy issues.
"I'd say I'm more here for Elizabeth Warren than Natalie Tennant," Jefferson County native Tom Newcomer told The Huffington Post. "She's putting a lot of people out of work, the EPA is putting a tremendous amount of people out of work and it's sad. ... Coal can burn clean as anything if it's done properly ... these towns are dying, it's sad."
The protesters characterized Warren as an extension of Obama.
"Obama is bad for West Virginia. ... With Natalie in the Senate it would be more of the same of EPA overreach, destroying jobs in the state," local Republican Pam Brush told HuffPost. "Obama is not popular in West Virginia; he couldn't come, he sends Warren where he couldn't go."
Both Tennant and Capito have strong name recognition in the state, so the race will likely be decided by the campaigns' respective voter turnout operations. Tennant, who has won two statewide campaigns, is fondly remembered for having been the first female mascot of the West Virginia University Mountaineers, while Capito has served seven terms in the House and is the daughter of Arch Moore, a former three-term governor who remains popular despite pleading guilty to federal corruption charges.
If elected, Capito would be the first Republican to win a West Virginia Senate seat since 1956. She is considered the race's frontrunner given that Obama lost all 55 of the state's counties in 2012.
Support HuffPost
The Stakes Have Never Been Higher
Before You Go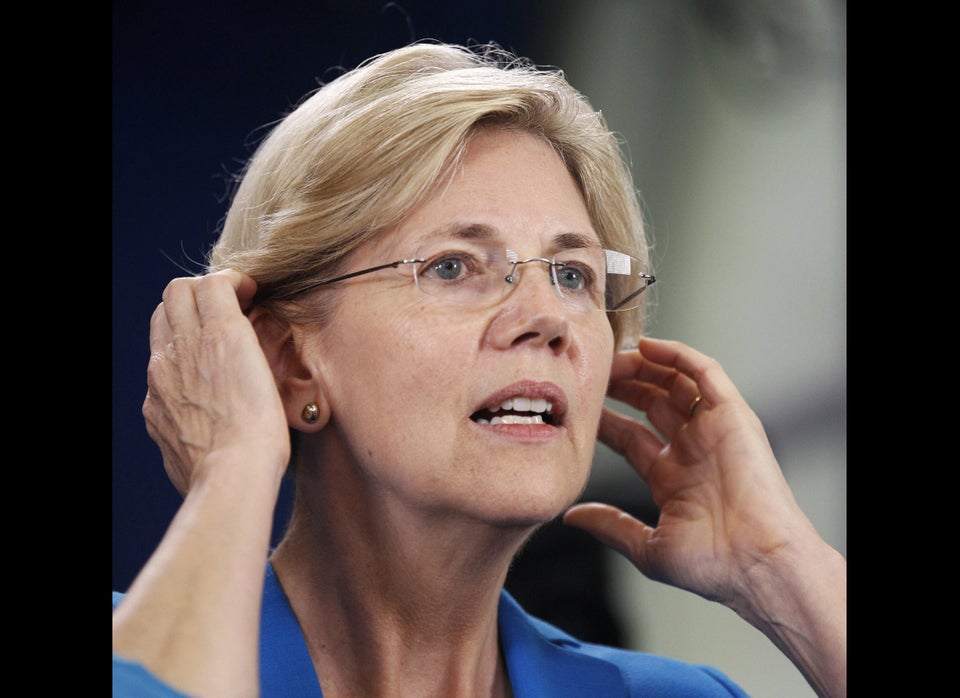 Elizabeth Warren
Popular in the Community