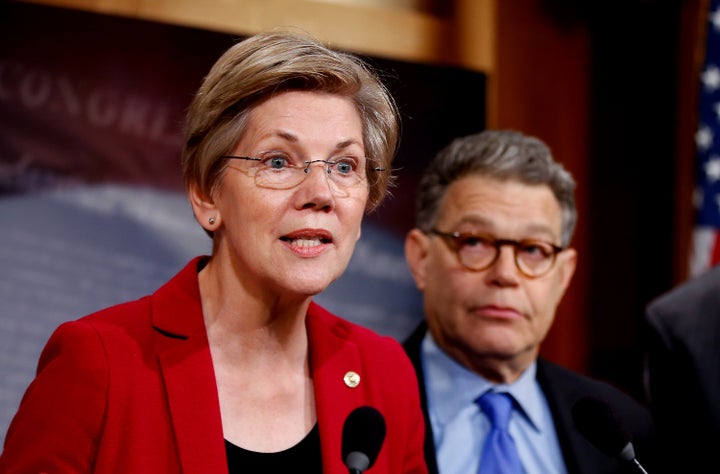 A group of Wall Street insiders is trying to stop the government from limiting their ability to take risks, and Sen. Elizabeth Warren (D-Mass.) is calling them out for it.
The fight is over position limits, which restrict how big a share of the market individual speculators are allowed to have. For example, these rules would limit how many oil futures contracts one hedge fund can own. The Dodd-Frank financial reform law, passed in the wake of the 2008 meltdown, required the Commodities Futures Trading Commission to write position limit rules. (The CFTC regulates commodities and a host of derivatives, including the credit contracts at the heart of the financial crisis.)
So the commission wrote the rules. But of course, the financial industry sued, saying the rules were unfair and unnecessary, and in 2012, a judge threw the regulations out. The CFTC has now proposed a new set that Warren supports, but they haven't been implemented yet.
The problem is that even though the CFTC is supposed to be reining in Wall Street, some of its committees include industry leaders. The CFTC's Energy and Environmental Advisory Committee, which includes a managing director at Morgan Stanley and executives from other top firms, submitted a report saying the new position limit rules were really not necessary. As Bloomberg New's Silla Bush put it, the report's basic message is that, according to the oil trading industry, "the problem is there isn't enough speculation in oil, not that there is too much."
That is a perfectly fine thing for the oil trading industry to think and say. But it is another thing for the CFTC, which not only writes but also enforces any position limits rule, to give its imprimatur to that argument.
The report "is little more than a list of talking points for an industry that hopes to escape meaningful regulation," she wrote in a letter to CFTC Commissioner J. Christopher Giancarlo.
Warren noted that the fact that this report came out of a CFTC advisory committee is a red flag. Dodd-Frank requires that advisory committee members consider the views of a wide range of stakeholders, including consumers. This report was based on testimony from 13 people: 10 from the financial and commodity industries, two from the CFTC itself, and an academic with a strong free-market bent.
In other words, this is a group representing exactly the businesses the CFTC is supposed to regulate, and precisely the people who should not be dictating its policy decisions. 
Warren isn't having it. In her letter, she asked Giancarlo to disregard the report and reconsider the committee makeup.
"I write today to ask that you withdraw this report until you reconvene a Committee that complies with the law and that addresses both the procedural and factual errors in the present product," she wrote.
Giancarlo did not respond to a request for comment.
Calling all HuffPost superfans!
Sign up for membership to become a founding member and help shape HuffPost's next chapter