WASHINGTON -- As they try to rally support for legislation aimed at improving low-wage jobs, Sen. Elizabeth Warren (D-Mass.) and Rep. George Miller (D-Calif.) invited members of the worker group OUR Walmart to Capitol Hill on Tuesday to brief Congress on working for the world's largest retailer.
At the forum held in a Senate office building, Warren and Miller made their case for a trio of labor-friendly bills that have so far failed to overcome Republican opposition: one that would raise the federal minimum wage, a second that would set rules for work schedules in the retail sector, and a third that would address the gender pay gap.
"We've got millions of families across this country that are barely hanging on by their fingernails," Warren said. "No one in this country should work full-time and still live in poverty."
The invitation to members of OUR Walmart was seen as a rebuke by Democrats to the nation's largest private-sector employer, long criticized for the wages paid to its store employees. OUR Walmart is backed by the United Food and Commercial Workers union, which has been trying to organize the retailers' stores for years. The group has spearheaded the Black Friday strikes at Walmart stores that are expected to resume next week.
Miller, a longtime and outspoken critic of Walmart himself, praised the two OUR Walmart members, Cantare Davunt and Evelin Cruz, who spoke at the forum.
"They're going to change that workplace to recognize the humanity and the dignity of the people who come to work there," he said.
Progressives hoping for a full-throated assault by Warren on Walmart would have been disappointed. Although she posed for photos with the workers, Warren, who was just given a new leadership role among Senate Democrats, did not directly address the retailer in her remarks, instead sticking to talking points on the legislation.
But after the hearing, Warren tweeted that Walmart "can" and "should lead":
"I was glad to join Walmart employees today to support efforts to push back against practices by Walmart and other big corporations that make it hard for working families to make ends meet," she said in a statement about Tuesday's event.
The more direct criticism of Walmart came from Cruz and Davunt, who said that the company's workers must make painful choices when it comes to paying their bills and buying basic necessities.
"I make 10 dollars and 10 cents an hour. Under Walmart's part-time business model, I only get 16 hours a week. My take home pay is about $120 after taxes," Davunt said. "Not unlike many of my co-workers, this means I must decide which bills are necessary and which expenses to skip to pay for another."
Davunt and Cruz said they were calling on Walmart to pay $15 an hour -- the same wage fast food strikers are demanding -- and to commit to full-time scheduling for store workers who want it.
When asked for a response to the forum and the charges from Davunt and Cruz, Walmart referred The Huffington Post to Janet Karikari, a worker at a Walmart store in Framingham, Massachusetts. Karikari, who immigrated from Ghana 14 years ago and has worked for Walmart for the past 12, said she owes everything she has to the retailer.
"Walmart is a very good company," said Karikari, who earns $18 an hour managing a department in her store. "They really care about you."
As for the workers who are OUR Walmart members and openly criticize the retailer, "They just want to rip the company and disgrace the company," Karikari said.
Miller said that the legislation he was stumping for was aimed in part at Walmart.
"Those people are entitled to have the protection of these basic laws," Miller said, referring to Walmart workers.
The minimum wage bill would hike the wage floor to $10.10 per hour and tie it to inflation. The federal minimum wage hasn't been raised since 2009; it is currently $7.25 an hour. Meanwhile, Miller's bill on retail scheduling would require retailers to give workers at least two weeks' advance notice of their schedules, while also forcing companies to compensate workers when they're unexpectedly sent home early.
After giving his remarks, Miller told HuffPost that he believed it was in Walmart's interest to support raising the minimum wage. The company has said it is taking no position on the issue, though it has been lobbying on it.
Miller said he believes support from Walmart would go a long way in moving the legislation on Capitol Hill, while also putting more money in the pockets of Walmart shoppers.
"They're a huge factor in retail economics in this country. ... I think it would help immensely," Miller said. "And I think it would also help them. It's all across this sector, where there's not enough money on Main Street. This could be a huge boost to the economy."
Before You Go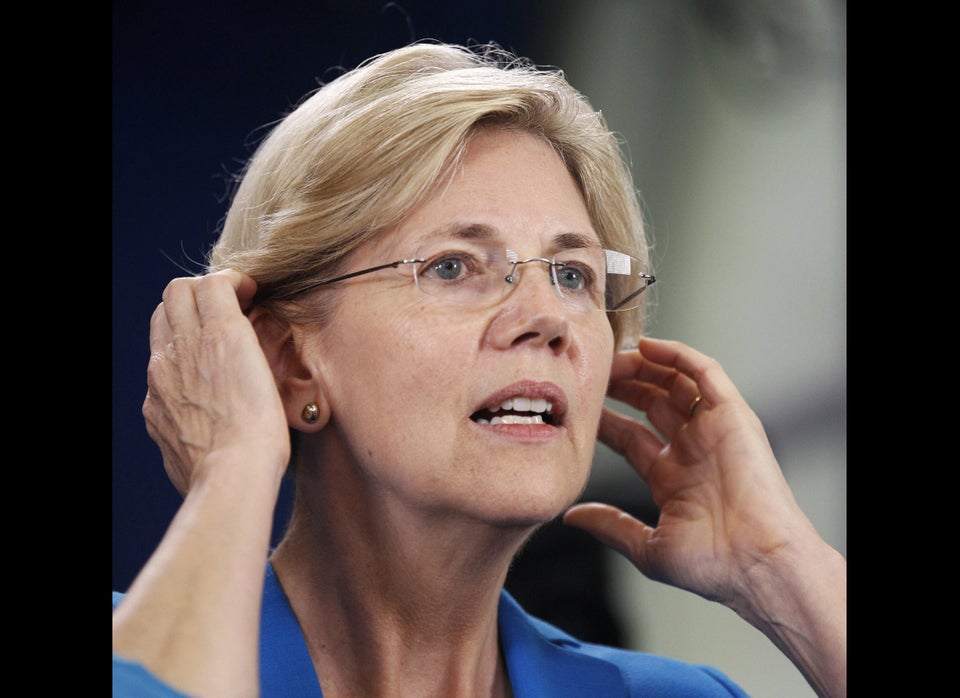 Elizabeth Warren
Popular in the Community