NEW YORK ― Sen. Elizabeth Warren (D-Mass.) drew thousands of New Yorkers to her presidential campaign rally Monday in Washington Square Park, where she discussed her plans to fight corruption and support workers nationwide.
The Democratic presidential hopeful honored the scores of mostly immigrant women who died in the Triangle Shirtwaist Factory fire of 1911 — which occurred about a block from where Warren spoke Monday — and praised the women's trade unions that fought for change in the wake of the tragedy.
"We're not here today because of famous arches or famous men," Warren said, referring to the park's iconic arch looming behind her, which is named for President George Washington. "In fact, we're not here because of men at all. We're here because of some hard-working women. Women who, more than a hundred years ago, worked long hours in a brown, 10-story building a block that way."
Nearly 150 people ― mostly Jewish and Italian female workers ― died in March 1911 when the factory went up in flames and their bosses, fearing the employees might steal scraps of fabric, trapped them inside by locking the exit doors.
"It was one of the worst industrial disasters in American history," Warren said. "One of the worst, but it should not have been a surprise."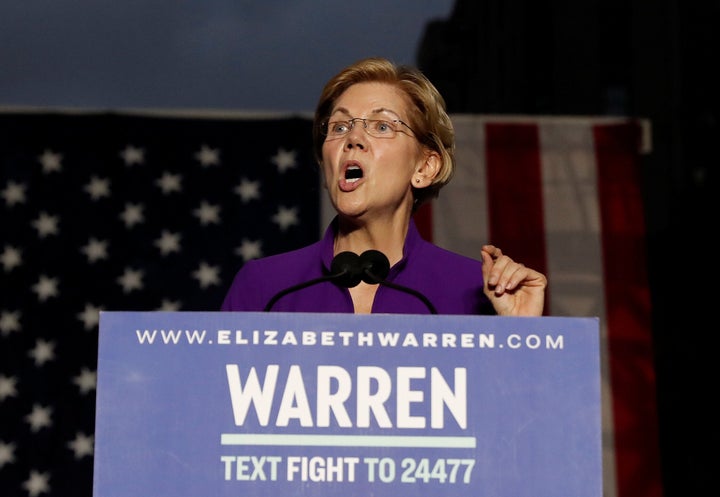 Working conditions at the Triangle Shirtwaist Factory were infamous, but the company's owners were wealthy, politically connected and corrupt, she said.
"They made campaign contributions and talked with their friends in the legislature," Warren said. "They greased the state government so thoroughly that nothing changed. Business owners got richer, politicians got more powerful, and working people paid the price."
"Does any of this sound familiar?" she asked the crowd, which responded with an affirmative cheer. "Take any big problem we have in America today and you don't have to dig very deep to see the same system at work."
The Harvard law professor-turned-senator's rally in Manhattan is the culmination of a day filled with headline-generating announcements designed to cement her second-place standing in many early polls and replace Sen. Bernie Sanders (I-Vt.) as the left's alternative to former Vice President Joe Biden.
"They organized. They built a grassroots movement. They persisted."
At the rally, Warren also debuted the endorsements of two young, progressive New York state lawmakers, state Sen. Alessandra Biaggi and Assemblywoman Yuh-Line Niou, who said that Warren would finish the fight against corruption that they were waging in New York's capital of Albany. Biaggi was part of a crop of six left-leaning Democrats who unseated a rogue faction of Democratic state senators aligned with the GOP who effectively kept the legislative chamber in Republican control. (Biaggi and Niou are part of a list of 14 New York City and state lawmakers who have endorsed Warren, according to the campaign.)
Maurice Mitchell, national director of the Working Families Party, introduced Warren on stage before her speech, attesting to her potential appeal beyond the group of highly educated voters that polling suggests are her most ardent supporters.
"Elizabeth Warren has proposed a whole host of solutions that meet the full scale of the crises we face ... Elizabeth Warren has a plan for it!" he said. "But crucially, Sen. Warren realizes that you need more than plans; we need to meet this moment with a movement of working people."
Warren's show of force Monday evening was seemingly aimed at showcasing her strength in progressive bastions that were once Sanders' exclusive stomping grounds. The Vermont senator drew massive crowds to a rally in the same park in April 2016, claiming some 27,000 people attended.
Warren's campaign said more than 20,000 people attended her rally, making it her largest to date.
A spokesperson for the city Department of Parks and Recreation told HuffPost that officials believe the park's capacity is 10,000, and that Warren's event had a permit for 8,000 to 10,000 people. The city said it could not corroborate Warren's crowd estimate.
Sanders supporters often argue that their candidate is a more consistent and more effective champion of grassroots social movements than Warren, whose most famous campaign slogan ― "I got a plan" ― evokes a more technocratic approach than Sanders' "political revolution."
On Monday evening though, Warren also emphasized her commitment to building a grassroots movement capable of powering her plans to fruition.
Warren turned the Triangle Shirtwaist Factory tale into a parable for inside-outside organizing ― a term for policymaking that pairs mass mobilization with specialized legislative expertise and horse-trading. She described how one woman moved by the tragic spectacle of the fire was Frances Perkins, who went on to serve Franklin Delano Roosevelt as secretary of labor ― both when he was governor of New York and later when he became president.
Perkins is widely viewed as the architect of New York's first major labor reforms, as well as the social-democratic policies at the heart of the New Deal, including Social Security and a law establishing the first minimum wage.
"As Frances Perkins put it: the Triangle Fire was 'the day the New Deal was born,'" Warren said.
Warren went on to recount how the movements for the abolition of slavery, women's voting rights, labor rights, black civil rights and LGBTQ rights had all had to withstand skepticism of their power to effect change.
But they persevered, she argued, just as Americans must now do to end corruption and restructure the economy.
"They organized. They built a grassroots movement. They persisted," she said, referencing a famous complaint GOP Senate Leader Mitch McConnell (R-Ky.) made about her. "And they changed the course of American history."
Warren's campaign went the extra mile to paint her movement as an extension of Perkins' work. The podium from which she spoke was constructed by an all-female woodworking company run by a supporter using old barn wood from Perkins' historic home in Maine. Perkins' grandson, Tomlin Perkins Coggeshall, procured the wood for the campaign and attended the rally.
Some voters who supported Sanders in 2016 but showed up for Warren on Monday said they had gone with Sanders when it was a binary choice because they preferred him to Hillary Clinton.
Astrid Clarke, a 49-year-old student and caregiver from Brooklyn's East New York neighborhood, thought Sanders was a better bet than Clinton in the general election last time. Now she "loves" Warren for her plans.
"I like the way it's people-centric and the way she can explain it so you know that it's hers," Clarke said.
Other attendees said they had been Clinton supporters.
One such Clinton supporter, Katie Carella, a 39-year-old children's publishing professional living in Manhattan, also emphasized Warren's "plans."
"She literally has a plan for everything," Carella said. "I think we have to be asking for big structural changes in order to make any headway."
This story has been updated with additional comments from Warren, and from a spokesperson for the city Department of Parks and Recreation.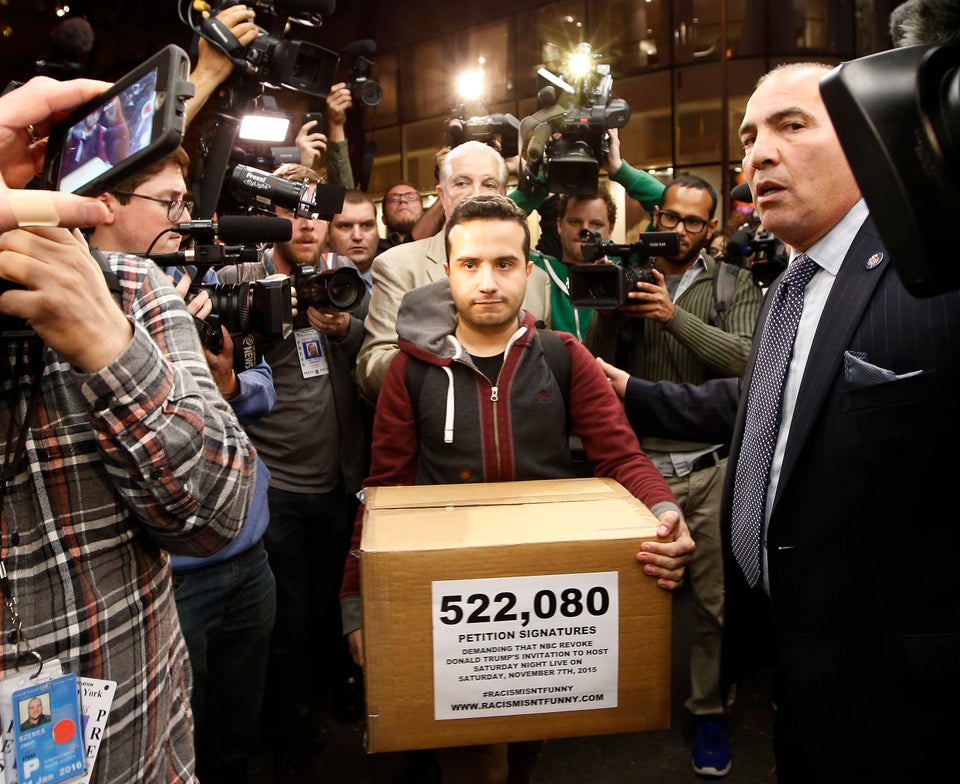 Donald Trump Protest
Popular in the Community