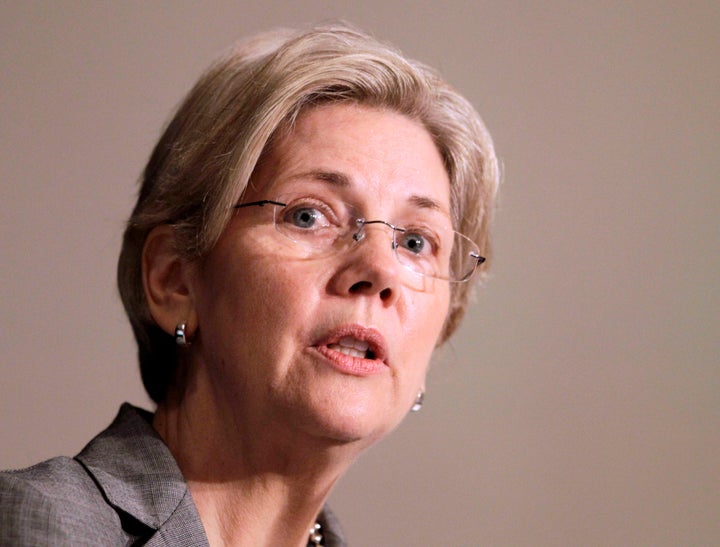 Elizabeth Warren speaks passionately about the bread-and-butter issues that most Americans say they care about right now. Her compelling biography tells a story of success through hard work, skill, and determination. As a Democratic candidate for U.S. Senate from Massachusetts, she is warm and earnest on the campaign trail, shaking hands and giving hugs. Indeed, a new poll of Massachusetts voters shows Warren leading incumbent Senator Scott Brown 46 to 44 percent -- only one week after she officially announced her campaign.
By all measures, Warren is a well-qualified candidate. But can she win a Senate seat in Massachusetts?
Despite the Bay State's liberal reputation, voters here have struggled to elect women at the top of the ticket. Throughout its history, Massachusetts has only sent four women to the U.S. House of Representatives -- as Rachel Maddow has pointed out, that's compared to 461 men. We have never elected a woman Governor or U.S. Senator in her own right (Lieutenant Governor Jane Swift became Acting Governor from 2001-2003 after Governor Paul Cellucci resigned to accept an ambassadorship, but Swift was not elected).
Last year, when Attorney General Martha Coakley ran for the late Ted Kennedy's Senate seat in a special election, it looked like we might break through the long-standing gender barrier. Although no one imagined that a Republican could win Kennedy's seat -- let alone a Republican who had posed nude for Cosmopolitan -- Coakley lost the race to now-Senator Brown.
Massachusetts currently has the lowest number of women in its state legislature in 14 years, 36 in the 160-member House, and 11 in the 40-member Senate. Today, the only women holding statewide office are Coakley, who won reelection as Attorney General later in 2010, U.S. Representative Niki Tsongas, and State Auditor Suzanne Bump.
Why the low numbers? Theories differ. Therese Murray, who became the state's first woman Senate President in 2007, has noted that Massachusetts lacks a pipeline of qualified women candidates in lower-level office who are building their resumes to run at the top of the ticket. Kerry Healey, Mitt Romney's former Lieutenant Governor who in 2006 lost the race for Governor against Deval Patrick, has said simply that Massachusetts politics is a "blood sport." And let's not forget the sexism that continues to plague women candidates throughout their campaigns.
Warren has already begun to face these challenges. Reporters at allegedly "liberal" news outlets have already begun criticizing her hair and clothes on the campaign trail. And even before she declared her candidacy, a Brown campaign aide registered a website titled "Queen Elizabeth Warren" -- a jab at Warren's Harvard Law professorship and an early indication of the mudslinging to come.
But my foundation's latest research on women's campaigns for executive office shows that Warren may have a real chance to bridge the gender gap in Massachusetts politics. She displays the key qualities that are now critical to women's success in elections: being a problem-solver, having the right priorities, and showing strength.
Indeed, President Obama tapped Warren in 2008 to solve one of the one of the biggest domestic problems in recent history -- the freefalling U.S. economy. Warren chaired the Congressional panel that oversaw the implementation of TARP (the Troubled Asset Relief Program, also known as the $700 billion U.S. bank bailout) and pledged to ensure that TARP funds were spent in the interest of taxpayers rather than corporations. She is widely known for having brainstormed and later for building the new Consumer Financial Protection Bureau, whose mission is to demystify consumer finances for American families and hold financial institutions accountable.
With a campaign focus on rebuilding the United States' middle class, Warren also shows a solid commitment to the priority issue for American voters, unemployment and jobs. A self-made woman who started working at an early age and began law school when her daughter was two years old, she also has shown the strength of character that voters in our research say they value. And anyone who watched Warren fight for the creation of the Consumer Finance Protection Bureau can attest that she is tough on the job (those who don't can arrive at that conclusion themselves by watching a little C-SPAN).
Of course, other factors will also determine the outcome of Warren's race for the Senate. And first she must win the Democratic nomination in a crowded field of eight candidates. But I believe that Warren has the ability to energize the Democratic base and connect with independent voters who are critical to winning back this seat. She is Massachusetts' best chance for a Democratic pick-up in the Senate.
It will be up to Massachusetts voters to decide. Will we elect a woman Senator?

Calling all HuffPost superfans!
Sign up for membership to become a founding member and help shape HuffPost's next chapter