WASHINGTON -- As the fight over a massive international trade agreement heats up on Capitol Hill, Sen. Elizabeth Warren (D-Mass.) said on Tuesday that she wants to see Democratic presidential candidate Hillary Clinton "weigh in on trade."
In an interview with The Huffington Post, Warren declined to say whether she would endorse Clinton. "Right now I think it's important for her to have a chance to lay out her views on a whole host of issues, including trade," she said.
Warren has emerged as a champion for Americans who oppose the Trans-Pacific Partnership, a trade deal that the Obama administration is seeking to negotiate with 11 other nations. The Senate is preparing to vote on legislation that would grant President Barack Obama the authority to "fast-track" TPP and other trade deals with no amendments and limited debate.
When asked who she thought was the best 2016 presidential contender on the issue, Warren said that "we need to hear from all of our presidential contenders about trade."
She added, "I will say that Hillary Clinton said in her book that she was opposed to these arbitration panels that could override domestic regulations," referring to a controversial TPP provision that would allow corporations to sue governments over regulations that inhibit their investment profits.
In her book Hard Choices, Clinton discussed the panels, writing that in trade agreements, "we should avoid some of the provisions sought by business interests, including our own, like giving them or their investors the power to sue foreign governments to weaken their environmental and public health rules."
Earlier on Tuesday, Warren spoke with Bloomberg about Clinton's opposition to the panels, adding, "I'd like to see her be clearer on that." When asked by HuffPost to elaborate, Warren said, "Look, she's already said what she said in her book about the arbitration panels and I'd like her to weigh in on trade, I think it's important."
According to CNN, Clinton came closer to taking a position on trade at a round-table event in Iowa on Tuesday, noting some concerns about the deal but ultimately hedging once again. "I want to judge the final agreement. I have been for trade agreements; I have been against trade agreements," she said.
Michael McAuliff contributed reporting.
Before You Go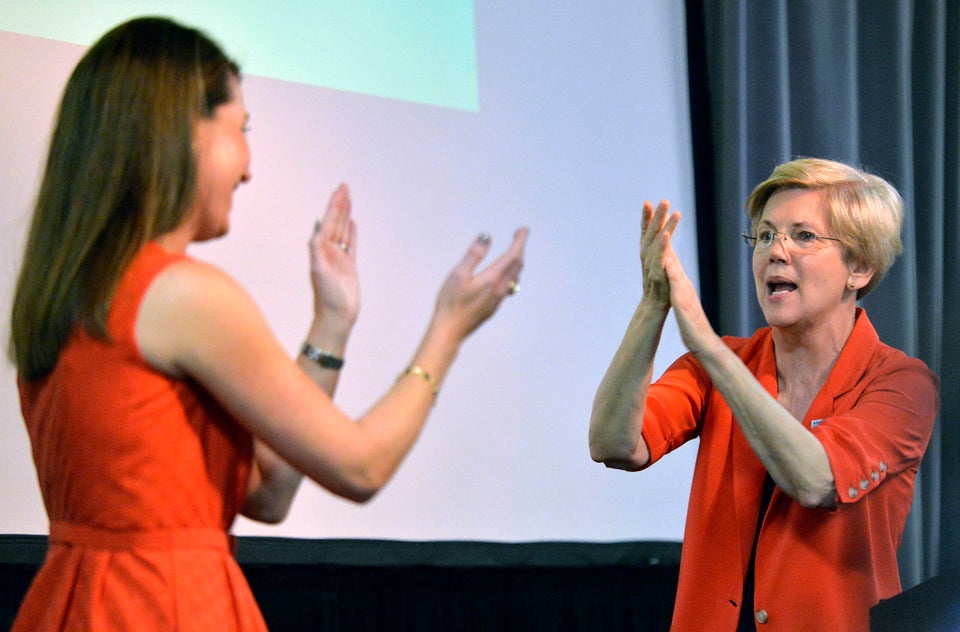 The Faces of Elizabeth Warren
Popular in the Community