Forget camera shy -- this elk is camera aggressive!
In the nearly seven-minute-long YouTube video, an unnamed photographer sits near the side of the road, submissively with his head down, as a juvenile bull elk repeatedly tests his nerve, jostling him with his antlers. At the two-and-a-half minute mark, the elk appears to lose interest and slowly walks away, then -- suddenly -- lowers its head once more and quickly backs up, as if intending to charge the defenseless man.
(Story continues after video.)
Camiolo notes in the YouTube description, "I snapped a few frames of the apparent harmless encounter," but as the elk became increasingly aggressive, he wondered "when [to] seriously consider intervening."
After nearly six tense minutes, a park ranger comes to the photographer's rescue in a white SUV, pulling up for him to find shelter in the passenger's seat.
In an emailed comment to Camiolo, the unnamed photographer explained what he was thinking through the entire encounter:
My first thoughts were "wow, he's getting pretty damn close here." But I've been up close before without incident. I hoped being still and passive would see him pass on. When he lowered his antlers to me, I wanted to keep my vitals protected and my head down. I felt that standing up would provoke him more and leave me more vulnerable to goring. I think that while protecting myself with my head down, having my head down was a signal that I was rutting with him. I was concerned at first, but when he started rearing back and lunging at me later on, I got scared ... I was relieved to see the Ranger coming.
"I've joked with my friends that at least he took me for a buck and not a cow!" he added.
In a post on GoSmokies, a self-described social networking site for fans of the Great Smoky Mountains, another bystander, Roger Trentham, captured the encounter in a set of hair-raising photos. Per Trentham, after the photographer escaped with the ranger, the elk proceeded to see his reflection in a nearby parked car and "began making motions like he would attack the car."
The elk rubbed his head back and forth against the vehicle, then decided to rejoin the rest of the herd.
UPDATE: Nov. 18 -- In an update posted late Friday, WBIR-TV reports park rangers have euthanized the elk featured in the video after they were unable to re-train it to fear humans. Officials told the station the elk had begun associating humans with food. They said the photographer featured in the video was not at fault for the animal's fate.
Related
Before You Go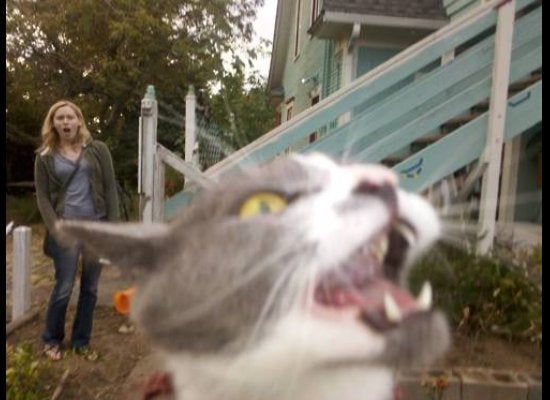 125 Animal Photobombs
Popular in the Community