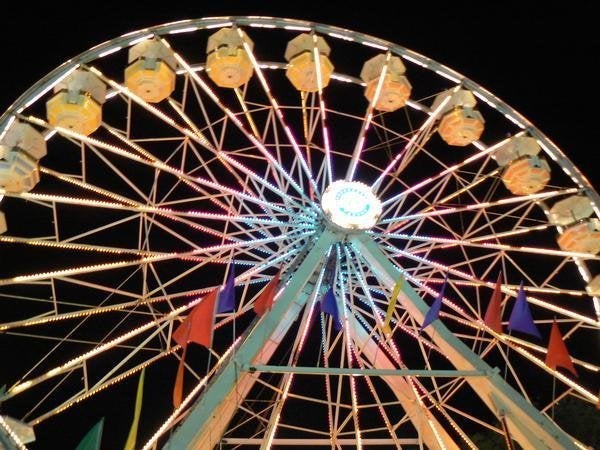 Largest County Fair In The Midwest
Indiana's famous Elkhart County 4-H Fair is held annually from mid- to late July. The Midwest's largest county fair is also one of the oldest, founded in 1851 on a courthouse ground.
Summer Treats
Like many summer fairs, the Elkhart County Fair provides guests with stand after stand of delicious food. Popular items include giant-sized elephant ears (crispy fried sugar bread), sweet Indiana corn, Hoosier-bred pork-tenderloin sandwiches, fish, ice cream and just about anything else that can be fried and/or eaten off a stick.
Projects, Pageants And Entertainment
While chowing down on delicious fair food, Elkhart County 4-H Fair guests have their pick of quality entertainment on the sprawling 143 acres of land.
include tractor pulls, harness racing, rodeos and live concerts by well-known musicians. Attendees can also watch talented local musicians perform in competitions or cheer on their favorite contestants at the
and
pageants. Fairgoers can also cool off in one of 70 buildings filled with more than 8,000 4-H projects, shopping booths and other displays.
Rides
Many carnival rides are available for both kids and adults. Favorite recurring fair rides include a giant Ferris wheel, fun houses, bumper cars, slides and a merry-go-round. Adventurous adults looking to get their thrill on can try more aggressive rides with colorful names, like the Cliffhanger, the Slingshot, the Kamikaze, the Pharaoh's Fury, the Ring of Fire and the Dizzy Dragon.
Prices
Pricing varies depending on the day of the week. On certain days, a $20 wristband is good for an infinite number of rides. Note that
apply for some attractions.
Livestock And Animal Fun
Indiana is well-known for its farms, farmers and animals, so visitors should not forget the impressive
. There are numerous on-campus barns to walk through, to catch glimpses of prize-winning birds, horses, swine, sheep, cows, dogs, goats, rabbits and even domestic animals like cats and dogs. Visitors can watch the judging of livestock and other animal competitions, as well as check out animals that are especially noteworthy, including one of the world's largest pigs (weighing in at more than 800 pounds) and strange-looking llamas (careful -- they may spit if pestered too much). Also popular is the
.
Catch all the action of the 28,000-pound tractor pull at the Elkhart County Fair.
What's your favorite carnival ride at the Elkhart County Fair?
CORRECTION: A previous version of this post stated incorrectly that the Elkhart Fair is the country's second-largest county fair.