Elle Fanning said she lost out on a movie role as a teenager for a "disgusting" reason.
The star of Hulu's "The Great" recounted the incident during The Hollywood Reporter's Comedy Actress Roundtable, published Tuesday.
"I've never told this story, but I was trying out for a movie," Fanning said. "I didn't get it. I don't even think they ever made it, but it was a father-daughter road trip comedy. I didn't hear from my agents because they wouldn't tell me things like this … but this one got to me."
"I was 16 years old, and a person said, 'Oh, she didn't get the father-daughter road trip comedy because she's unfuckable,'" she continued to audible shock from her peers at the table. "Yeah, it's so disgusting. And I can laugh at it now, like, 'What a disgusting pig!'"
Fanning, 25, didn't name the person or movie in question, but said her agents have been "amazing" at shielding her from such obscene remarks — and that their "filtration system" has surely weeded out "a lot more damaging comments" than that one.
Fanning, the younger sister of actor Dakota Fanning, was only 3 when she acted in "I Am Sam" (2001) with Sean Penn and has since become a star in her own right. While the actor said she was "always immensely confident," she added that being a child celebrity was "weird."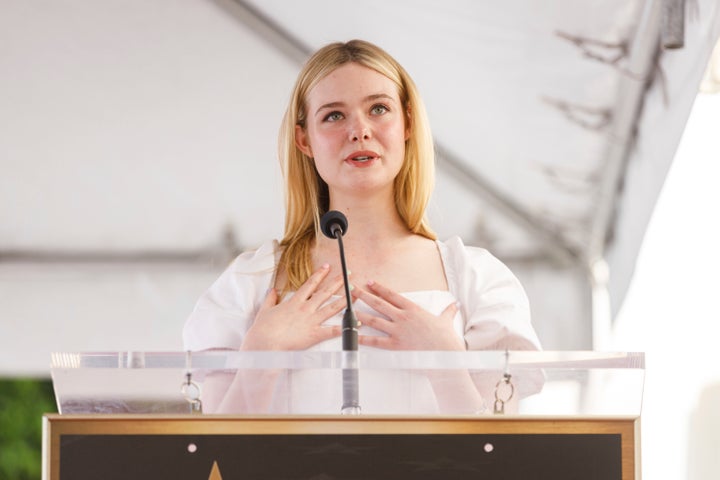 "I'll look at paparazzi photos from when I was 12 and think, 'Is that a good thing to see such a mirror image of yourself at that age?'" Fanning said during the roundtable. "I don't feel like it damaged me, but it definitely made me very aware of myself."
The "Maleficent" actor certainly had a moment after rising to fame as Sleeping Beauty in the 2014 film. While Fanning said at the roundtable she's "cool" with being known as a Disney princess, she's excited to break out of that cage with her titular role as the Russian emperor Catherine in "The Great."
"That's a box that I feel like … I was really trying to shatter. … I thought, 'This is all they think of for me,'" she said. "'The Great' … it's like a blond royal, but it's so turned on its head because it's raunchy and violent and we're saying the C-word every other word."
"Oh, I still say 'the C-word,'" added Fanning.
Popular in the Community