 In "Political Animals," the USA Network series event, Ellen Burstyn stars as Margaret Barrish, part of a Clinton-esque political clan. A straight-shooting, one-time Vegas showgirl, Margaret is the mother of Elaine Barrish Hammond (Sigourney Weaver), a former First Lady who subsequently divorces her philandering husband and is named Secretary of State. The six-part series premieres July 15.
Burstyn, 79, has enjoyed a storied career in Hollywood and on the stage. She won a best actress Oscar for "Alice Doesn't Live Here Anymore" and received five additional nominations for her roles in "Requiem for a Dream," "Resurrection," "Same Time, Next Year," "The Exorcist" and "The Last Picture Show." She received a Tony Award for her performance in "Same Time, Next Year" on Broadway and is set to appear in a revival of "Picnic," the Pulitzer Prize-winning William Inge play, this winter.
Burstyn was the first woman elected president of Actors Equity Association, and she has served as the Artistic Director of the famed Actors Studio, where she currently shares the title of co-president with Al Pacino and Harvey Keitel. TV fans will recognize Burstyn from appearances on "Law & Order: SVU," for which she won an Emmy, as well as "Big Love." Huff/Post50 caught up with Burstyn in New York City.
What attracted you to the role in "Political Animals"?
It's such fun -- she's the truth-teller in a group of people who are always masking their feelings and guarding their words and making deals and compromises. She's the one who says what's on her mind; she has a great sense of humor and she speaks from the heart.
Do you think that's a core part of her character, or a function of her age?
She was a Vegas showgirl and I have a feeling she probably learned to lay it on the line pretty early. I think she's a survivor and that seems to be part of her inner state. Very possibly as time went on she got freer and looser with her honesty. I do think as we age we come into our own authenticity.
Do you find you've come into your own authenticity as you've aged?
Absolutely. I remember when I was in my 20s and 30s, I was always so afraid about the impression I was making and was I saying the right thing. Was I doing what was appropriate in the situation? How did I look and how was I coming across? As I got older I changed my focus and my attention to being in the moment and receiving what was happening in the moment without guarding so much, or thinking my reaction should be based on the expectations of others.
To what do you attribute the longevity of your career?
I think I always wanted to have a long career. I always wanted to have it not based on my looks but my ability and willingness to play a lot of different kinds of roles. Even when I was in my early 50s I played much older characters. The wig maker Paul Huntley says I kept him in business making gray wigs for 15 years. I think it was helpful to go from older to younger characters and have a wider range.
Are there more parts for older actresses in Hollywood today?
Older actresses? Not so many. Well there are some, but I can't tell you how many scripts I get for women my age who have Alzheimer's or dementia or who are going into nursing homes. Roles like this one -- where she's old enough to be Sigourney Weaver's mother but still has all her marbles and is healthy and feisty and knows how to have a good time and is engaged in life –- there are fewer of those.
Do you prefer the stage to television or film?
On the stage, you can be playing the same material every night but finding new levels and depth in it. Television is awfully fast and people routinely work 14 hours a day, so that's kind of tough. But I must say there's very good writing happening on television now, so I wouldn't want to miss out, it's exciting.
What's the one thing you know now that you wish you knew when you were growing up?
I think it would be how to handle power. I always shied away from power because I felt it was corrupting. When I had it I gave it away. I wish I had learned to handle it wisely instead of backing away from it.
Can you give an example of how you gave away your power when you were younger?
In "Alice Doesn't Live here Anymore," I found Martin Scorsese to direct, who had never done a studio film before -– he had only made one film that was not yet released. I made a lot of cast suggestions and worked with the writer on it. When they said, "Do you want producer credit?" I said, "No, I'm just doing all of this to make it a really good [film]." I should have taken it because then I would have been one of owners of it and when it was sold to TV I would have profited from it. But I shied away from it then ... I just was afraid.
At this stage of life, what's the one rule you feel you can break with impunity?
I break most of them. I believe in setting our own rules as long we don't break the golden rule of doing onto others as we would have done onto us. As long as there is kindness and conscientiousness and consideration of other people we can make our own rules.
What is the riskiest thing you've done in your life since you've turned 50?
I guess it was having a hot love affair with someone 25 years younger than myself; I was 70 I think.
Is that someone still in your life?
I don't really want to go there.
What ignites your creativity?
Almost anything -– I'm creative in my garden, I'm creative in my house, I'm creative with my camera, when I teach, on stage or film or television, I'm creative when I write. I realized at a certain point in life the whole point of drinking and smoking dope and all those other sins was to kill off all of this creative energy. I had too much energy and I didn't know what to do with it so I kept putting myself in a daze. But I finally realized that it was creative energy and I had to do something with it, so I started photography and wrote a memoir and planted a garden and designed my house. And when I started using energy in a creative way I had no interest in tamping myself down with alcohol and drugs.
I just stopped, about 20 years ago. I had a lot of therapy and through therapy I realized what I was doing. I just got it one day and I just stopped drinking. It was amazing and it was great.
What is the best advice anyone ever gave you?
Trust in God and tie up your camel.
What is your biggest regret?
I try to live without regrets, I think they fester and create illness. So I look back on certain incidents and say, "If I made a different choice my life would have gone in a different direction, but this is what I got now and it ain't so bad."
What is your greatest accomplishment?
My son is a wonderful human being.
Check out the gallery for images of Burstyn and scenes from some of her films.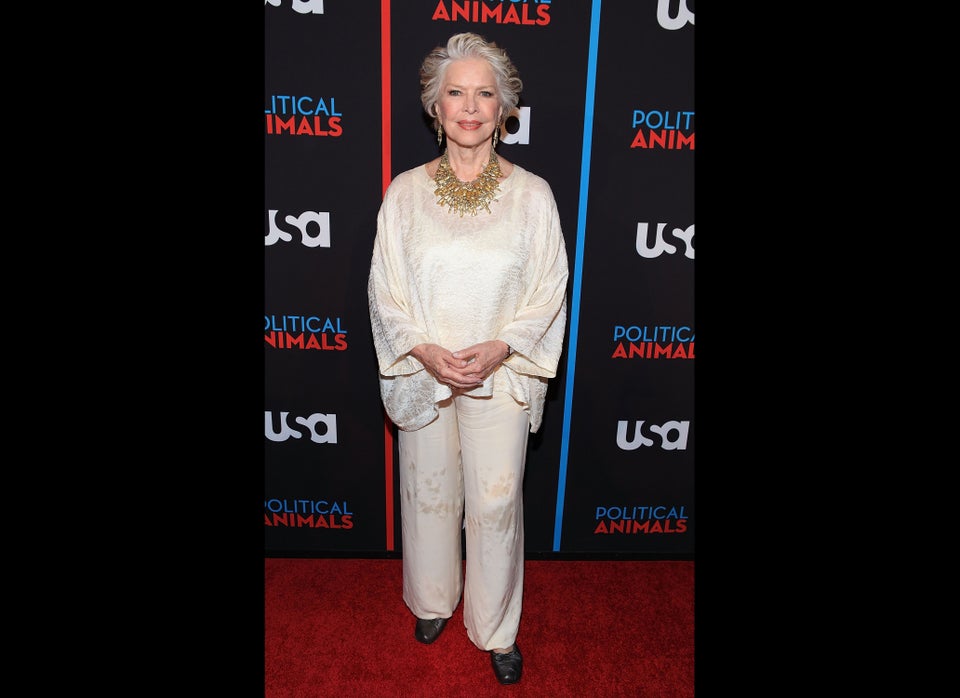 Ellen Burstyn
Related
Popular in the Community