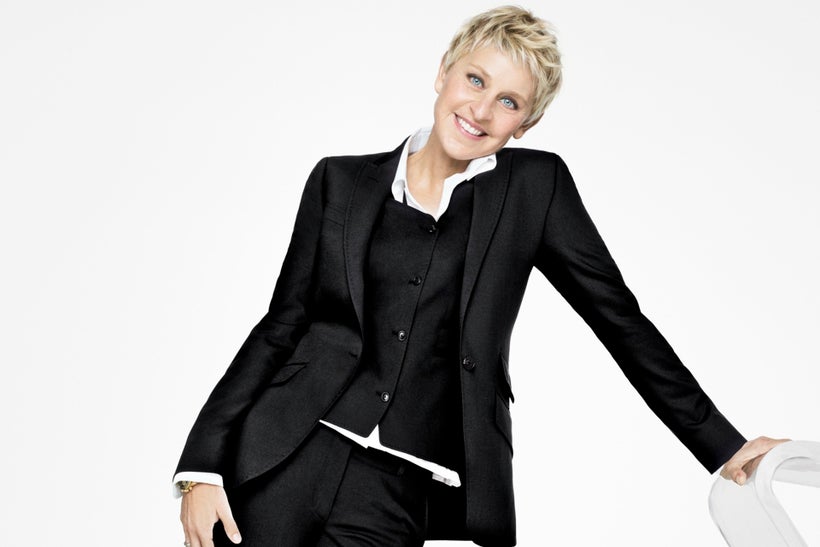 Ellen DeGeneres has become one of the most successful entertainers in the world. Her achievements are evident in her top-rated talk show and her beloved characterization as Dory in the Disney/Pixar 'Finding Nemo' animated films. DeGeneres is an LGBT icon who has paved the road for acceptance and inclusion, but her path hasn't been an easy one. There was a time she nearly lost it all in order to utter the words 'Yup, I'm gay!'
I was just a boy when I began to hear media rumblings concerning the possibility of one of my favorite sitcom stars publicly coming out in her personal life as well as through the fictional character she portrayed on the sitcom "Ellen." The year was 1997, a time when the LGBT community had little representation in the entertainment world. The few, visibly out characters were quite often relegated to caricatures of stereotypes or those who were exploited at the expense of cheap laughs. I had hoped with all of my heart that DeGeneres would indeed come out because the small-town boy in me desperately needed a gay role model to relate to.
It was a thrilling time when DeGeneres finally came out—which was just a year after Congress passed the Defense of Marriage Act. She was featured on news programs around the world, made the cover of Time magazine, and the coming-out episode of "Ellen" garnered some of the highest ratings in television history. It was called "The Puppy Episode" after producers suggested that, since the character portrayed by DeGeneres didn't have a love interest, they should have her adopt a puppy to compensate. Luckily for viewers, the character of Ellen Morgan finally came out as a lesbian instead.
This was a defining moment in LGBT history; however, DeGeneres and those of us who looked up to her were given precious little time to celebrate. The backlash rolled in like a tsunami. I was caught off guard by the emerging vitriol being spewed at DeGeneres. The Christian and conservative sects came out swinging. The right-wing group Media Research claimed that the television network ABC and its parent company Disney were promoting homosexuality to America's families. Reverend Jerry Falwell famously referred to DeGeneres as "Ellen Degenerate." Other groups stated that her coming out on national television was a slap in the face to "traditional" families. The historic moment was all but forgotten and replaced with hate speech and condemnations against the LGBT community. Soon, DeGeneres became the punchline for every late-night comic.
Hollywood eventually turned its back on DeGeneres, and she found herself out of a job. Ratings for her sitcom "Ellen" dropped dramatically due to negative public and media attention, which led to cancellation. For many years following, DeGeneres could not find work. Some claim she was overexposed at the time, but I believe she was a victim of hate and homophobia—simple as that. To this day, it is still hard for me to wrap my brain around the fact that Hollywood, an industry known for being so liberal and progressive, failed DeGeneres. She deserved so much better, and I can only imagine the pain that she went through during that time.
I do not know how DeGeneres survived the animosity she experienced due to her public coming out. It speaks volumes about her strength and resilience. As we all know, her story did not end there. Through sheer determination, hard work and talent, she rose like a phoenix. She returned to her roots in stand-up comedy, began writing books and never gave up on self belief. She bravely fought for opportunity and never gave into self pity. I have found myself looking to DeGeneres for inspiration during my own trying times. Seeing her overcome on her own terms has motivated me to do the same.
Today, DeGeneres has become an Emmy Award-winning talk show host and was recently awarded the Presidential Medal of Freedom from President Barack Obama. I am in awe of the success she has achieved against all odds. It should be noted that DeGeneres' coming-out episode was the first time a TV sitcom had an openly gay lead character, a milestone that must never be forgotten. TV Land has since honored that episode as "historically significant." TV Guide has listed the episode as No. 35 on its compilation of "The 100 Greatest Sitcom Episodes of All Time."
By coming out so publicly, DeGeneres saved innumerable lives. She gave a voice to vulnerable LGBT individuals, and her image inspired a great many to value their own humanity when society said otherwise. In my case, I know that she saved mine. DeGeneres became my role model, and through her openness, I found the courage to embrace my own coming out. She was the one person who helped me realize that I was normal and that I wasn't less than because I was gay. Seeing her handle adversity with grace and dignity moved me. I am the proud gay man I am today because of her voice and because she had the courage, in that groundbreaking episode, to believe in herself.
REAL LIFE. REAL NEWS. REAL VOICES.
Help us tell more of the stories that matter from voices that too often remain unheard.
This post was published on the now-closed HuffPost Contributor platform. Contributors control their own work and posted freely to our site. If you need to flag this entry as abusive,
send us an email
.