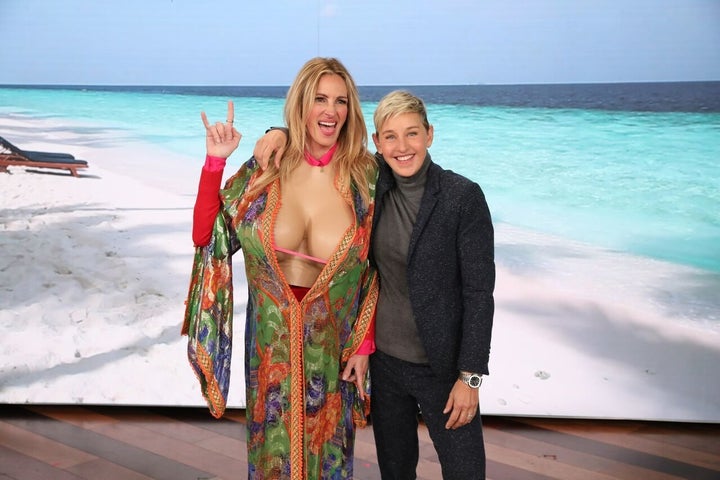 In her most compelling and believable performance yet (please take a seat, "Stepmom"), Julia Roberts has transformed herself into a Kardashian-adjacent Instagram thot. 
The star of Amazon's "Homecoming," who has taken to the social media platform like Julia Roberts to, well, anything she's ever done, allowed Ellen DeGeneres to give her a few pointers on how to boost her follower count. 
The talk show host, who has amassed 60 million Instagram followers, decided to make over the actress, who has topped out around 3 million, Kardashian-style, with a fake chest and barely-there wrap in front of a tropical backdrop. 
"Do I have to post a nude?" Roberts asked, to which DeGeneres fired back, "Ultimately, yes."
As a visibly embarrassed Roberts struggled with the new look, she joked, "I have the strange feeling that I'm losing followers as I stand here."
But DeGeneres couldn't have been more self-assured as she encouraged Roberts to pose for photos while showing off her new assets. 
The talk show host then took things to the next level when she brought out Martha Stewart carrying a pie (because food equals more Instagram followers) and Roberts' "My Best Friend's Wedding" co-star Dermot Mulroney. 
"As always, stunning," he remarked as Roberts almost collapsed out of humiliation.
The two, who recently reunited on the Amazon series, have been mulling a sequel to the beloved 1997 romantic comedy. 
"I think there's only about four people on Earth that could make a movie like that, and they include Rupert, Cameron, Julia, and me," Mulroney told Entertainment Weekly. "So, let's have at it."
Calling all HuffPost superfans!
Sign up for membership to become a founding member and help shape HuffPost's next chapter