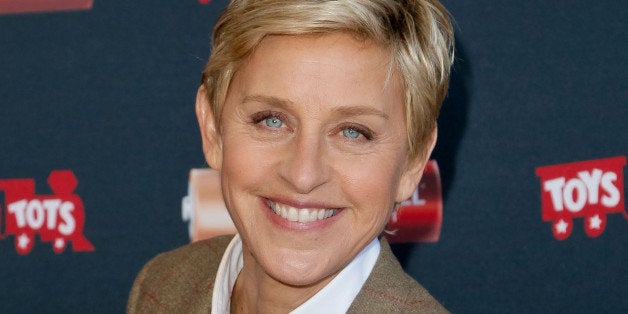 These days, our knowledge of celebrities too often originates with paparazzi images and snarky quotes by anonymous "insiders." After a while, it's easy to forget that stars are real people. That's why HuffPost Celebrity decided to launch its all-new #nofilter quick-fire question-and-answer series. Because how well do you know someone until they've shared their guiltiest pleasures?
Ellen DeGeneres is known for her interviewing skills -- seriously, how does she get celebrities to talk about their personal lives even though they say they don't want to?
HuffPost Celebrity had the opportunity to turn the tables on the lady of daytime TV, and, well, she clammed up. We chatted with DeGeneres on Friday (Nov. 22) and she insisted that our #nofilter questions made her extremely "anxious." (Who would have thunk it?!)
Who's your favorite person to interview?
Oh gosh, that's a horrible question! If I answer that, what about the person who thought they were the favorite person to interview?
What's your favorite song to dance to?
It changes all the time. I like Emotions "Best Of My Love" because that's an old standby. I like Mackelmore and Ryan Lewis right now; I like Justin Timberlake. There's kind of no favorite song, there's a lot of favorite songs.
When's the last time you cried?
Let's see, I don't know. What time is it right now? [Laughs] I don't know, I haven't cried in a little while so I'm due. I'll think of something to cry about later today.
What's your guiltiest pleasure?
Probably some bad television show, but I can't tell you what that is either because the stars will probably be guests on my show!
What's the silliest thing you've ever lied about?
I don't know, I don't lie. I'm probably the most honest person you'll ever meet -- to a fault, like, I-will-hurt-your-feelings honest. I'm sure if I lied about anything it would have been silly, but I haven't retained that information.
If you could commit a crime and get away with it, what would it be?
Um, I would probably … I'm thinking of stupid things right now so I'm not going to say them. [Laughs] I don't have an answer for that either! These are good questions, but I don't have an answer for that because I never thought of committing a crime. Like, what if I had that right off the top of my head? That would actually be a worse answer -– to be ready with an answer of what crime I would commit!
What happens in your recurring dream?
My recurring dream is it's the end of the Oscars and everyone is on their feet, standing, cheering, "Brava! Brava! More!" And then just, like, on their knees, praising me.
What's the working title of your autobiography?
"I Told You So."
Is it OK to recline your seat on an airplane?
I think it's OK for me to recline, but not the person in front of me.
When do you feel most anxious?
Um, during this interview.
What or who is overrated right now?
I think the Swiffer. I mean, I like it, but I think it's overrated. I think it's really, really good, but is it that good?
Is a good friend hard to come by?
Yes.
Why?
Because you have to just trust somebody and know that you can be completely yourself and there's no judgment and I think there are a lot of people in the world that have judgment or agendas and ego about stuff, so I think it's hard to find somebody that you totally trust and have complete confidence in.
Describe one time you thought, "This is harder than it looks."
Wow, these questions. They're making me think I should think of weird answers before I do interviews! But you know what, the first time I hosted the Oscars, that would be the answer. So, that was the last time something was harder than it looked.
Tell us a joke.
You have to watch classic joke Tuesdays! I use them all the time.
Ellen DeGeneres is currently partnering up with Duracell to announce their holiday initiative "Power a Smile." They will be donating one million batteries for Toys for Tots to power all of the battery-operated toys being donated to children in need, across the country. DeGeneres was at the Van Nuys Airport in Los Angeles on Friday (Nov. 22) to announce the program with a group of Marines, who helped her fill a jumbo jet with gifts and batteries. "If I can help raise awareness and remind people to pick up a package of Duracell batteries for Toys for Tots, I thought that's a good cause," DeGeneres told HuffPost Celebrity. "That's an easy thing for people to do when they're out shopping and if my voice helps get a message out then that's great."
REAL LIFE. REAL NEWS. REAL VOICES.
Help us tell more of the stories that matter from voices that too often remain unheard.
BEFORE YOU GO
PHOTO GALLERY
Celebrity Guilty Pleasures