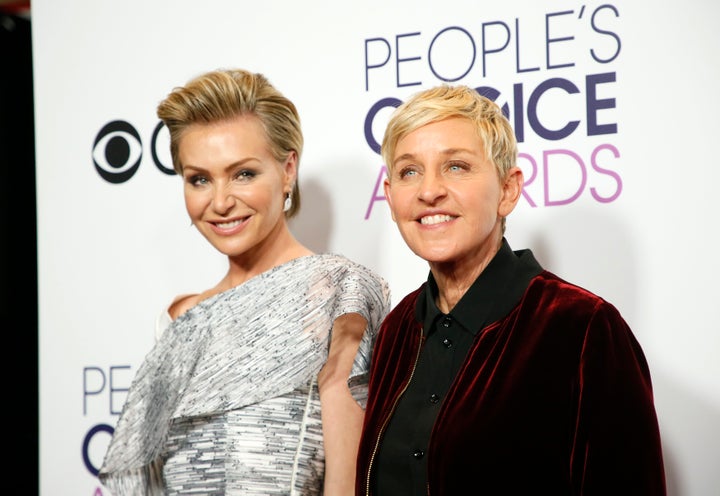 But de Rossi says it doesn't really bother her, mainly because it means that people see gay marriage in a new light. It makes her and DeGeneres feel "accepted," she said. 
"The divorce rumors came and then we really knew the perceptions had changed," she told Us Weekly at an event on Wednesday. "I'm not kidding. I know it sounds ridiculous, but when that started happening I thought, 'Oh, now we're finally accepted.' We get the same shit as every celebrity couple." 
She added, "That means there is an acceptance for this." 
While she and her talk show host wife "avoid" divorce rumors, de Rossi said, they also try to stay away from rumors about their famous friends. 
"I was at a newsstand … and there was a cover of Brad [Pitt] and Jen [Aniston]," she recalled. "I literally just stared at it, and I was like, 'They haven't seen each other ... How is this even a thing? I know for a fact' ... I actually took a picture of it and sent it to Ellen and said, 'Can you believe this?' Anyway, no, in other words, we avoid it. We don't care." 
The two will celebrate their 10th wedding anniversary in August.
They marked another milestone this year: DeGeneres' 60th birthday, on Jan. 26. In February, De Rossi surprised her wife on her TV show with the gift of a lifetime. 
"It's your 60th birthday, and this gift had to be really special, and it had to represent who you are and what you really care about," de Rossi said. "So I combined that with the fact that — literally, guys — for, like, the last two years, Ellen has said to me, 'I feel like I'm not doing enough.' Every day, almost. So I put all that together, and I got you this gift."
De Rossi then played a video clip recounting DeGeneres' lifelong admiration of Dian Fossey and announcing the construction of the Ellen DeGeneres Center for the Dian Fossey Gorilla Fund. De Rossi then said she established the Ellen DeGeneres Wildlife Fund for her wife so she can continue her conservation efforts. DeGeneres was at a loss for words. 
"It's the best gift," DeGeneres said. "When we got married, Portia's line was, 'It's good to be loved. It's profound to be understood.' And she understands me, because that is the best gift that anybody could have given me." 
Watch the sweet moment below: 
REAL LIFE. REAL NEWS. REAL VOICES.
Help us tell more of the stories that matter from voices that too often remain unheard.
BEFORE YOU GO
PHOTO GALLERY
Celebrity Photos