Ellen DeGeneres on Tuesday was awarded the Presidential Medal of Freedom, America's highest civilian honor, alongside 20 other artists, athletes, scientists and philanthropists.
President Barack Obama ― who had to stop mid-address because he was "getting kind of choked up" ― bestowed the award on the television host for her unwavering ability to make "you laugh about something, rather than at someone." He praised DeGeneres' historic bravery for publicly coming out of the closet nearly two decades ago, putting her career in jeopardy.
"It's easy to forget now, when we've come so far, where now marriage is equal under the law, just how much courage was required for Ellen to come out on the most public of stages almost 20 years ago. Just how important it was not just for the LGBT community, but for all us to see somebody so full of kindness and light. Somebody we liked so much, somebody who could be our neighbor or our colleague or our sister challenge our own assumptions. Remind us that we have more in common than we realize, push our country in the direction of justice. What an incredible burden it was to bear, to risk your career like that. People don't do that very often."
At the ceremony, she held back tears as a short speech was read celebrating her accomplishments:
"In a career spanning three decades, Ellen DeGeneres has lifted our spirits and brought joy to our lives as a stand-up comic, actor, and television star. In every role she reminds us to be kind to one another and to treat people as each of us wants to be treated. At a pivotal moment, her courage and candor helped change the hearts and minds of millions of Americans, accelerating our nation's constant drive toward equality and acceptance for all. Again and again, Ellen DeGeneres has shown us that a single individual can make the world a more fun, more open, more loving place so long as we just keep swimming."
Despite the waterworks, the president gave DeGeneres hugs and reminded us that even in the darkest times, we can all use a little bit of dancing.
"Ellen counters what too often divides us with the countless things that bind us together, inspires us to be better, one joke, one dance at a time," Obama said.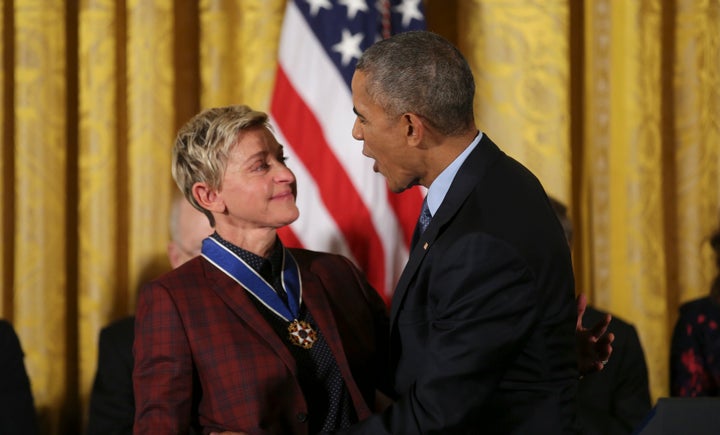 Before You Go
2016 Presidential Medal of Freedom Honorees
Popular in the Community