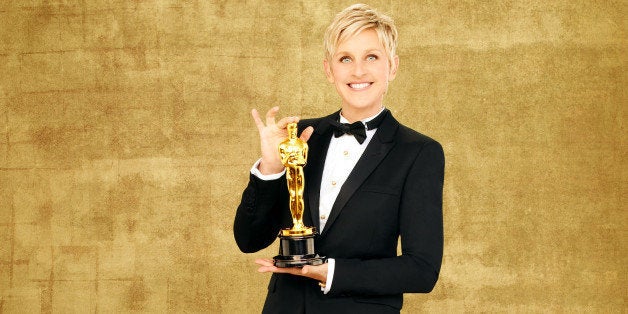 What's the worst offense an Oscar host can commit? Forgetting the contents of the monologue onstage? Stumping for a particular movie to win? How about leaking a copy of an awards contender online?
Ellen DeGeneres has been accused of doing the latter -- or at least someone in her camp has. Earlier this week, "The Secret Life of Walter Mitty" made its way onto piracy sites with a watermark bearing the Oscar host's name. The original assumption was that the Academy screener sent to "The Ellen DeGeneres Show" was the one that leaked, but a rep for 20th Century Fox, the movie's distributor, confirmed to Variety that it was actually a copy of the movie sent in advance of Ben Stiller's Dec. 4 appearance on the talk show.
The news of the leak first broke on Thursday at the hands of former Kickstarter CTO Andy Baio, who runs the technology blog Waxy. He posted a GIF from the "Walter Mitty" screener that contains the words "Ellen DeGeneres 11/26/13" in large white type at the bottom of the screen. Baio also reported that Academy screeners of "Frozen," "Her" and "The Wolf of Wall Street" appeared online on Wednesday as well.
DeGeneres herself has steered clear of addressing the mix-up, but the executive producers of her show issued this statement: "Our show is sent advanced screeners of movies, sitcoms, reality shows, CDs, etc. before guests appear on our show. We do everything we can to protect the content and in 11 seasons nothing has ever leaked online from our show. We're not sure if this leaked from our show or not, but we are doing everything we can to find out and to make sure it never happens again."
While it's certainly not uncommon for movies to leak online -- last year's most-pirated movie, "The Hobbit: An Unexpected Journey," was downloaded 8.4 million times -- it is rare for the source to be linked back to an industry insider. Baio reminds us on Waxy of 2011's "Super 8" leak, which came with a watermark containing Howard Stern's name.
Two years ago, Baio wrote an extensive piece for Wired in which he tracked trends associated with the Academy's screener leaks. Baio reported that, as of Jan. 26, 2012, -- exactly a month before the Oscars were to air -- eight of the 33 awards screeners disseminated had leaked online. Factoring in 10 years' worth of data, he called that number a "record low." (Still, non-screener versions of most of the other films leaked anyway. The only three contenders spared the illegal treatment as of the article's publication were "Extremely Loud & Incredibly Close," "My Week with Marilyn" and "W.E.")
Unfortunately for "Walter Mitty," this mild controversy is where its Oscar conversation ends. The movie, directed by and starring Stiller in an adaptation of James Thurber's 1939 short story, was once a putative awards contender but has fizzled far from the Oscar radar thanks to mixed reviews and a slate of movies that's overflowing with more highbrow fare.
Calling all HuffPost superfans!
Sign up for membership to become a founding member and help shape HuffPost's next chapter
BEFORE YOU GO
PHOTO GALLERY
Ellen DeGeneres