Stephen "tWitch" Boss, one of Ellen DeGeneres' most visible colleagues, is breaking his silence over a slew of allegations against his boss about the alleged "toxic work environment" on her daytime talk show.
Boss has appeared as a DJ on "The Ellen DeGeneres Show" since 2014 in a regular capacity ― perhaps most memorably when he taught then-Democratic presidential nominee Hilary Clinton how to whip and nae nae ― as well as her de facto sidekick on the spinoff series "Ellen's Game of Games."
Speaking with Us Weekly about claims of misconduct and harassment on set of the comedian's eponymous talk show, Boss was generally supportive of DeGeneres.
"We can't speak too much legally about it, but I'll say this, there's been love," Boss told the outlet. "Obviously there's some things to address, but from my standpoint and from countless others, there's been love. I'll just leave it at that until there's a time where we can address more publicly. There's been love and there will continue to be love."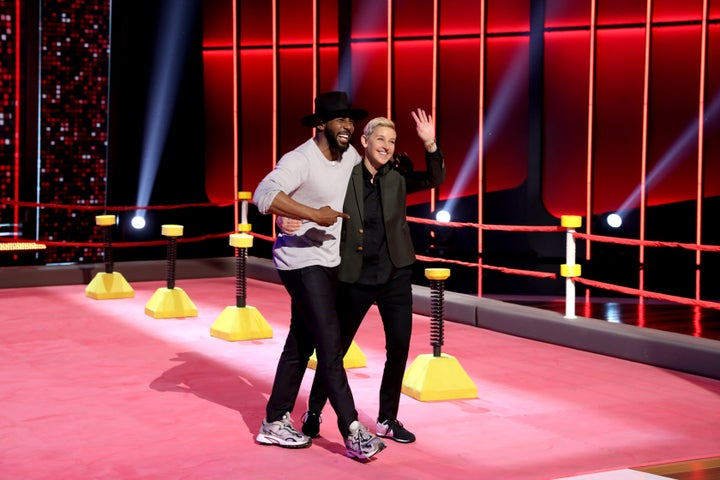 In a statement to BuzzFeed at the time, executive producers Ed Glavin, Andy Lassner and Mary Connelly said: "We are truly heartbroken and sorry to learn that even one person in our production family has had a negative experience. It's not who we are and not who we strive to be, and not the mission Ellen has set for us."
DeGeneres later apologized to her staff in an email obtained by Variety amid reports that Glavin, who was at the center of many allegations, is expected to depart in coming weeks.
"As we've grown exponentially, I've not been able to stay on top of everything and relied on others to do their jobs as they knew I'd want them done. Clearly some didn't," DeGeneres wrote in the email, promising to "correct the issues" in the future. "That will now change and I'm committed to ensuring this does not happen again."
While many of DeGeneres' celebrity friends, like Ashton Kutcher, Diane Keaton and Kevin Hart, have defended her, former employees, including Boss' predecessor Tony Okungbowa, haven't described their time on the show as positively.
In an Instagram post last week, Okungbowa, who worked on the show as a DJ for nearly 10 years, wrote that he as well experienced the "toxicity of the environment."
"While I am grateful for the opportunity it afforded me, I did experience and feel the toxicity of the environment," he wrote. "I stand with my former colleagues in their quest to create a healthier and more inclusive workplace as the show moves forward."
Popular in the Community