 Dr. Ellen Ochoa became the first Latina to go to space when she boarded the space shuttle Discovery in 1993. She made history again in January when she became the first Hispanic and second female director of NASA's Johnson Space Center.
Ellen Ochoa, who is of Mexican decent, spoke with VOXXI on Tuesday about her new role at the Johnson Space Center, growing up in California, her Hispanic roots and Latino representation in NASA.
What are your responsibilities as director of the Johnson Space Center and what's the role of the center?
Ellen Ochoa: We're the home of human space flight for NASA and really for the country, so we have the responsibility of operating the major programs in human space flight. First of all, the International Space Station program is headquartered here, and of course all the organizations that support that.
We also have programs that support exploration beyond low-Earth orbit, so we're developing a spacecraft called the Orion Multi-Purpose Crew Vehicle in conjunction with Lockheed Martin, which is the prime contractor for that. We're in the middle of that development. We have our first test flight next year.
We support a lot of the new companies and established companies that are developing capabilities to take both cargo and crew to low-Earth orbit and back and, in particular, either are or will be supporting the International Space Station in that effort.
And we do a lot of the advanced technology work that supports human exploration in space. Obviously a lot of that also has impact to life on earth as well in a variety of areas like the human robotic assistance and a lot of other robotic work.
Critics, including several former astronauts, say the space shuttle program should not have ended in July 2011 before there was another program to replace it. What are your thoughts about that?
It's been a challenge for us. We had to kind of relook the whole International Space Station program as we were coming to the end of the shuttle era to understand how are we going to get people to and from the station, how are we going to get supplies, how are we going to bring back science samples. I have to give a lot of credit to folks here who had to kind of redo the whole model in terms of logistics for the International Space Station program. We've been able to continue to move forward and to support that program.
Particularly with the commercial cargo and commercial crew program, we now have at least one company that has a capability within the United States to take cargo to and from the station. We have another company that should be demonstrating the ability to deliver supplies this year. Later on in the decade we'll have at least one—and hopefully more than one—U.S. company that will also be able to take a crew. We here, at JSC, are working hard on supporting those efforts and working with those companies. It's really important for us that they succeed.
In 1993, you became the first Latina to go to space when you boarded the space shuttle Discovery. Now, you've become the first Latina to be director of NASA's Johnson Space Center. Have you ever felt that your Hispanic roots put extra pressure on you to do well?
I wouldn't say it felt like extra pressure. It has added a whole dimension, I think, to my job here. When I originally applied to be an astronaut I wasn't really thinking about the whole sort of role model aspect of it. I was doing it because I was fascinated by space. I was studying to be a research engineer and realized you could do a lot of unique and interesting experiments in space. And so it was really wanting to be part of America's space program and being able to apply my research.
This whole other aspect really was kind of an extra that has turned out to be very rich and rewarding in terms of getting to speak at lots of schools, showing up in textbooks, having schools named after me, which I've had the opportunity to visit and see a lot of the students there.
You grew up in California and your Hispanic roots come from your father, whose parents were born in Mexico, so did you grow up surrounded by a rich Hispanic culture? Did you learn to speak Spanish growing up?
We really didn't grow up so much as part of the Hispanic culture. My mom wasn't Hispanic. She learned Spanish after she married my dad, but it was interesting that my dad really would not speak Spanish to us around the house. I think it was just a consequence of how when he was growing up, it was really frowned upon to speak Spanish.
I think people have a much different view now where obviously it enhances your career possibilities when you are bilingual or even more. At the time, that didn't seem to be so much the case. It was important for him for his kids to speak English, and I don't think he saw the importance of us speaking Spanish, which is really unfortunate.
But a number of my cousins did have more of an opportunity to grow up bilingual, and I still stay in contact with a lot of them, many of whom live in California.
You along with the 13 other Hispanic NASA astronauts are seen as role models for many young Latinos. What message do you have for these young Latinos who perhaps don't have the encouragement they need to pursue a career?
Ellen Ochoa: I really try to tell people that first of all, there are a lot of interesting and exciting careers when you study math and science and related technology fields. For me, the key was really my education, so I tell people that it's important to study and continue to take science and math classes throughout high school. I tell them to graduate from high school and go on to college. That will really give you a lot of options.
I realize that a lot of the students I speak to may not end up as an astronaut or may not be completely interested in those fields, but I want them to at least make sure that they have options in their careers and that they think about setting high goals for themselves.
People who become astronauts are very similar to a lot of these kids. They put in a lot of hard work, a lot of dedication and they set high goals for themselves. That's something that anybody can apply.
In your opinion, are Latinos well represented in NASA or is there room for improvements?
Here at Johnson Space Center, we do have pretty good demographics in terms of having a lot of Hispanic employees, including in the science and engineering fields. That's partly because of where we're located being in in Texas. Overall, at NASA I think we do pretty well, but we can definitely do better.
One of the things that we try to look at is not only are we bringing in people from diverse backgrounds, but are we making sure that they have opportunities for career advancement as well. That really is something that we pay a lot of attention to. When it comes to women and various types of minorities and people with a lot of different backgrounds, are we making sure that we provide them with different kinds of training and development opportunities so that they can progress well in their careers?
And while I think we do a good job compared to a lot of other government agencies and a lot of other companies, it's something we feel we can continue to work at and make sure that we do even better.
You've accomplished so much thus far. What do you hope people will remember you for?
It's not so much me individually, although I understand how individuals can help inspire other folks. But really, the role that I've played at NASA has been one that's really been a community effort, a collective effort and a team effort.
What we do here at NASA is explore space and understand how you can get humans to and from space safely as well as accomplish something in space—whether it's going farther or understanding how you really live and work—and accomplish science objectives. It's hard and it really does take a team. To me, that's one of the great rewards of working here. You get to feel like you're part of a team that is so talented and so dedicated.
We were able to accomplish a lot in the space shuttle program. We are currently doing amazing things in space in the International Space Station program. And I hope that whatever I have been able to accomplish leads people to understand more about what we've accomplished at NASA and how they can contribute to that in the future.
Before You Go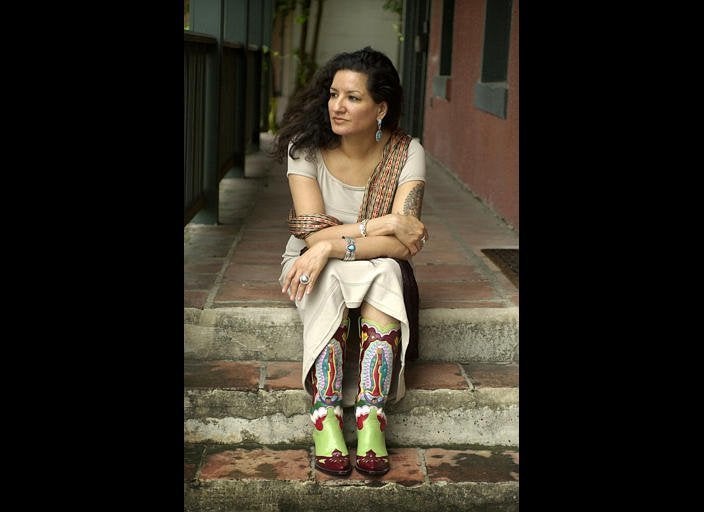 Hispanic Contributions
Popular in the Community