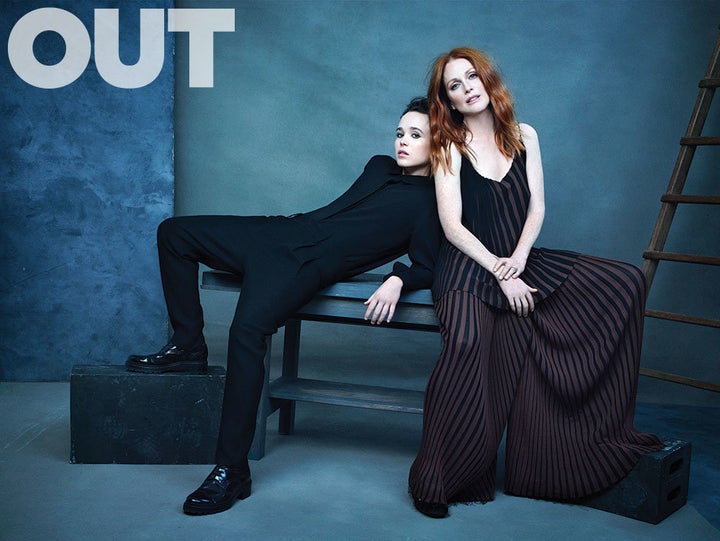 Striking a pose with Julianne Moore, her co-star in the film, for the October cover of Out magazine, the 28-year-old actress says being cast in the hotly-anticipated movie, about how one real-life lesbian couple won domestic partner rights in the years before marriage equality, aligned with her own personal journey. 
"What's interesting to me is how long it took to make the movie – for it to finally come together – and how my internal progression toward coming out was naturally in line with it," she said. "It made me go, 'Dude, just tell people you're gay. Just get over yourself, honestly, and support those who are not as privileged.' It's like, 'You have f**king privilege, so do something with it.'"
In the movie, Moore portrays New Jersey police lieutenant Laurel Hester, who must fight to leave her pension benefits to her domestic partner, Stacie Andree (Page), after being diagnosed with lung cancer. Slated for an Oct. 2 release, "Freeheld" follows the couple's journey from the time they fall in love up to their historic battle against a board of county representatives.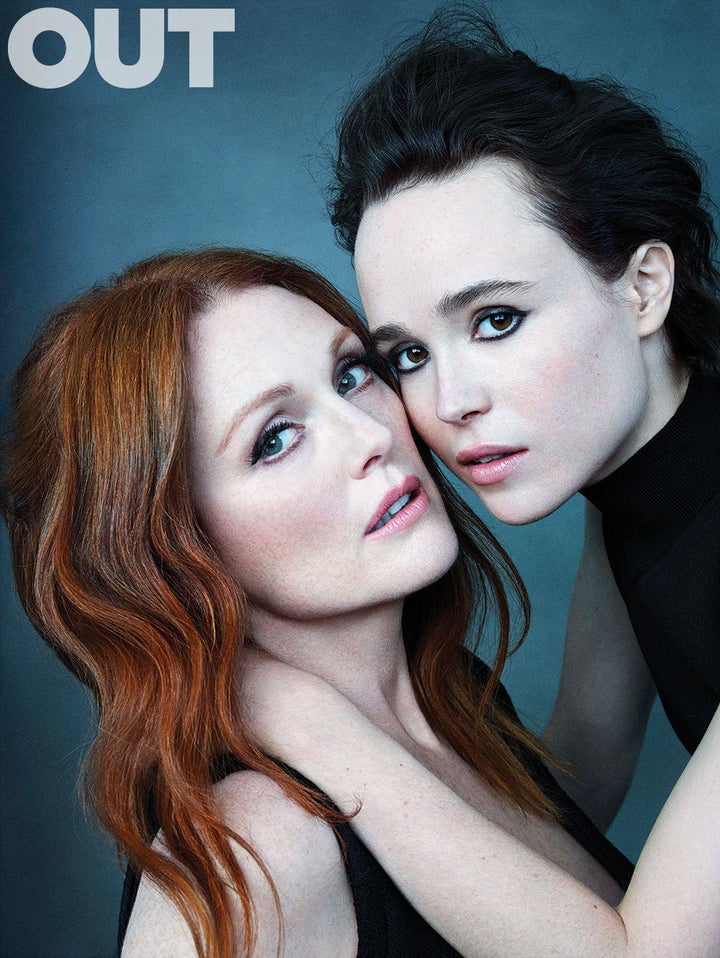 In the intereview, Moore recalled the experience of working opposite a newly-out Page, and said it opened her eyes of just how "painful it is to be closeted." 
"I have the advantage of being a person who's never had to hide my sexuality, so I asked her a lot of questions -- frank questions -- about what that feels like," Moore said. "She said she felt discomfort simply wearing all these dresses, and it was all very eye-opening for me. She was so unprotective [of herself] – I was very touched by that. It definitely made me more sensitive to the nuances of our movie."
"We were all holding our breath, thinking, 'Come on, this has got to work. If it doesn't work, what does it say about us as a nation?' You don't want to carry that kind of shame anymore — it's absurd," Moore said. "A majority of people in this country were in favor of marriage equality, and the Supreme Court made that ruling. And look! Suddenly, here is this movie that sort of reflects that back. So we're ready as a culture to say, 'Here. Look. Look how far we've come, and look what we've done.'"
Head here to read the full Out magazine interview with Page and Moore. 
PHOTO GALLERY
Understated Celebrity Coming Out Stories
Calling all HuffPost superfans!
Sign up for membership to become a founding member and help shape HuffPost's next chapter