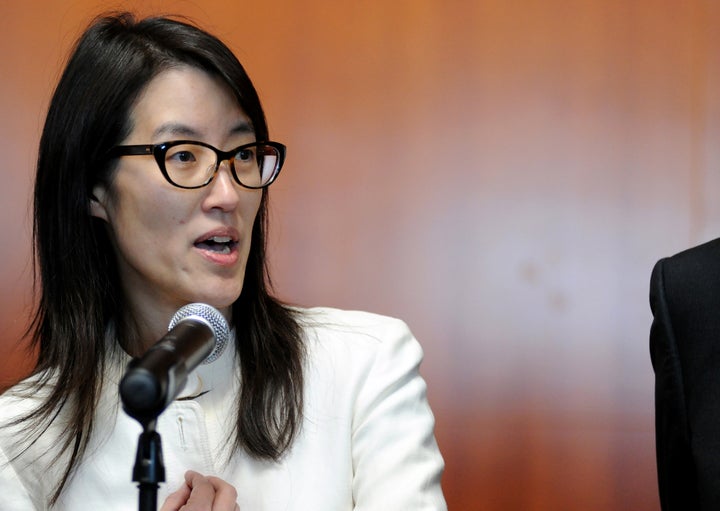 They called her "the most hated person on the Internet" and named her one of the pariahs of Silicon Valley. She lost her sex discrimination lawsuit against a prominent Bay Area venture capital firm and started an industry-wide conversation about gender in tech. Then she left her job as chief executive at one of the most controversial websites in the dark swamp of the Internet.
But Ellen Pao will not be silenced.
The former Reddit CEO just published an inspiring and brutal new essay about her career and the discrimination women face in law, venture capital and tech.
Writing in Tuesday's Lenny Letter, the email newsletter founded by "Girls" creator Lena Dunham and showrunner Jenni Konner, Pao tells women struggling to get ahead in male-dominated workplaces, "Do not give up."
"You are not alone. There are millions of women and men who are supporting you and want you to succeed," writes Pao, who resigned from her interim CEO post at Reddit in July amid controversy over changes she'd made there regarding online harassment. "Many people will try to blame you -- for some, it's just too hard to acknowledge their own failings and the failings of our system. That's on them, not on you."
There aren't many women working in tech, and even fewer make it into venture capital. Pao runs through some of the depressing stats: Only 6 percent of VC partners are women -- down from 10 percent in 1999. If those in the tech industry really wanted to change the numbers, they'd be changed by now, she points out.
But there's hope in the numbers, she says.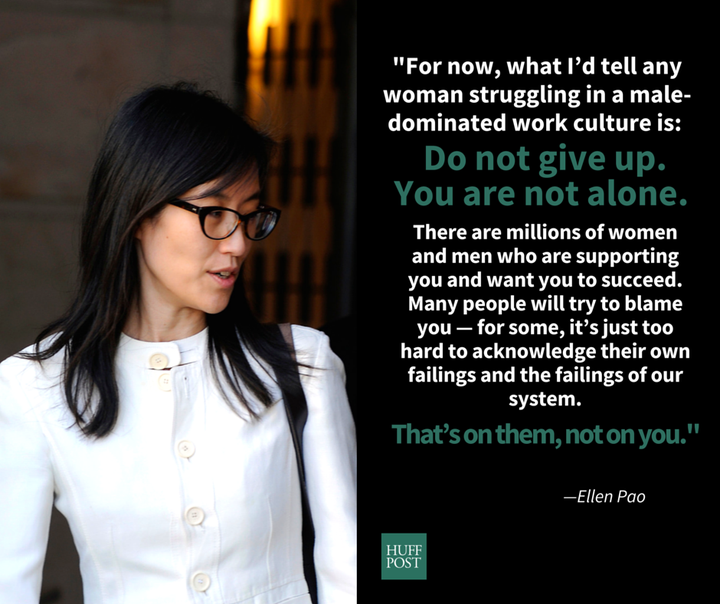 Simply by tracking and publishing the data, we can initiate a conversation about the problem. "The biggest positive difference over the past 20 years is how women and minorities are sharing others' bad behavior, data, and their own experiences publicly," Pao writes. "You can't get away with making thoughtless remarks anymore."
Pao started an industry-wide conversation about sexism when she sued her former employer, Kleiner Perkins Caufield & Byers, claiming the firm didn't promote her because she was a woman and then fired her for complaining about it. She lost her case at trial and didn't appeal. But the case highlighted an issue that many women in the closed-off VC world were reluctant to talk about. Pao's honesty inspired many.
Women in venture capital are still pretty reluctant to talk, though. As an editor at The Huffington Post, I've had many conversations with women in the VC world who say that they don't want to draw attention to themselves "as women," but want their work to speak for itself. I've spoken with male VCs who've told me they like hiring women because "mothers are really hard-working" -- as though all women are mothers or something. Creepy little comments like that signal a big problem in the male-dominated world.
Opening up about the problems we face at work can only serve to make things better for everyone. Pao recounts how after she told another female investor about what happened to her, her colleague shared her own terrible story of harassment -- one she'd told no one about.
"Don't be silent," Pao writes. "Sharing my story privately, and eventually publicly, meant a lot to me and to others. Women and men are talking about gender and discrimination issues across the globe."
To read Pao's essay, sign up for Lenny Letter here.
Popular in the Community