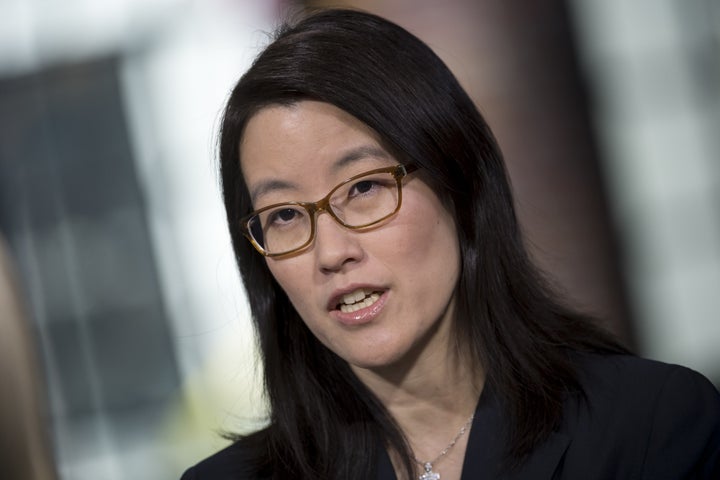 Sexism in the tech industry is real, pervasive and extremely damaging, as an excerpt from Ellen Pao's forthcoming book makes clear. Her story is a powerful rejoinder to people like recently fired Google engineer James Damore who seem desperate to pinpoint other reasons for the lack of women in the industry.
Pao was a junior partner at Silicon Valley venture capital firm Kleiner Perkins and ultimately sued the company for sexual harassment and discrimination in 2015. In the excerpt, published this week in The Cut, she opens up about her experience. It's horrifying.
In one scene, Pao takes a seat on a private airplane with an unnamed tech CEO and investor, as well as two managing partners from her firm. The topic of conversation among these elite men? Porn.
"The CEO ... started bragging about meeting Jenna Jameson, talking about her career as the world's greatest porn star," Pao writes. She's asked if she's familiar with Jameson's work. She is not. The men then chat about their prostitute preferences and Pao's colleague discloses that he prefers white, Eastern European sex workers.
The ultimate irony: The group then moves on to a work discussion about finding a woman for the tech CEO's all-male board of directors. When Pao suggests then-Yahoo CEO Marissa Mayer, the tech CEO replies, "Nah, too controversial." Then adds, "Though I would let her join the board because she's hot."
These men are among the most elite players in the tech industry. Kleiner Perkins was an early backer of Amazon and Google, among other massive companies. Their conversation makes it clear that their world is for men. Pao also writes about having men take credit for her ideas and being ignored at meetings to the point that a male partner didn't even share cookies with her and a female colleague.
The stark sexism revealed in Pao's book excerpt essentially turns Damore's arguments to mush. The former Google engineer stirred up a conversation about women in tech a few weeks ago after a copy of his 10-page memo on the subject went viral. In his memo, which has been defended by a handful of prominent conservatives, Damore argues that biological differences between the sexes keep women out of the industry.
He mentions the word "sexism" only twice. Once to grudgingly acknowledge it exists and another time to encourage people to stop assuming it leads to pay disparities.
But Pao's story makes clear that sexism is a major reason ― if not the sole reason ― why there are so few women in the industry. They're not welcome as equals and instead must work in an atmosphere pulsating with overt and hostile sexism.
There can be no conversation about women in tech without tackling the issue head-on. And thanks to Pao's lawsuit, that's what's been happening for the past few years.
Though she lost her case against Kleiner Perkins, Pao opened the floodgates. Since 2015, women have been increasingly vocal about harassment and discrimination in the industry.
"Some reporters even came up with a name for the phenomenon of women or minorities in tech suing or speaking," Pao writes. "They called it the 'Pao effect.'"
Popular in the Community