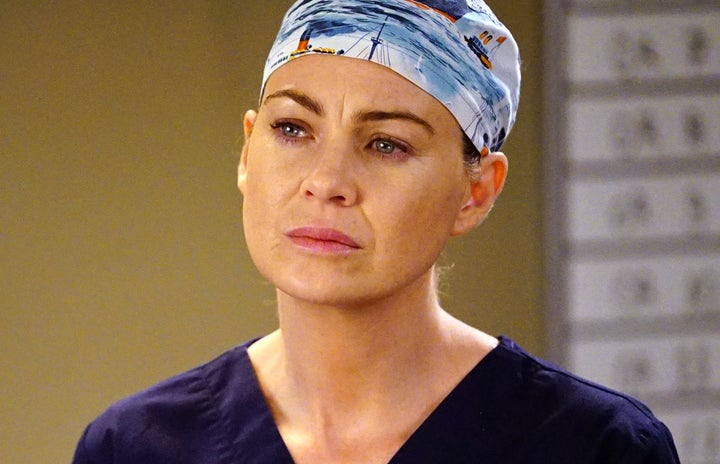 When "Grey's Anatomy" checks in for its 13th season this fall, Ellen Pompeo stands as one of only four original series regulars to have stayed with ABC's stalwart show throughout its entire run. 
Pompeo, who inked a McDreamy new contract with the network this year, has chosen to remain on the medical soap even after stars like Katherine Heigl and Patrick Dempsey have exited (some less gracefully than others) to pursue film careers. So, why has the actress stuck around long after the series' heyday? As she told People in an exclusive new interview: aging.
"My decision to stay on ['Grey's Anatomy'] was based solely on age," the 46-year-old actress revealed. "At 33, I was wise enough to know my clock was already ticking in Hollywood," she said of originally accepting the part.
Compared to the trajectory of other actresses in the industry, Pompeo says she got a relatively late start, securing some of her most notable roles in her late 20s and early 30s. If she had nabbed "Grey's" as an even younger woman, things might've turned out very differently for both the actress and the series. 
"I probably would have done my time, then gone out to search for other things," Pompeo explained. 
But in a series with such longevity, contract negotiations proved to be the tipping point for Pompeo. To play a fully-realized character like Meredith Grey is an all-too-rare opportunity for women in Hollywood. Pompeo said she was "aware of how challenging it would be to find other roles in my late 30s and early 40s." Instead of abandoning ship, she chose to tie her career to "Grey's," becoming one of the highest paid actresses on TV today. 
"I thought, 'Why would I leave something that is super successful and pays me great to search the landscape?'" she said. "I decided that I would stay on 'Grey's' and be grateful and try to ride it out for as long as I could. And I am very happy that I made the decision to stay. It's only gotten better with time." 
To hear more from Pompeo, head over to People for the full interview. 
REAL LIFE. REAL NEWS. REAL VOICES.
Help us tell more of the stories that matter from voices that too often remain unheard.
BEFORE YOU GO
PHOTO GALLERY
Stars Aging With Grace