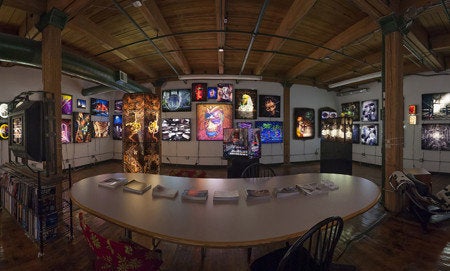 If seeing is believing, then to see Ellen Sandor's studio, (art)n, is to believe in the future.
In 1983, Ellen Sandor, an MFA graduate from the School of the Art Institute, began making 3D sculptures of 2D images using a technique she invented and patented called PHSColograms, pronounced skolograms. The PHSCologram combines photography, holography, sculpture and computer graphics. "PHSCologram imagery is constructed from sculpting objects with a computer graphics software application. These objects are textured and then placed in a scene with lighting and other special effects. Once the digital scene is complete, a series of as many as 65 images are photographed in (art)n's proprietary art software. These snapshots are captured at slightly different positions across a horizontal plane and combined on the computer for final output to transparent film. (art)n's software also generates a matching linescreen to interpret the final mounted photograph as a three dimensional sculpture," explains Robert J. Krawczyk in the 2006-2007 catalogue that accompanied Ellen's show, Multi-Dimensional Imagery, at the Illinois Institute of Technology. The result is 3D sculpture without special enhancing glasses and it is a game changer in the world of photography.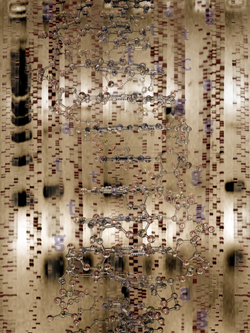 Cryptobiology: Reconstructing Identity, 2001
Ellen Sandor, Keith Miller, Fernando Orellana and Janine Fron, and (art)n
Special thanks to Stephan Meyers
30"x40" Virtual Photograph, Duratrans, Kodalith, Plexiglas
The above would be dazzling enough for any art collector, which Ellen is herself. However, it is also tantalizing for scientists. Ellen often collaborates with scientists to look at the DNA strands of disease, X-rays, and scans of the brain through her 3D PHSCologram sculpture. This new interpretation of the scientifically accurate data allows the doctors a new perspective on the information and the patients a better understanding through the art, a more approachable and engaging platform. A perfect example is in 1998 when (art)n's PHSCologram of the AIDS Virus was shown at the American Embassy in Zimbabwe through the U.S. Art in Embassies Program in Washington, D.C.
As Anmarie McDonald from the American Embassy in Harare, Zimbabwe explained at the time, "The AIDS virus is clearly the most talked about piece in our collection... while this country has the fourth highest concentration of HIV infection in the world, Zimbabweans are still generally reluctant to talk about the disease. The PHSCologram offers us a chance to discuss AIDS in an informal, less threatening way, but nonetheless important way. Zimbabweans are drawn to the technology that the piece evokes. Americans are stunned by the artistic feel, the vivid color and amazing shape of 'the disease.'" In other words, the beauty of the PHSCologram broke through the fear of the disease, and paved the way for discussions on an otherwise culturally forbidden subject.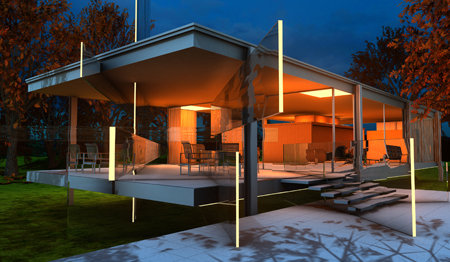 Mies-en-scène : The Farnsworth House, 2009, Ellen Sandor, Chris Kemp, Chris Day, Ben Carney, and (art)n, 40"x24" Virtual Photograph, Duratrans, Kodalith, Plexiglas
(art)n works tirelessly and painstakingly to reconstruct these pieces in the computer from real patient data sequences taken with MRI, PET, angiography, and CT scans, and some X-ray imagery. Pieces can take up to three months to complete. "The science is 100 percent correct, " Ms. Sandor explained to me. "But the art transcends. It reaches people in a way that sometimes straight facts cannot. It is radical empiricism, allowing the viewer to scientifically visualize."
It isn't just science that fascinates Ms. Sandor. She is also passionate about architecture and works from architectural plans, books and photographs to recreate exact architectural structures. Then, in contrast to her scientific sculptures, which remain strictly accurate, she and her team work to deconstruct the famous buildings to show an alternative perspective in 3D. The result is that the buildings live and breath on varying planes, reaching out to the viewer, taking on a new life.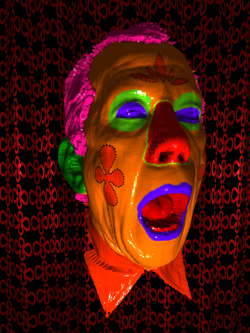 Self-Portrait, 2001, Ed Paschke
Ellen Sandor, Fernando Orellana, Todd Margolis, Nichole Maury, Sabrina
Raaf, Janine Fron, and (art)n
Special thanks to Paul Neumann, BVIS, University of Illinois at Chicago
20"x24" Virtual Photograph, Duratrans, Kodalith, Plexiglas
Ellen also creates her own original photographic sculpture, pulling from artists like Man Ray and Duchamp and often making tributes to such great artists as Mapplethorpe and O'Keefe. From her artwork, it is clear that Ellen is someone who is whole-heartedly engaged in life and its mysteries. She revels in delving deep into both, despite the incredibly laborious and time intensive work. "I am an art addict. What can I say about this? Musicians can't live without music. Actors starve to pursue their work. You just have to go with your obsession."
Art addict, indeed! Ms. Sandor is an accomplished and internationally recognized artist, and is also an important collector in photography and outsider art. "I knew I would be working on expanding the future of photography, so I suggested to my husband that he concentrate on the best of photography's past," she explained. In addition, Ellen is the chair of the advisory board of the Gene Siskel Film Center, on the board of governors of The Art Institute of Chicago and is the co-founder of the Richard and Ellen Sandor Family Collection.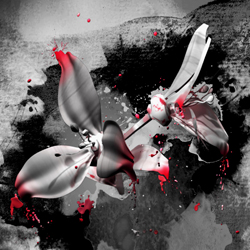 Garden of Digital Delights: Charles Csuri (Detail), 2011
Ellen Sandor, Chris Kemp, Diana Torres, Michael Cone, and (art)n
30"x30" Virtual Photograph, Duratrans, Kodalith, Plexiglas
In speaking with Ellen, a small woman for whom the word dynamo was clearly invented, I could see that she also thrives on the collaborative process. She has worked with such greats as Ed Paschke and Mr. Imagination, not to mention the best doctors and architects around the globe. "We have collaborated with other artists, scientists, architects, animators, filmmakers and historians -- and have always enjoyed the process of working across cultures and disciplines. I enjoy the creative input and skills that the (art)n team has given to my vision. It's been both joyful and sometimes difficult, but always rewarding. I feel grateful for still being able to work on my vision every day, and grateful for my team!"
It is hard to get the full 3D effect of Ms. Sandor's work from the jpegs on your screen. For those of you interested in a mind-blowing glimpse of art's future, I recommend experiencing her PHSColograms's in person. She is opening her studio to the public on Friday, September 21 as part of Expo Chicago, where she will also be exhibiting. December 4th through the 9th she will be showing her work in mid-town Miami for Art Basal Miami as part of Arts for a Better World located inside the SCOPE space. You can also view her PHSCologram sculptures in museums around the world, including The Art Institute of Chicago, the Museum of Contemporary Art, Chicago, the Buckminster Fuller Institute, the Musee Carnavalet, Paris, and the International Center of Photography. Visit www.artn.com for more information and to make a reservation for the September 21st tour.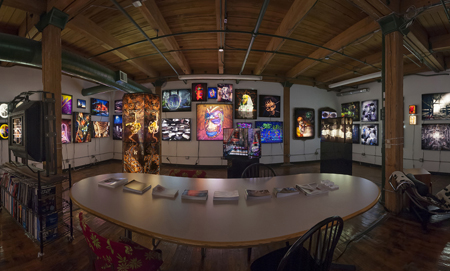 Photo credit: James Prinz Photography
All PHSCologram images printed with permission, courtesy of Ellen Sandor and (art)n.
Calling all HuffPost superfans!
Sign up for membership to become a founding member and help shape HuffPost's next chapter