UPDATE: 4:05 p.m. -- Shortly after 3:30 p.m. Friday, Ellie Day tweeted a statement regarding Thursday's accident, emphasizing that there was nothing she, James or husband Jason could have done to prevent the collision, and how grateful she is that her injuries are not more serious. The full statement can be found here. 
Just about 14 hours after LeBron James accidentally crashed into and toppled Ellie Day, sending her to the emergency room with "concussion symptoms," the wife of PGA champion Jason Day cleared the air about the incident, absolving James of any blame.
Ellie, who was released from the hospital early Friday morning, was flipped backwards in her courtside seat when James chased a loose ball out of bounds in the fourth quarter of the Cleveland Cavaliers-Oklahoma City Thunder game Thursday night. As she was being stretchered off the floor and to the hospital, Day reportedly squeezed James' hand and "said she was fine." Now, Ellie has reiterated that statement in a more public fashion, through the voice of Jason's agent, Bud Martin.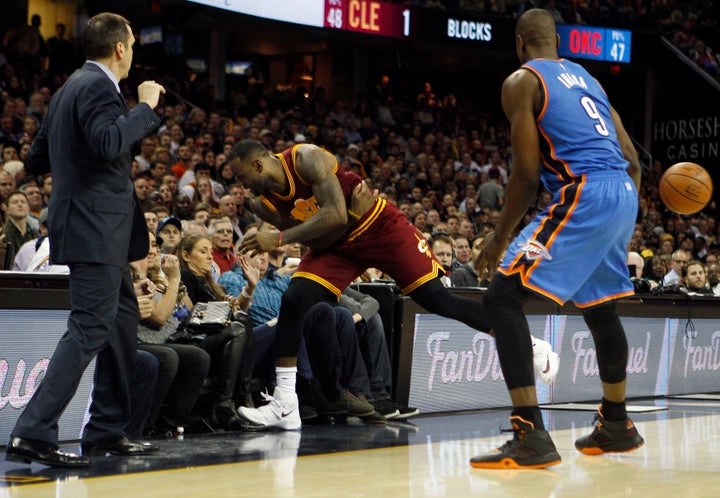 The incident has already rekindled the conversation surrounding fan safety at games. Just feet away from the action, those sitting courtside are effectively always at the mercy of the players' body control, as any misstep could result in the type of collision we saw last night between James and Ellie.
"It's always concerned me, the sideline seats," Cleveland head coach David Blatt said. "[It's a]lways concerned me, because things like that, when you're talking about players of this speed and physicality and effort level, it's not a simple thing. The powers that be are the ones that really need to decide how to deal with that."
The courtside seats present safety risks for the athletes, too. A player can easily twist an ankle on a chair leg, hurt a shoulder or an arm leaping over a row, or, as happened to Kobe Bryant in the 2011 postseason, risk a serious neck or head injury if he falls backwards and collides with the hard material of the seats.
The NBA is a league that cares deeply about both player safety and public image. So let's hope that Blatt is right, and that the league will quickly correct this health concern as it, night in and night out, presents a serious risk to those on or near the hardwood floor.
PHOTO GALLERY
Monster Dunks From The 2015-2016 NBA Season
Calling all HuffPost superfans!
Sign up for membership to become a founding member and help shape HuffPost's next chapter