Soprano Ellie Dehn recently decided to make The City her home. The forecast looks inviting and longterm. Currently, she is back at San Francisco Opera to repeat her role as "Musetta" in the company's final production for the summer – a revival of the Bohème designed by David Farley, a co-production with Houston Grand Opera and Canadian Opera Company. Ellie Dehn is more than ideal as Musetta. She has also performed the role at Teatro di San Carlo (Naples), Teatro dell'Opera (Rome), La Scala (Milan), and at the Met where it was broadcast live. Ellie's rendition of the Act II aria, "Quando m'en vo" radiates the brand of allure that, as Musetta tells us, makes people stop and stare. "The scent of desire is all around me," she says. "Felice mi fa!" The girl can't help it. In the 2014 production at SF Opera – and come the quartet of Act III with its layers of jealousy and name-calling, tenderness and distress – Ellie's mega-energy and vibrant upper register were a perfect blendship in the company of Brian Mulligan (Marcello), Leah Crocetto (Mimi) and Giorgio Berrugi (Rodolfo). This season she is teamed respectively with Audun Iversen, Erika Grimaldi, and Arturo Chacón-Cruz. Last summer, Ellie Dehn captured our hearts with an exquisite performance as "Micaëla" in Calixto Bieito's daring production of Carmen. The Act I aria, "Je dis que rien ne m'épouvante" ("I mean, nothing frightens me") revealed fresh vocal dynamism and attentive characterization. A long list of other classic roles started rolling through my head. I know what I want to hear Ellie sing – wherever it happens first. What's on her Wish List?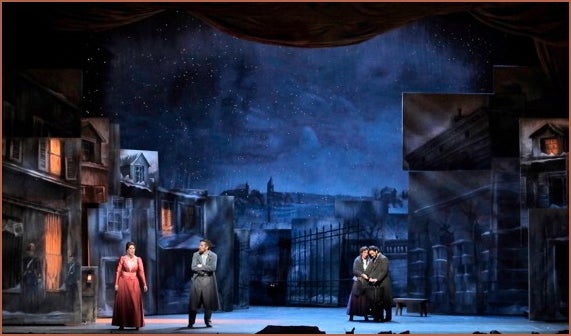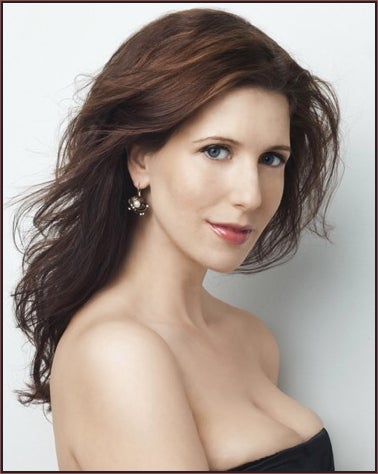 "Strauss!" she replied. "Capriccio, Arabella, Rosenkavalier, Daphne. That's the natural progression. I've done Rusalka and love it! It's in the same kind of line – a little bit heavier – but lyric.
"Bohème is a lot more fun this year. Everything is the same, the orchestra knows it like the back of their hand – it just feels like fun. Musetta is such a luxury role – twenty-five minutes of singing, not stressful, and written in such a way that the audience is going to enjoy it no matter what. Now I'm working from home and my cat is here. These are the times that all singers dream about – working with your favorite company and a great cast. And that's not flowering-it-up, it just is. I felt the same way for Micaëla."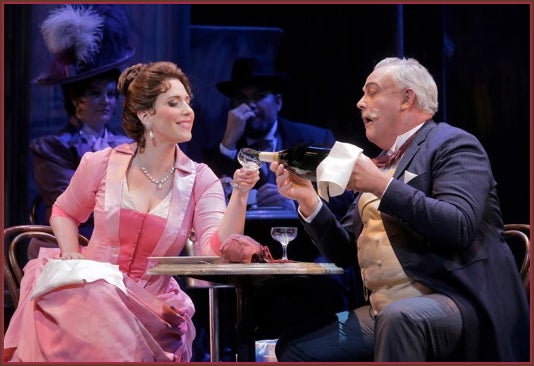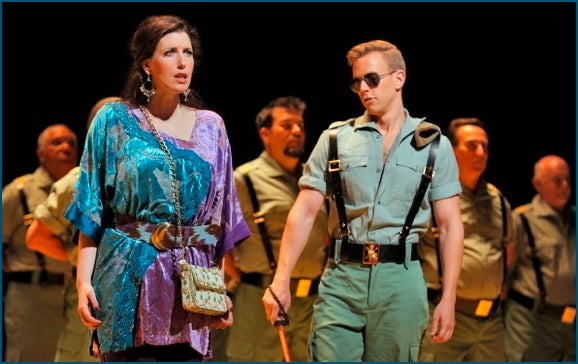 PBS Radio fans are well acquainted with Ellie Dehn's guest appearances on A Prairie Home Companion. I asked Ellie how she made that connection with the show's creator and host, Garrison Keillor.
"It's because we're from the same town – Anoka, Minnesota. That's the only reason Anoka is on the map or that anybody would ever hear of it. Garrison Keillor is a huge opera fan and wants to keep it alive by spreading it out to middle America. He saw me sing 'Donna Elvira' [Don Giovanni ] at the Met. Looking at the program, he sees I'm from Anoka. He calls the Met's Artistic Department and says I have to be on his show! I grew up listening to Garrison Keillor. He is our home town hero. So, I did a couple of shows and then started being a regular guest. He's retired now, but recently had a 'Prairie Home Cruise' going to Scotland and Norway. I would have loved to have gone, but it conflicted with Bohème."
Another quick way for out-of-towners to appreciate Ellie's roots and early musical history is via YouTube. Among the available videos is a jaw-dropping entry from 2006 – her graduation recital from the Academy of Vocal Arts (AVA) in Philadelphia. She is teamed with glorious tenor James Valenti in the climactic scene, "Toi! Vous!" from Massenet's Manon.
"I was more of a coloratura then. I was so thrilled when Minnesota Opera cast me and my good friend James Valenti in La Bohème – I sang Mimi. We also did Roméo et Juliette. That is a role often dismissed as more of a coloratura role, but it's not. Juliette has a lot of heft – especially through the poison aria ["Amour ranime mon courage"] and the balcony scene certainly needs some gravitas. It was a lesson in pacing when I first learned the role. It's also a long night for Romeo."
In her early high school days, Ellie had an eye towards Broadway. No surprise that statistics reveal a wobbly future in musical theatre, for anybody – but particularly for sopranos who haven't spent their girlhood in dance class. Her attorney father sent Ellie to a financial planner. They crunched the numbers. Conclusion? "You should really re-think this. The likelihood of you having a career is: Next to Nothing."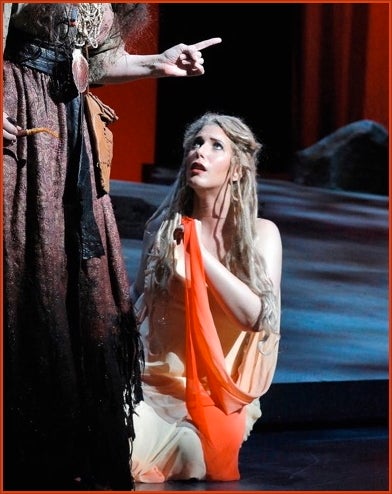 "I always did very well in school, National Honor Society [NHS], etc. I think my family just wanted better for me. My grandfather was a flutist with the Minneapolis Symphony for forty-two years. I started piano when I was three. So, I did have a classical music background. I actually did a children's chorus in a community opera theatre in Anoka. It was Carmen, in English, 'We are marching, here we are.' Also, Tosca – but we never saw the complete opera and I didn't particularly like what I was hearing. We just did our scenes and left. It was a part of 'Choir'.
"I didn't take voice lessons until the last month of my junior year in high school. We were doing a solo and ensemble thing. I took a voice lesson from a teacher who had a connection to Minnesota Opera. She said I would benefit by going to Oberlin's summer program for high school students. So, I applied on a whim and got in. I met the teacher who would become my voice teacher at Oberlin. She said, 'I think you have what it takes to become a voice major.' And, again, we're really not talking about opera. OK! That's what I'm going to do. But I still had to audition. She said she would be my teacher and I really liked her. That was the trajectory of how all this happened – choosing Oberlin as the school, choosing to be a voice major, but still not really opera."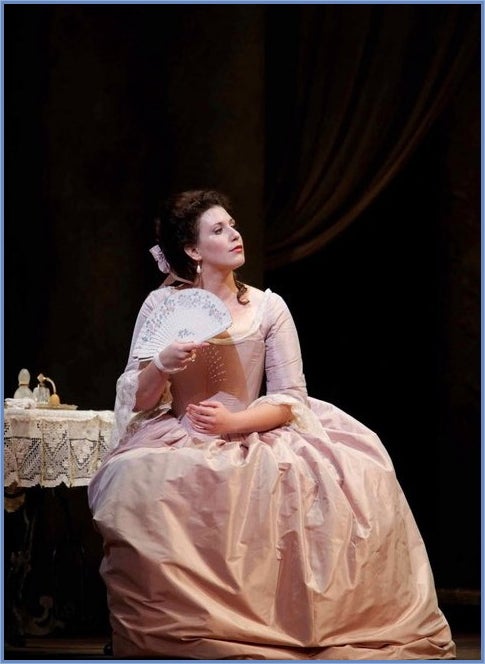 When did you become sold on it?
"My freshman year. It really happened right away. Everybody was so excited about opera and there were so many who knew so much about opera. We had music history classes where we listened to all these recordings. Once you find one or two operas you like, then you will want to learn about others and all the voices. And because so many other people were excited about it – we would just nerd-out, have conversations about it, stay in the music library until it closed. We had juries every semester. It was mostly art songs throughout.
"I won the Concerto Competition in my senior year. It's all instruments, not just voice. I sang Zerbinetta's aria [Ariadne auf Naxos]. It's really high coloratura and that's what I auditioned with for competitions and grad school. I would never sing it now, because it is so extremely high. But it set me apart and got me into the Academy of Vocal Arts which is a full-tuition scholarship solely opera school. Agents come to the performances. My first role at AVA was Queen of the Night. I used to be able to crawl out of bed and have high-Fs like that. When I started at AVA it was becoming clear that I could get there, but it wasn't so push-button. That's when I started with the more lyric roles with high notes instead of living up there. I signed with an agent my second year, in 2003. We had a scenes program, I sang the duet from Traviata. That's what got his interest."
You've been on a professional level long enough to have seen a lot of changes in who gets asked to do what and where. Has it worked to your advantage?
"We were talking about this the other day in a patron meeting – about people who have three-year careers, five-year careers and you hope to make it to ten. I've made it to ten and am still being asked to sing in the future. It's now more rare to find singers who can get to ten – and then beyond that to fifteen, twenty, twenty-five. Younger singers are being hired who are sometimes taking on too much too early and blow their voices out. It takes a good agent and a certain amount of strategy. San Francisco Opera is very good in thinking long term about what is going to be healthy to sing when. Some companies don't have that same amount of care. San Francisco is one of the better companies to that end – being able to take the younger buzz singers, such as those from the Adler Fellows – and putting them in the right role at the right time. That ensures they will be around for awhile.
"So many of the smaller companies have simply gone out of business or – where they once had five or six shows a season – can now only do two and the number of performances is going down. A job that could satisfy a singer's budget, where they would do six performances of something, are now only doing two or three shows and then have to take on more work. Sometimes those roles are not ideal. Many of the B and C level companies just don't have the money."
How do you feel about concert presentations of opera?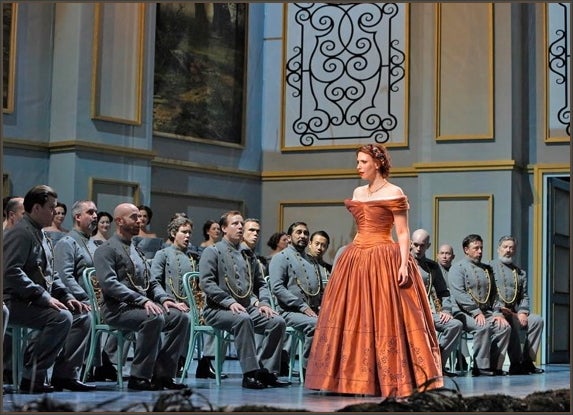 "I think it's great. New York has a handle on that stuff. Eve Queler at the Opera Orchestra of New York gave me a big start. I began covering for her while I was still at AVA. They would do the rare operas nobody else would touch, in a concert version, get the biggest names, give it a platform like Carnegie Hall, and Eve would conduct. Bard College and the American Symphony Orchestra under Leo Botstein is another. I did Euryanthe by Weber with them. We had a fun time."
I told Ellie that during my recent interview with Quinn Kelsey (in the title role of Rigoletto) that we spoke extensively about his very next gig – a one night stand in Melbourne as Athanaël in a concert presentation of Massenet's Thaïs, conducted by Sir Andrew Davis.
"What a great opera that is," she replied. "Wow!"
When do I get to hear you sing Thaïs?! That is your role.
"Oh! Trust me – if I could get a company to do it! It's a masterpiece, so gorgeous. I used her aria ["Dis-moi que je suis belle"] as one of my competition arias. For awhile it was my calling card. My schedule is relatively busy, but it would only take a few really-intense weeks to get it in my voice. The music is so sensuous. There are so many moments in that opera that give me goosebumps. That does not happen that often. It's incredible."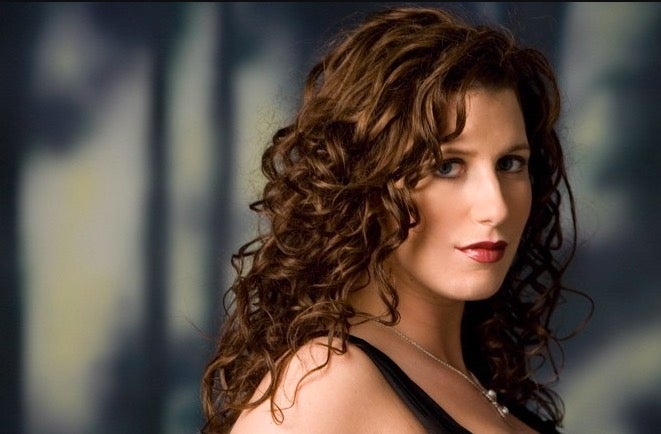 Trust me. I will be there.
Calling all HuffPost superfans!
Sign up for membership to become a founding member and help shape HuffPost's next chapter
This post was published on the now-closed HuffPost Contributor platform. Contributors control their own work and posted freely to our site. If you need to flag this entry as abusive,
send us an email
.