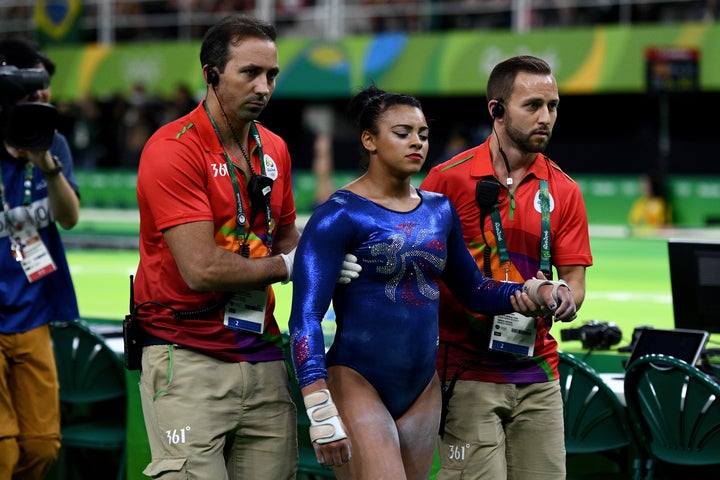 Downie fell roughly halfway through her floor routine, according to NBC. She tried to perform a maneuver with two-and-a-half twists right into a tucked front flip. Unfortunately, she was unable to to complete the move and instead landed on her neck.
Granted, it is always inspiring to see someone persevere through adversity, but here's a question we should ask: Why was Downie allowed to continue competing after such an alarming fall? Or, as sports writer Will Brinson put it:
Downie's description of how it felt when she fell on her head does very little to reassure anyone that she was fit to compete.
"[I] just crunched on my neck and felt it crack a little bit," she said. "It sounds pretty gross, but I just felt dizzy before my last tumble. They put me in a wheelchair and I was like, 'I don't need a wheelchair' ... It's a little bit stiff to turn my neck but I think I'll be all right."
Let's put it this way: If Downie described these symptoms on the sideline to a NFL team physician, it would be safe to say she would've had a very slim chance of returning to the action. This begs a second question: What was the concussion protocol for Downie after her injury?
Per NFL guidelines, if a player is suspected of suffering a serious head injury, a team physician must "assess the player by performing a focused neurological examination" that includes over 15 questions and requires the player to rank the intensity of their symptoms. Even after the neurological examination, if there is any doubt as to whether a concussion has occurred, the player is to be taken back to the locker room for further examination. Most importantly, the team physician is responsible for the final decision concerning the return of a player.
Some even say that what the NFL does is not enough.
Initially, it seemed the concussion protocol surrounding Downie's injury was similar to the NFL's. (The Huffington Post reached out to the International Olympic Committee regarding protocol but did not receive a reply by time of publication.) Downie was immediately taken off the floor and examined by team medics. However, the decision of whether or not she should return seemed to be left up to her. "I [told the team medics] I really want to vault for my team and myself," she said.
And the medical response from the team doctors? "They told me not to do two vaults," Downie said.
We ask the question again: Should Downie be revered for her Olympian's spirit, or should the medical staff be questioned for allowing her to return?
For more Olympics coverage:
Related
Before You Go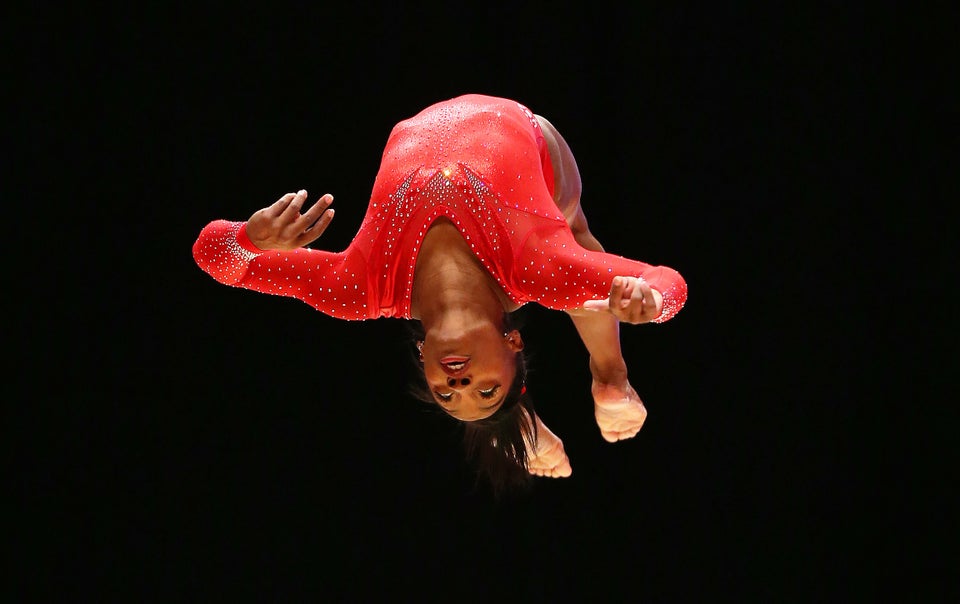 Photos That Prove Olympic Gymnasts Are Actually Just Real Life Superheroes
Popular in the Community