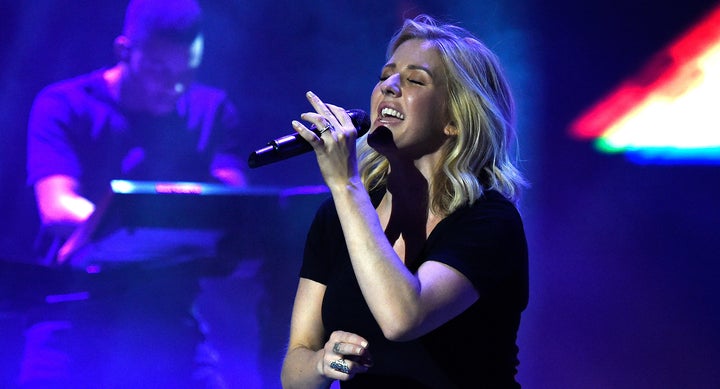 Shazam or more like ShaScam?
Ellie Goulding got you (and a lot of other stuff) on her mind. Her new album "Delirium" just came out, she's a global ambassador for Nike Women and, on Wednesday night, she teamed up with Scarlett Johansson for American Express Unstaged, a live-streaming, interactive concert experience. Johansson directed as Goulding performed her hits and added fan-voted elements to the show like confetti and bubbles.
Even with all that going on, Goulding found some time to talk with The Huffington Post at a roundtable interview and may have inadvertently revealed a deep-seated tech conspiracy that goes straight to the top:
Is Shazam making it look like artists are Shazaming their own songs?
It's not a one-time occurrence, either. In fact, most of the songs Goulding's account Shazams are her own: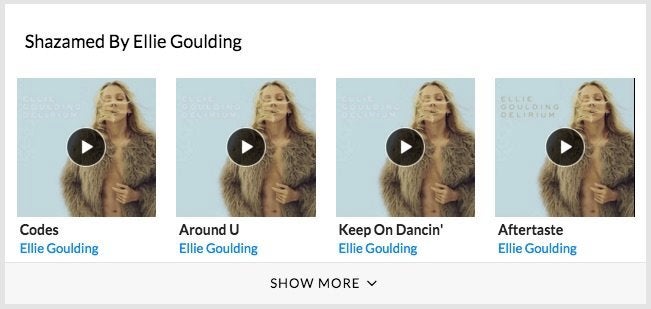 So why is Goulding doing this? Well, apparently she isn't.
When asked if she was Shazaming her own tracks, Goulding laughed, "No."
"I think [Shazam] made a very good -- I don't know. It's like when Starbucks writes your name wrong on the cups and you Instagram, 'Oh, they got my name wrong,' but then that gives them a lot of coverage. I think that's the same thing." She continued, "So everyone's talking about Shazam and 'Why's the artist Shazaming their own song?' But it's got people talking about Shazam, so they've nailed it really, haven't they?"
Whoa. So Shazam makes it look like artists are Shazaming their own stuff for publicity? This is heavy. And that's not even beginning to touch on what Goulding said about Starbucks. Could all those misspellings be intentional?
Shazam has done some interesting activities for self-promotion before. In one recent tweet, coincidentally involving Goulding (un-coincidentally perhaps?), Shazam dug up an old post by the artist and acted as if it was new:
But could the app actually be making updates on artists' official accounts?
HuffPost reached out to Shazam (and Starbucks) about Goulding's comments. In response, Shazam says, "We've created the world's best platform for artists to connect with their fans around shared discovery in a music environment. In many cases, artists have more followers on Shazam than anywhere else. Shazam Verified Artists are using the platform in a variety of ways to create a closer connection with their fans."
The statement seems to be a drawn out way of pleading the fifth, but is not saying anything an admission of guilt? 
Starbucks did not immediately reply to Goulding's comments about misspelling names, but they also got a latte of explaining to do.
Goulding's full Amex Unstaged performance will be available on demand at AmexUnstaged.com and the Amex Unstaged app for 48 hours beginning on Nov. 12. Clips of the performance will also be available at AmexUNSTAGED.com, the Amex Unstaged app and Vevo.com beginning on Nov. 13. iHeartMedia will also air a 30-minute rebroadcast of Unstaged on Nov. 12 at 8 p.m. local time across its stations and on iHeartRadio.
PHOTO GALLERY
Celebrities' Real Names
Calling all HuffPost superfans!
Sign up for membership to become a founding member and help shape HuffPost's next chapter