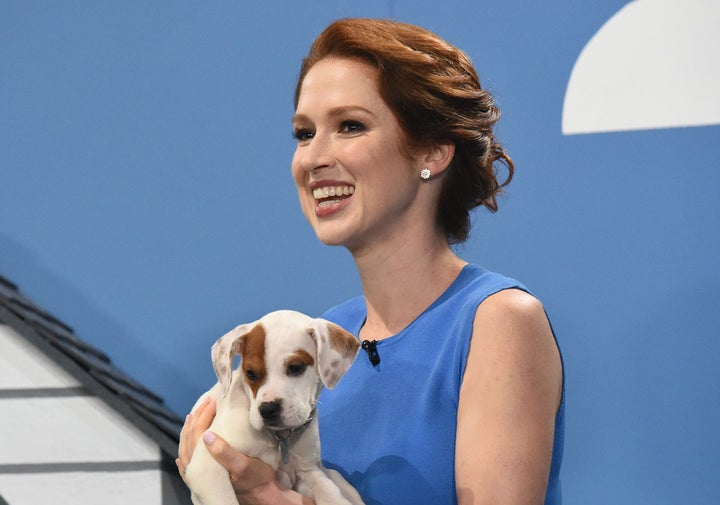 HuffPost is hitting the road this fall to interview people about their hopes, dreams, fears ― and what it means to be American today.
On screen, Ellie Kemper is sunshine personified. As it turns out, the peppy Pollyanna behind characters like Kimmy Schmidt from "Unbreakable Kimmy Schmidt" and Erin Hannon from "The Office" owes some of her signature charm to the city that raised her: St. Louis, Missouri.
"Midwesterners have a reputation for being above-average friendly, but St. Louis takes the cake," the actress said over email. As HuffPost embarks on a nationwide tour called "Listen to America," which aims to capture voices of people and places often under-heard in national media, we asked some famous faces to reflect back on their hometowns, too.
For Kemper, that meant the home of the Cardinals ("St. Louis fans are the greatest in the world"), the experimental City Museum and some famous architecture ― she likes Christmas Eve at the Cathedral Basilica, a century-old church known for elaborate mosaics, and recommends the documentary "Monument to the Dream" to learn more about the Gateway Arch. 
"Of course, I love the food," Kemper added. "House of India and Ted Drewes are my idea of heaven on earth."
And like anyone who moved far away from the place they grew up, the actress only really noticed her city's unique personality thanks to her time spent away from it ― first when she went to college, at Princeton.
"Walking through the campus of my college in the Northeast, I quickly learned that it was not normal to smile at people whom you did not know. This required some adjusting on my part; in St. Louis, most people peppered interactions ― even with strangers ― with smiles," she said. "I had made only one friend so far, Kate Fox, and I knew that she was the real deal. As I told my mom on the phone one night, 'When someone smiles at Kate, she smiles back.'"
Back in St. Louis, that sort of kindness never seems in short supply.
"I have never once had a rude encounter at a grocery store, restaurant or gas station," Kemper said. "Recently, on a delayed and then canceled flight from Lambert to LaGuardia, I was at baggage claim trying to track down my suitcase and son's stroller. The couple ahead of me, three children in tow, told me to go ahead of them. 'We're fine,' they told me. 'We live here.'"
"Not everyone is nice, of course," she said. "But most people are."
Calling all HuffPost superfans!
Sign up for membership to become a founding member and help shape HuffPost's next chapter
BEFORE YOU GO