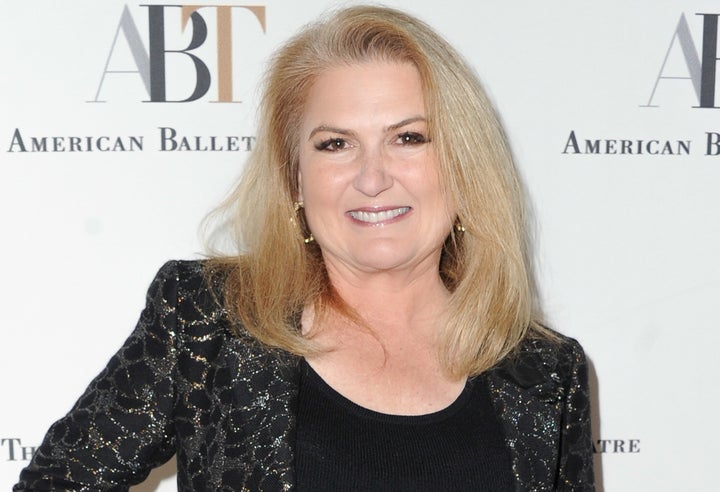 Emails and documents an anonymous group leaked to HuffPost this week appear to show a Los Angeles lawyer asking for more than $80 million to scuttle a Department of Justice investigation into a multibillion-dollar scandal involving Van Gogh paintings, the movie "The Wolf of Wall Street," the prime minister of Malaysia — and the lawyer's husband, a Republican National Committee deputy finance chair Elliott Broidy, trying to use his influence with the Trump administration to help.
Broidy and his wife, attorney Robin Rosenzweig, deny any wrongdoing.
Broidy's assistant also said that "Mr. Broidy has been a victim of a hack."
HuffPost has not been able to identify the people who leaked the documents, who call themselves L.A. Confidential. "We expose people associated with hollywood," the group said in an email. It's not clear what the group's motivations are.
After HuffPost provided Rosenzweig with the leaked emails and documents, she said she didn't recognize some of them — although she did not identify which ones looked unfamiliar. Rosenzweig (who also goes by Robin Broidy) and her husband are conducting a personal investigation, she said.
The "dossier," as the leakers called it, demonstrates Broidy's clear and continued fascination with a topic of great financial interest to his wife and one of her prospective clients.
The story starts in July 2016, when the Justice Department filed civil forfeiture complaints seeking to recover more than $1 billion in assets allegedly acquired with funds misappropriated from 1Malaysia Development Berhad (1MDB), a state-owned development company established by Malaysian Prime Minister Najib Razak. The Justice Department's complaint stated that Low Taek Jho, a Malaysian businessman, had laundered in the U.S. more than $400 million stolen from 1MDB. The 1MDB funds was allegedly used to buy real estate, Van Gogh and Monet paintings, and a private jet, and to finance "The Wolf of Wall Street."
Malaysian investigations into 1MDB found no wrongdoing on the part of the company or Najib, the prime minster, according to The Wall Street Journal. Najib, Low and 1MDB have denied any wrongdoing, and 1MDB has said it will cooperate with any investigations into its business.
But the Justice Department was still pursuing Low, and he needed help.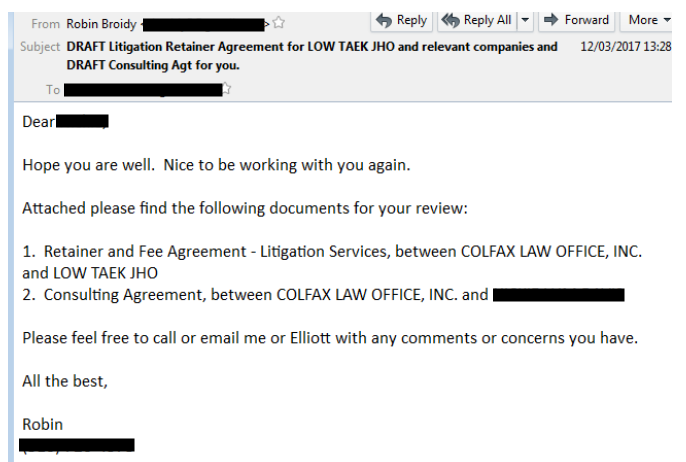 It's not entirely clear how Low and Rosenzweig first got in touch. On March 12, 2017, shortly after President Donald Trump took office, Rosenzweig wrote up a draft agreement in which she would agree to work for Low.
"Please feel free to call or email me or Elliott with any comments or concerns you have," she wrote in an email, referring to her husband.
In the draft agreement, Rosenzweig proposed that Low would pay her and her firm, the Colfax Law Office, $8 million upfront. The deal would also give her and the firm an incentive to work fast: Low would pay an additional $50 million if the firm succeeded in "settling the Matter" — the DOJ investigation — within a year. That figure jumped to $75 million if the firm succeeded within 180 days.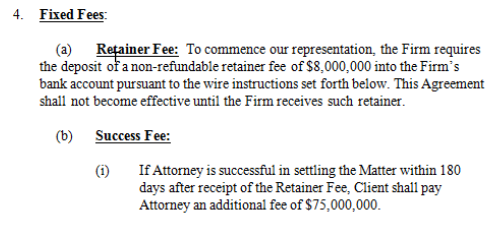 Rosenzweig later adjusted the draft agreement to provide for a flat fee, after learning that "success fees" and a "non-refundable retainer fee" are not legal in New York, she wrote to her husband and a consultant working on the case.
The emails given to HuffPost do not indicate whether Rosenzweig's firm ever finalized an agreement to provide services to Low.

Although Broidy pleaded guilty in 2009 to giving New York public pension officials nearly $1 million worth of illegal gifts to help his venture capital firm make a deal with the pension fund, it's easy to see how Low could have benefited from working with the couple. Broidy has close ties to Trump and the Republican Party. During the 2016 presidential race, he served as a vice chairman for the Trump Victory Fund. He gave more than $160,000 to the Republican National Committee last year. One month after Rosenzweig wrote the draft agreement with Low, the RNC announced that Broidy had been named a national deputy finance chairman, along with Michael Cohen and Louis DeJoy.
In May, Rosenzweig indicated that her law firm would need to enter into a contract with Pras Michel, a friend of Low's and a member of hip-hop group The Fugees. According to the emails, Low wanted to pay Rosenzweig through Michel. Michel and his publicist did not immediately respond to a request for comment.
After Rosenzweig started working on an agreement with Low, her husband began circulating talking points that described efforts to convince the Justice Department to halt the Malaysia investigation.
In August 2017, Broidy sent an assistant at his investment firm an email titled "Malaysia Talking Points *Final.*" The email does not note who wrote the talking points or who was expected to deliver them, but they appear to be drafted from the perspective of a Malaysian official in preparation for a meeting with a U.S. official. Secretary of State Rex Tillerson visited Malaysia two days later as part of a Southeast Asia tour. And Trump hosted Najib, the Malaysian prime minister swept up in the 1MDB scandal, at the White House in September.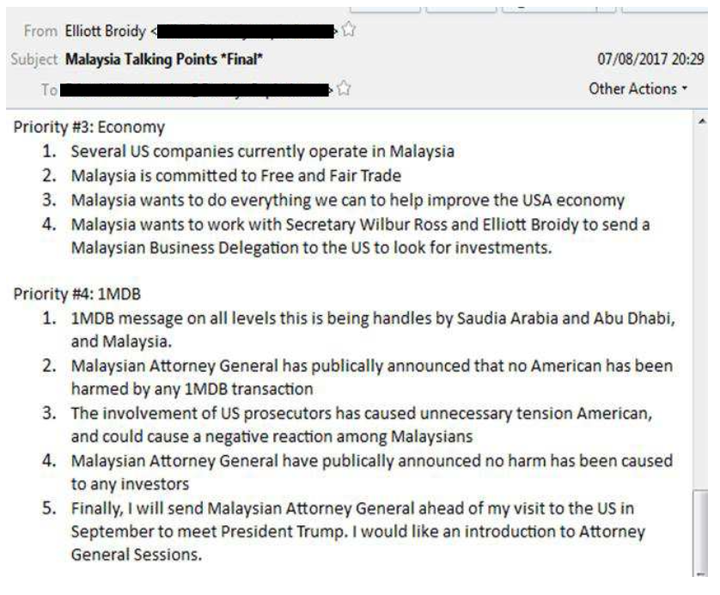 The talking points email laid out four priorities ― the first three being North Korea, counterterrorism cooperation and the economy. The fourth, however, was 1MDB, and it included five main points (emphasis ours, misspelling theirs):
1. 1MDB message on all levels this is being handles by Saudia Arabia and Abu Dhabi, and Malaysia.

2. Malaysian Attorney General has publically announced that no American has been harmed by any 1MDB transaction

3. The involvement of US prosecutors [in 1MDB] has caused unnecessary tension American, and could cause a negative reaction among Malaysians

4. Malaysian Attorney General have publically announced no harm has been caused to any investors

5. Finally, I will send Malaysian Attorney General ahead of my visit to the US in September to meet President Trump. I would like an introduction to Attorney General Sessions.
The person who drafted the talking points also wrote, "Secretary Tillerson may mention Elliott Broidy's name. If he does, I will confirm that I know Elliot [sic] and that he wants a closer relationship between the USA and Malaysia."
At the time, the Justice Department was escalating its efforts to go after Low and the development fund. Prosecutors asked the federal court to stay the department's civil lawsuits and announced a criminal probe into 1MDB in August.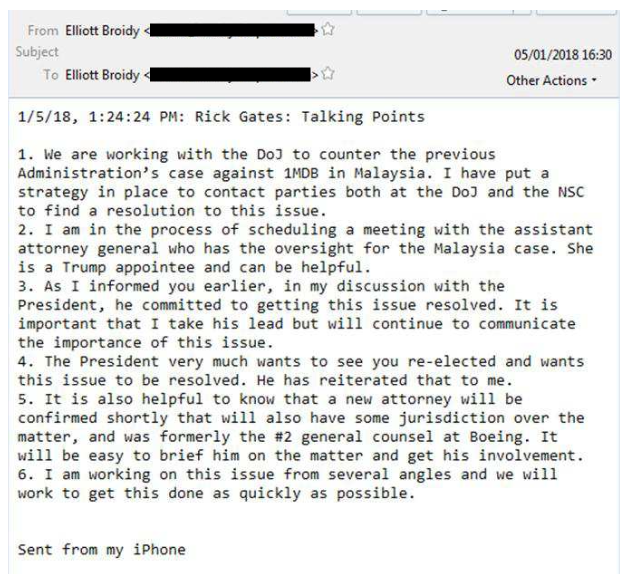 Months later, Broidy was still focused on the matter ― and appeared to be upping the pressure. On Jan. 5, 2018, Broidy sent himself an email titled "Rick Gates: Talking Points," a possible reference to a former Trump campaign aide, who pleaded guilty last month in an unrelated conspiracy case. The email includes an explicit description of an effort to persuade the Justice Department and the White House to reverse course on the Malaysia graft case (again, emphasis ours):
1. We are working with the DoJ to counter the previous Administration's case against 1MDB in Malaysia. I have put a strategy in place to contact parties both at the DoJ and the NSC [National Security Council] to find a resolution to this issue.

2. I am in the process of scheduling a meeting with the assistant attorney general who has the oversight for the Malaysia case. She is a Trump appointee and can be helpful. [Broidy may be referring to Rachel Brand, who was the associate attorney general at the time, not an assistant attorney general.]

3. As I informed you earlier, in my discussion with the President, he committed to getting this issue resolved. It is important that I take his lead but will continue to communicate the importance of this issue.

4. The President very much wants to see you re-elected and wants this issue to be resolved. He has reiterated that to me.

5. It is also helpful to know that a new attorney will be confirmed shortly that will also have some jurisdiction over the matter, and was formerly the #2 general counsel at Boeing. [This is presumably a reference to John Demers, then the nominee to head the Justice Department's National Security Division.] It will be easy to brief him on the matter and get his involvement.

6. I am working on this issue from several angles and we will work to get this done as quickly as possible.
Those points were similarly to five laid out in another document created by an unknown author and shared with HuffPost.
"I am in the process of scheduling a meeting with Associate Attorney General Rachel Brand who has the oversight for the Malaysia case," the document reads in part. "She is a Trump appointee and viewed as the only true Trump appointee currently at DoJ."
Brand resigned from her position last month and could not be reached for comment.
"In addition, the National Security Division of DoJ is involved and President Trump has appointed John Demers (formerly of Boeing) to that position," the document continues, referring to the man who became assistant attorney general for the National Security Division last month. "He is awaiting his confirmation but will be confirmed shortly. I will also meet with John. He will be an instrumental figure in the resolution of the Malaysia issues."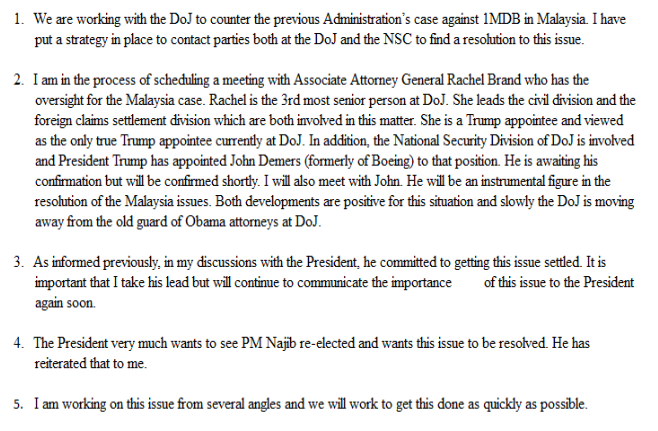 A representative for Broidy and Rosenzweig told HuffPost that neither of them wrote the text in the emails describing interactions with Trump and Justice Department officials. Chris Clark, the couple's lawyer, told The Wall Street Journal that the couple did not discuss Low's case with Trump, his staff or anyone at the Justice Department. The Justice Department declined to comment and the White House did not respond to a request for comment.
The investigation into 1MDB — and Low — continues. Just this week, at the request of U.S. authorities, Indonesian police seized a luxury yacht in Bali tied to the scandal.
Low's location is currently unknown, according to Reuters. His company in Hong Kong did not respond to a request for comment.
CORRECTION: A previous version of this story indicated Broidy was a convicted felon. While he pleaded guilty to a felony in 2009, he was convicted of a misdemeanor as part of a plea deal.
Popular in the Community