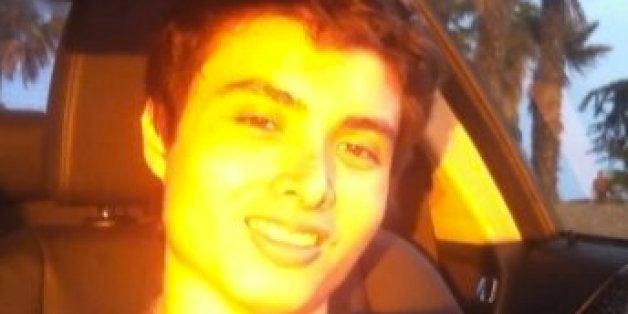 "The Rodger family offers their deepest compassion and sympathy to the families involved in this terrible tragedy. We are experiencing the most inconceivable pain, and our hearts go out to everybody involved," the statement said.
Hours before the shooting, the suspect posted video on Youtube where he rants against women who rejected him and described plans to carry out an attack. CNN has posted a transcript from the video titled "Retribution." Other videos found on his Youtube account contain the suspect lamenting his professed virginity, and struggles with women, such as the video titled "Why do girls hate me so much?"
Santa Barbara County Sheriff Bill Brown said Saturday that Rodgers was a student at Santa Barbara City College.
KEYT's Joe Buttita tweeted that the news station had obtained a 140-page "manifesto" from the suspect.
The Los Angeles Times reports that in the lengthy manifesto, Rodgers expresses his frustrations with alienation, rejection by women, and intentions to carry out violent acts. "All of my suffering on this world has been at the hands of humanity, particularly women, it has made me realize just how brutal and twisted humanity is as a species," Rodgers is believed to have written.
KEYT reports that the apartment complex where the suspected gunman lived has become a crime scene. KEYT also claims to have seen coroner's removing three bodies from the apartment complex, noting that the number dead in connection to the shooting rampage had not increased beyond seven at the time.
The shootings started around 9:30 p.m. in Isla Vista, a roughly half-square-mile community next to UC Santa Barbara's campus and picturesque beachside cliffs.

Alexander Mattera, 23, said his friend Chris Johnson was walking out of an improv comedy show when he was shot in front of a popular pizza place. He stumbled into a nearby house.

"He walked into these random guys' house bleeding," he said.

Mattera was sitting at a bonfire with friends when at least one gunshot whizzed overhead. The friends ran for cover when they heard the barrage of gunfire.

"We heard so many gunshots. It was unbelievable. I thought they were firecrackers. There had to have been at least like two guns. There were a lot of shots," he said.

The gunman got into two gun battles before crashing his black BMW into a parked car. It wasn't immediately clear whether he was killed by gunfire or if he committed suicide. A semi-automatic handgun was recovered.
This is a developing story, check back for updates.

Related
Popular in the Community