Normally, when I run or walk around Green Lake, I easily blend in with the rest of the North Seattle athletic crowd.
Yesterday, while riding an ElliptiGO, that most definitely was not the case. Coffee drinkers sitting outside a neighborhood café stopped their conversations to stare. A woman speed walking the lake shouted, "That is so cool! I want to try one!" A man and his toddler son stopped to ask how the ElliptiGO works and check out its design.
Riding an ElliptiGO isn't the best activity for someone who wants to blend in. The device stands out because most people have never seen one, and even fewer have actually climbed aboard one. Solana Beach, Calif.-based ElliptiGO just began selling its product to the general public in February 2010.
So what exactly is an ElliptiGO? Picture a stationary elliptical machine at a gym, and then put it onto a moving bicycle. Rather than sitting down as you would with a traditional bike, ElliptiGO riders stand up, propelling themselves forward with the back and forth leg movement of an elliptical machine. The handle bars, brakes and gears act much like a normal bicycle.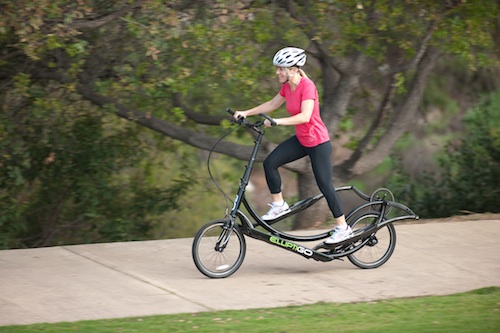 I decided to try out the ElliptiGO on the advice of celebrity ultramarathon runner Dean Karnazes. Dean became a huge fan of the ElliptiGO as a cross training device, as it enables him to still get outdoors, yet give his body a break from the pounding of running. "You'll love it," Dean told me. "You've got to try it."
Sure, I said to Dean, the ElliptiGO seems like great cross training, but why not just ride a normal bicycle? From Dean's perspective, the ElliptiGO offers a number of benefits that a bicycle does not. He doesn't develop sore butt muscles or saddle sores from sitting for hours in a bike seat. The standing position also more closely emulates running. Since the ElliptiGO is less aerodynamically efficient than a bicycle due to standing upright, he can get in a harder, faster workout, just as he would with running. And finally, he can't ignore the "wow" factor.
"Let's face it," Dean said. "Everyone's seen a bike before, but when you ride by on an ElliptiGO, heads turn and jaws drop."
Bryce Whiting, ElliptiGO's vice president of sales, echoed Dean's sentiments. He noted the ElliptiGO's comfort, efficiency, fun factor and ability to mimic the running motion. According to Bryce, a number of elite runners now use the ElliptiGO. Olympic hopeful Lauren Fleshman just mentioned her training sessions on the ElliptioGO in the recent edition of Runner's World.
Like many runners, I'm always looking for cross training alternatives. I'd love to run every day, but I know my body just can't handle it. Since I've been struggling with persistent Achilles pain while running, I figured now would be a great time to hop on the low impact ElliptiGO.
On a recent afternoon, I headed to Always Running, a running training company located on the edge of Seattle's Green Lake. Coach Tony Williams introduced me to one of the two ElliptiGOs owned by Always Running. Tony explained that he uses the ElliptiGO himself when training with clients, and also sends his runners out on regular ElliptiGO sessions.
Tony became sold on the ElliptiGO after seeing a company representative riding one in the Seattle to Portland Bicycle Classic. He was immediately intrigued by the idea that someone could not only ride an ElliptiGO 204 miles, but also keep up with traditional cyclists.
Tony likes the device because it provides clients with an efficient, thorough sweat session outside, without the high impact of running. Because of the need to stabilize while upright, Tony said, the ElliptiGO works the core. The elliptical movement also targets glutes, quads and calves -- all muscles important for runners to develop.
After a brief explanation of his love for the ElliptiGO, Tony took me outside to teach me the basics. I felt a bit like a little kid learning how to ride a bike as he showed me how to put one foot on the ElliptiGO and then push off with the other like a scooter. Once the ElliptioGO was rolling (and thus stable enough to stand on), I could put the other foot into place and begin pushing forward.
Once I'd tried a few back and forth starts on the sidewalk, Tony set me loose to explore the lake on my own. The first 20 minutes reminded me of my first time biking with clipless pedals. The stability when moving forward remained the same, but I needed to think about what to do each time I stopped and started. I figured that as with clipless pedals, maneuvering the ElliptiGO would become second nature after a couple of outings.
Once up and riding, the ElliptiGo proved a very pleasant experience indeed. Standing upright, I could see far more than I could from a traditional seated bicycle. Though I'm an elliptical newbie (I don't use one in a gym), the motion became more and more natural as I continued onward. And, once I felt comfortable enough to push a little bit, I could feel my core and leg muscles kick into gear. This could most definitely be a fun outdoor workout, I decided.
Does the ElliptiGO have any drawbacks? I could see the uncoordinated individual taking a bit of time to become comfortable with riding one, though Tony says none of his clients have fallen off yet. The attention one receives when on the ElliptiGO also might not be for everyone. I found it simply amusing, but Tony said it can be harder for some of his overweight clients who are new to exercise. They already feel self conscious when outdoors and working out, and the ElliptiGO doesn't exactly help matters. Anyone riding an ElliptiGO definitely must adopt the frame of mind that they won't be bothered by curious stares. As Dean said, you must embrace the "wow" factor.
Those who want to ride an ElliptiGO on a regular basis also must figure out how. For athletes coveting their own, the ElliptiGOs can be purchased from the company or retailers for $1,800 to $3,500, depending on the model. A number of coaching clinics and workout facilities across the country also own ElliptiGOs for their clients to use. A full list of where to find ElliptiGOs to rent or purchase can be found on the company's web site.
Since I don't train at Always Running, I won't be using their ElliptiGO on a regular basis. But should I come across one again, I'd welcome the chance to hop on for a distinctly unique wheeled workout.