 With the massive destruction Hurricane Sandy wreaked on coastal towns in New Jersey and New York, it's not surprising that we haven't heard much about Ellis Island. Those whose lives have been turned upside-down are naturally the first priority. But as a professional genealogist and history buff who also happens to be a New Jersey resident, I've been wondering. How did Ellis Island weather the storm?
The answer, it turns out, is still something of a work in progress. A National Parks Service assessment has been under way for a while, and Interior Secretary Ken Salazar gave a first indication yesterday when he said that $59 million would be required to repair the damage at Ellis and Liberty islands. Both have been closed since the hurricane, but it's still too soon to predict when they might re-open, though some have quietly speculated that this process could start next summer. In the meantime, an estimated 400 people who work primarily for the concessions, gift shops and ferries have found themselves unemployed.
I had the opportunity to speak with Peg Zitko, spokesperson for The Statue of Liberty-Ellis Island Foundation (SOLEIF), about Ellis Island specifically, and the good news is that the museum and library were largely unscathed. Even so, some 1.7 million documents and historical artifacts are being removed for safe-keeping, and it's likely that the opening of the second portion of the Peopling of America Center (scheduled for next year) will be delayed. Rather remarkably, the Wall of Honor, which includes the names of more than 700,000 immigrants, held together, demonstrating a resilience normally associated with the immigrants themselves. While some panels have been loosened, none were lost.
Walkways leading to the museum were badly jumbled with more than half of the pavers scattered by Sandy, but the bulk of the damage occurred as a result of flooding of the basement where the infrastructure -- heating, electrical, plumbing and so forth -- is housed. Though generators are in place, it may be some time before power is fully restored to the island. Servers for the American Family Immigration History Center (AFIHC) which allowed visitors to search for the arrival of their immigrant ancestors were also destroyed, but the database was hosted elsewhere so remains available for free at EllisIsland.org.
The foundation itself, normally headquartered at 17 Battery Place, was also displaced. As with the island, the offices remain intact, but the 14-foot surge that flooded the area gutted the infrastructure there as well. This "band on the run" phase was quickly resolved, though, thanks to the generosity of SOLEIF board member, Michael Donovan of Mediaocean, who donated office space and equipment so the foundation can continue its operations.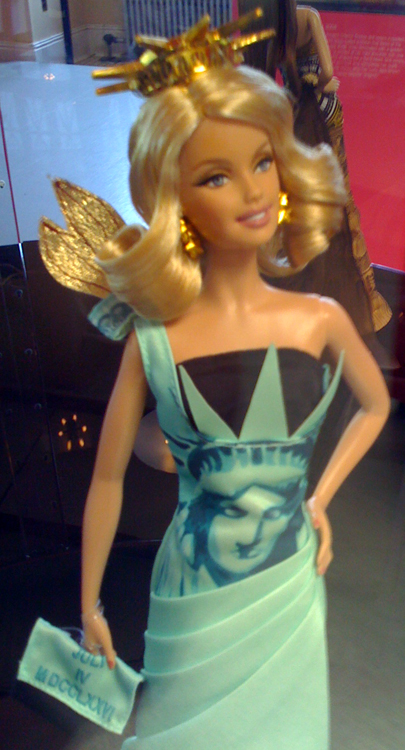 This was especially fortunate as this is a busy time of year since Ellis Island gifts are popular with those looking for something unique (Statue of Liberty Barbie, anyone?) or highly customized, such as an ancestor's passenger arrival record or memorializing the family name by having it inscribed on the American Immigrant Wall of Honor (acknowledged through a certificate in an embossed holder). And that's where we come in. Those of us who haven't quite finished our shopping might want to check out the holiday specials to find a gift for that someone who seemingly already has everything.
Ellis Island first opened in 1892 and burned to the ground in 1897. It re-opened in 1900 and closed down in 1954. With the help of SOLEIF, it welcomed the public again in 1990, and Sandy has shuttered it once more in 2012. Roughly 40 percent of Americans have one or more ancestors who came through Ellis Island, and virtually all of us have immigrant roots. Ms. Zitko emphasized that "everyone involved is eager to do whatever it takes to re-open" as soon as possible, and now we fortunate descendants have the opportunity to help, so please consider doing a little shopping or showing your support by joining the foundation or making a donation. Your bubbe, nonna, oma, baba or nana would approve.
Related
Popular in the Community