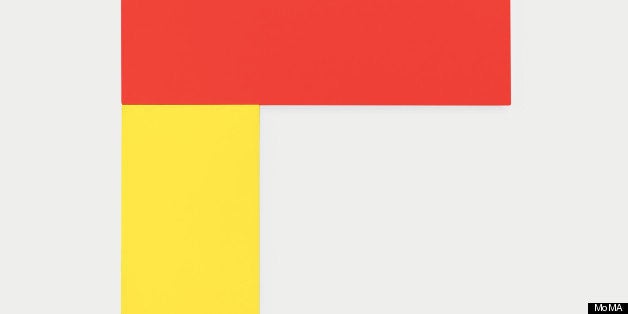 Just before his 90th birthday, Ellsworth Kelly sat down with MoMA director Glenn Lowry to discuss his work. Oftentimes, when you finally hear an artist you love speak in person, you end up wishing you hadn't. When I entered the museum to hear Kelly revisit his 1971 Chatham Series, I was terrified of the potentially disappointing reasoning behind Kelly's simple, autonomous shapes. I needn't have worried.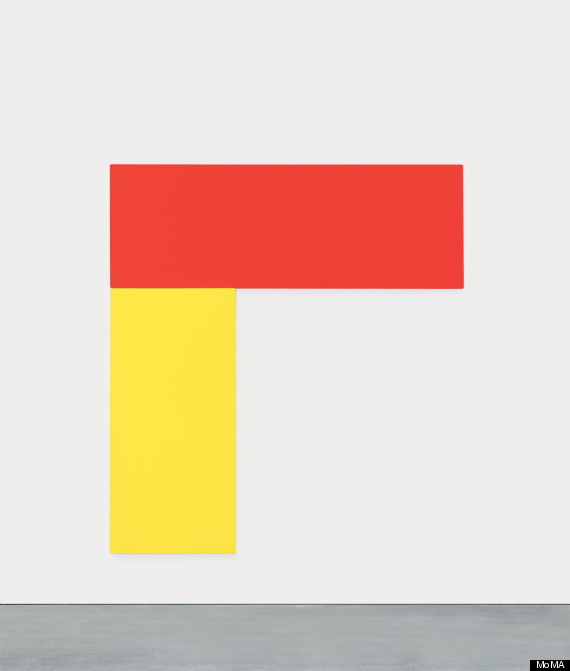 Ellsworth Kelly (American, born 1923). Chatham VIII: Red Yellow. 1971. Oil on canvas, two joined panels. 90 1/8 x 81 5/8″ (228.9 x 207.3 cm). Marc and Livia Straus Family Collection. © Ellsworth Kelly. Photo credit: Photo: D. James Dee
For over 60 years, Ellsworth Kelly has devoted himself to the task of exploring the relationship between color, shape and line. In 1970, Kelly left his life in Manhattan for the rural town of Chatham, New York, taking up an old theater as a studio for $50 rent. In this space Kelly created 14 works, now known as the Chatham Series. Each work in the series is the same shape -- an inverted ell made of two monochromatic canvases. Some have been stretched, others compressed. Each of the canvases are either black, white, red, yellow or blue; each final piece is a combination of two.
The 14 human-sized ells were painted in 1971 and shown as a whole in 1972. They had not been seen together since, until MoMA gathered them all for an exhibition in honor of Kelly's 90th this year. "Since 1972, that's a long time ago wasn't it?" Kelly chuckled at the MoMA talk, before the reunion of the ells opened to the public. "It's hard to remember. I'm quite impressed with them now!" He gestured to the works around him as though they were not his own. He sighed. "But it's always a mystery looking back."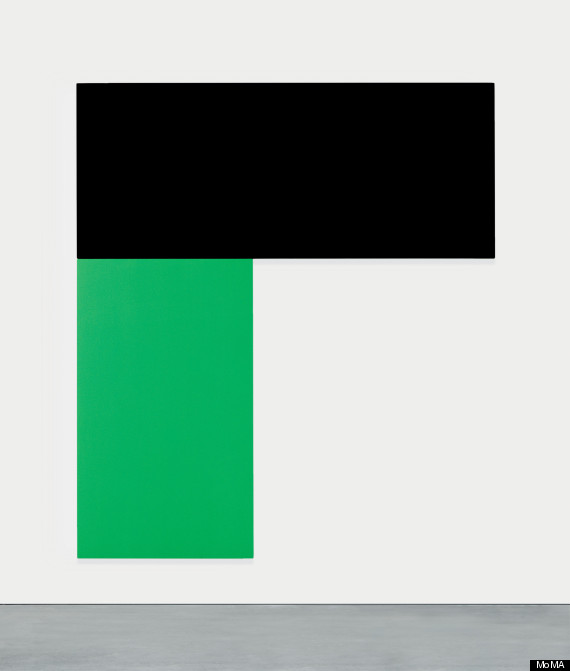 Ellsworth Kelly (American, born 1923). Chatham IX: Black Green. 1971. Oil on canvas, two joined panels. 109 x 96″ (276.9 x 243.8 cm). Collection Mr. Irving Blum. © Ellsworth Kelly. Photo credit: courtesy Matthew Marks Gallery, New York
An oxygen tube extended from Kelly's nose to a small black bag that rolled behind him, yet his tone remained robust, sometimes booming. "It was a very simple gesture," Kelly explained regarding the origin of the series. "I just saw a symbol and said, 'That's it!' It's always a mystery how it appears." Statements like this, stripped of pretension or a desire to impress, make Kelly appear more like a magician than the stereotypical authoritative artist. His works strive toward anonymity, appearing devoid of human touch, buzzing of their own volition.
"Each one was its own measure. It all had to go together. It was like a little game for me," he continued, addressing his canvases as if they were puzzle pieces. "Color and shape are constantly in dialogue. As you modulate one, the other reacts." Each word transformed Kelly from mathematician to chemist to mystic as his description of process barely touched on the literal steps involved. Instead we got explanations like: "The shape was a bit angry at all the motion inside it."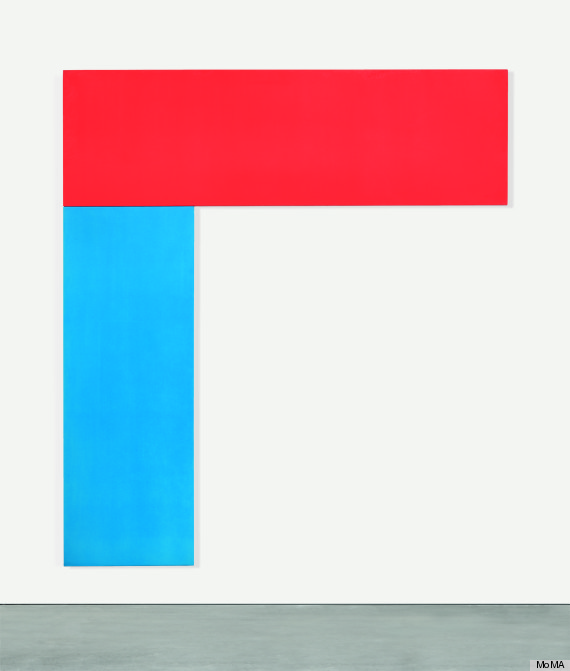 Ellsworth Kelly (American, born 1923). Chatham VI: Red Blue. 1971. Oil on canvas, two panels. 9′ 6 1/2″ x 8′ 6 1/4″ (290.8 x 259.7 cm). The Museum of Modern Art. Gift of Douglas S. Cramer Foundation. © 2013 Ellsworth Kelly Photo credit: Department of Imaging and Visual Resources, The Museum of Modern Art, New York. Photo: Tom Griesel
The simultaneous power of abstraction and immediacy is what makes Kelly's work, after so long, remain both innovative and intimate. Often we think of something abstract as conceptual or far off. Yet Kelly's shapes, although pure abstraction, hit you harder than words or symbols could. They warp your perspective and electrify your line of vision, all in total silence.
Thank you, Mr. Kelly, for making art for so long, and for showing me that often the simplest things hold mysteries big enough to last a lifetime. Thank you for making paintings that consistently greet me at the door, and drawings that beckon me to a brief escape when I need it most.
Have a very happy birthday.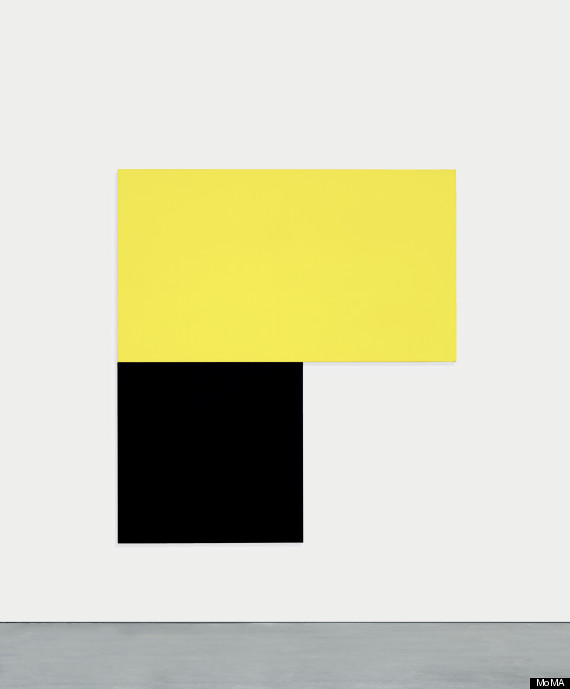 Ellsworth Kelly (American, born 1923). Chatham XII: Yellow Black. 1971. Oil on canvas, two joined panels. 84 x 76 1/4″ (213.4 x 193.7 cm). Collection of the artist. © Ellsworth Kelly Photo credit: courtesy Ellsworth Kelly. Photo: Jerry L. Thompson
Kelly's "Chatham Series" runs through September 8, 2013 at MoMA.
CORRECTION: An earlier edition of this article stated Kelly moved to Chatham, New Jersey. We regret the error.
Calling all HuffPost superfans!
Sign up for membership to become a founding member and help shape HuffPost's next chapter