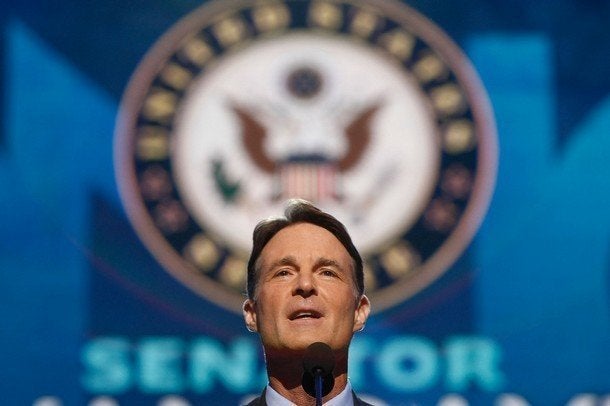 Speculation is swirling about who will replace Indiana Senator Evan Bayh in the upcoming election and one Hoosier Congressman, Rep Brad Ellsworth, is attracting quite a bit of attention as a leading contender. As the e-mails and phone calls started coming in about Bayh's surprise resignation and the eventual replacement, one thing became patently clear: An Ellsworth candidacy has lesbian, gay, bisexual and transgender Hoosiers worried.
Ellsworth's social conservatism might serve him well in a portion of the state chock full of Appalachian white evangelical Christians and Joe the Plumber types, but it hasn't earned him many friends in the LGBT community. The Human Rights Campaign (HRC), the nation's largest LGBT political organization, ranks Ellsworth as one of the ten worst Democratic Congress members when it comes to LGBT issues; he scored a meager 30 out of 100 possible points.
Asked how the organization would react if Ellsworth were chosen as the Democratic nominee, Michael Cole, spokesperson for HRC, said, "We do not generally get involved in these types of state party decisions. During his 2006 campaign, Brad Ellsworth voiced his support for the federal marriage amendment, making him ineligible for our endorsement."
Motivating the Party Faithful
"While the departure of such a formidable figure is a loss to the entire Democratic family, we look forward to assisting in the selection of a U.S. Senate candidate who subscribes to core Democratic principles while continuing Senator Bayh's efforts to end discrimination against all Americans by helping ensure passage of the Employment Non-Discrimination Act and repeal of the "Don't Ask, Don't Tell" policy and the Defense of Marriage Act," the group said in a publicly released statement.
Due to the timing of Bayh's resignation and the inability of any other candidate to qualify for the primary ballot, the Indiana Democratic Party's State Central Committee will choose the party's candidate for the general election this November. The local Stonewall Democrats have a seat on the committee.
Indiana Democratic Party chair Dan Parker confirmed that the committee's chosen candidate would have to satisfy a party-wide sniff test. "I think that the candidate needs to be mainstream for the Indiana Democratic Party. That's a combination. One label or another isn't going to work," Parker said.
"We've got all kinds. When you talk about 'the base' in Indiana that's a very diverse base. It's got to be a candidate than can motivate all parts of our party to come out and vote."
Ellsworth's Voting Record
Ellsworth's schizophrenic voting record on LGBT issues indicates that he is not a reliable friend to the LGBT community. In 2007, he voted against a Republican attempt to kill hate crimes legislation, but then voted against the hate crimes bill when it came to the floor. Ellsworth later penned a guest post for Bilerico Project explaining his decision to vote against hate crimes legislation.
"This was a difficult decision for me because I did not want my opposition to the bill to be perceived as an endorsement of violence against the gay community. I have spent a career in law enforcement trying to keep all members of the community safe, and do not condone violence against any person. I have seen first hand the impact violent crimes have on victims and communities, and I believe that those who commit these crimes should be prosecuted to the fullest extent of the law," Ellsworth wrote.
"But my experiences also taught me that most violent crimes are based on hate of one kind or another, and passing legislation doesn't change that. Legislation can't change thoughts or emotions. It doesn't stop an individual's destructive impulses or dangerous misperceptions [sic]. And, most importantly, I don't believe legislation will prevent people from committing heinous acts of violence against others."
"I know a couple of members of your state's congressional delegation explained on this blog why they voted against the Hate Crimes bill last week," Solmonese wrote. "We've heard many arguments against the legislation."
"At HRC, we have a simple reason for supporting that legislation -- because, despite progress toward equality in almost all segments of our society - hate crimes continue to spread fear and violence among entire communities of Americans. That's one reason why expanded federal hate crimes legislation has been supported by 31 states' Attorneys General and the leading law enforcement organizations."
When I questioned Ellsworth about it later that year, his candid response took me by surprise. He admitted that he voted against the bill because he knew there were already enough votes to pass it and anything seen as pro-gay would be unpopular to a large part of his conservative and rural district.
At the same time, Rep Ellsworth confirmed to me and the crowd gathered around that he would vote in favor of ENDA, the Employment Non-Discrimination Act, which would outlaw workplace discrimination against LGBT people. Ellsworth cited his record as Vanderburgh County sheriff, where he implemented a non-discrimination policy that included sexual orientation.
While he did eventually end up voting in favor of a version of ENDA that stripped out transgender people, he also voted in favor of a Republican-led attempt to kill the legislation before the final vote by sending it back to committee for further study. Ellsworth hasn't co-sponsored the trans-inclusive version of ENDA currently sitting in committee and is one of only a few House Democrats not to publicly support the measure.
A member of the House Armed Services Committee, Ellsworth has also refused to state his position on repealing "Don't Ask, Don't Tell." The Representative isn't co-sponsoring any other LGBT-positive legislation nor has he put out any statements indicating he would support any of the current pro-LGBT legislation awaiting action in the House.
This Is Not a Primary Election
The only voters who matter in this contest are the 32 members of the State Central Committee - a group of local party leaders and representatives from the African-American, Latino, and LGBT constituent caucuses.
The Committee's goal, however, isn't to satisfy each portion of the base; it's to pick the candidate that's best for the party. With Democratic control of the Indiana State House of Representatives dangling precariously, the committee will have to weigh the political ramifications of any decision they make.
Not only do the Democrats want to keep their Senate seat, but they'd also need to keep Ellsworth's seat and so on as politicians try to work their way higher up the ladder. With Evansville Mayor Jonathan Weinzapfel declaring he'll finish the two years left on his term, Ellsworth's replacement would most likely come from the state legislator bench.
The Indiana Stonewall Democrats, one of the voting constituency groups, indicated in their public statement that they wouldn't stomach a candidate who wouldn't continue Bayh's pro-gay voting record. National Stonewall Democrats Executive Director Michael Mitchell also made it clear that they expect Bayh's replacement candidate to be LGBT friendly.
"We hope the Indiana Democratic Party chooses a candidate - and hopefully, a new Senator - who is a strong leader that can not only reach across the aisle, but who will stand and advocate for Hoosier and American values of fairness, self-determination and equality," Mitchell said. "LGBT and pro-equality Hoosiers deserve a strong voice in the Senate."
Brad Ellsworth has not been an advocate for LGBT rights. At best, he's been a backdoor friend who's willing to hang out privately, but shuns the community when someone homophobic might see. How can he support the LGBT community's right to live openly and free when he goes "back in the closet" around conservative voters himself?
As the rumors of Ellsworth's ascension have increased, Indiana's LGBT community is wondering, "If Ellsworth can't be openly gay-friendly, why should we vote for him?" Either he publicly supports human rights and full equality for all Americans, or he's not someone the community can count on to represent their interests. Civil rights should not be based on a popularity contest.
So now the question becomes whether or not they will pick a candidate more palatable to the LGBT community. Will the Democrats pick a candidate whose record on LGBT issues is half as acceptable as the Republican senior Senator and a third that of the Democratic Senator he wants to replace?
The State Central Committee needs to stand up for full equality. The Democratic Party is a family, and you don't promote family members like Ellsworth - with his appalling record on LGBT issues - to the driver's seat.
Because 30% is a failing grade on any report card.
Popular in the Community